BradyGames's Final Fantasy IX strategy guide conference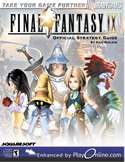 BradyGames and SquareSoft invited us for their conference to explain to us this new innovative guide for Final Fantasy IX. This guide is only made in English and no Japanese one were done. This guide is unique because it is combine with PlayOnline.com. PlayOnline.com is an enhance version of the guide.
Since they got a lot of complaints that there was too much spoilers in the previous guides they decide do this one differently. Everything is explain in a concise manner that is divided between the four disk then in different section of the game. Then you can pick what you want to know and how much you want to know. Like in the in Alexandra's Main Square there are some girls jumping rope the guide will tell you that it is a mini -game that you can play and if you want more detail you can go to PlayOnline.com and the keyword is jumprp1. Then you decide if you rather discover on your own what the rewards are or if you decide that you want to know right away just go to PlayOnline.com register then you type the keyword that is given to you in the guide then it will bring you to that part of the game and it will say exactly how much jumping you need to do for each prize like 50 jumps will give you a Cactuar card and 300 jumps will give you a Tiger Racket card and so on.
At the beginning of the guide they explain on how to use the book then you are introduce to the game basics, the characters, their abilities, weapons, head gear, armor, arm gear, add-ons and the tetra master game card. Like in the section of the game they are more information on PlayOnline.com concerning the characters and so on that are point out with keywords.
That goes for every part of the game, it is like a detail resume of the entire game without giving you too much right away so you can still have some part of the game that you can discover on your own. The guide with the combination of PlayOnline.com allows you to play the game many times over and still discover every little detail of the game by yourself or with some help.
If you read this article off the Internet and you do not have it yet their is no problem the guide has 204 pages of information for you to use. As for PlayOnline.com it is free to register and their plan to expand it so you can get some download and information on the future Final Fantasy.
As games are getting more complex and bigger then ever with all the new console on the market and the one that are coming soon, this new approach of a strategy guide is quite innovative and interesting to use. Both complement each other in order the save you time and head ache so you can enjoy Final Fantasy IX to the fullest.