Monday May 21, 2001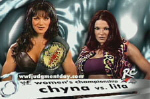 Interview with Lita from the WWF at the E3
Lita who will face on the WWF Judgment Day for the Women's Championship Belt stopped at the Electronic Entertainment Exposition - E3 -2001to signed some autograph for her fans at the THQ boot on Thursday, May 17. Time did not permit to have a long interview like the one I did with Chyna but she still took the time to answer a few questions for the media.
I asked her if she was planning to write her own book ? She said that for no she does not feel that she has been in wrestling long enough to write about her own book right now.
So then I asked her if she would like to do a movie or a TV. Lita said that if the opportunity to do parts in a movie or a TV show here and there, yes she would consider it.
Other questions that was asked was what did she think about her upcoming match against Chyna at Judgement Day. She said that Chyna and her had practiced together and she was looking forward to the match and acknowledge the fact that Chyna opened the door to women like her in wrestling plus added that she would like to see the storyline between the two of them last through out the summer.
It was asked how really hurt does she get hurt? Although it is fake they do not hurt each other intentionally it is very physical and some time we get hurt so yes the next day you get sore.
What does she like to do when she is not wrestling? She likes to do home videos with her friends at home for fun and since she is close with her mother she likes to spend some time with her as well.
How much does Lita play video games? She did not really played video games before she was in one and was impress on how real they are.
After the interview she then when to play Smackdown! 3 with members of the media before she left for her autograph session.
Like I said before the interview was very short like about 10 minutes or so and plus we could barely hear each other because E3 is so loud but Lita did not let time press her every question that was asked to her, she answered them fully with a pleasant smile, you could see that she was interested to talk to us and was enjoying herself.
Thank you to Lita for your time plus Cindy and Wayne for arranging this interview .
- LadyDragon -