Saturday March 17, 2001

Exclusive interview with Chyna in Montreal
Joanie Laurer is history in the making therefore I have combine and intertwine my thoughts about Joanie, Chyna and her book with the interview for you to enjoy.
This article not only will be of interest to her fans and women but certainly to parents who are looking for a positive role model for their children.
Joanie Laurer better known as Chyna from the World Wrestling Federation is way more than a wrestler. First she a Lady, a classy Lady with her own style and a fabulous personality.
The first thing I noticed when I started talking to her is how calm, together and very well spoken she is, reminded me of Oprah actually, she is what I though she would be and even more. She is down to earth and does not have that stuck up attitude that some famous people have, she is very easy and pleasant to talk to. Eyes never lie I could see right away that she has a heart of gold and that is where her book came from. She wanted to contribute something positive and she did.
Joanie is very important to the progress of women around the world and I will explain why. If women would take care of themselves better then they would be less hurt women physically and mentally, like less rape, beat up and abused women and much much more healthy women around therefore a better world to live in.
Yes less rape because SEX is about POWER, mental or physical still it is Power because if someone wants to have sex with you and you say NO unless they love you your chances are quite diminish that your word will be respected but if you look like Chyna the person will think twice before attacking you or you can use the element of surprise and be like Kelly Hu (a brown belt in karate) better known as Michelle Chan in Nash Bridges or Grace - Chen Pei Pei in Martial Law either way you increase your chance of safety, pick one and do it these days it is prerequisite if you want to live a long life. Of course it will never eliminate all the rape but surely eliminate a few and a black belt should be mandatory before you graduate school but very few people really care about women to make that kind of a change. But Joanie does, she cares enough about herself, women and this world to write this book, money is not her issue here but caring.
Not only that Joanie look like the Goddess of Fitness and Chyna should be among the Greek Goddess, she is very healthy physically and mentally meaning that she is totally balance as well so combine with her external and internal beauty both makes her an incredibly unique woman. She will probably be able to live way over 100 years olds.
Women are thought at a very young age that they should take care of others first and that they are care taker and if you ever decide to go the other way and start thinking about your own needs you will be called selfish. And that is how women are treated in so called freedom countries. That is not counting countries where women are still being treating as slaves.
Joanie and I discussed that and she told me that when women have power that they are perceived as Bitches instead of what they really are successful women and Joanie as a successful woman wants the freedom to be able to simultaneously be strong physically and mentally without being put down for it. Also she said that women do not usually stick together when they are successful and that they should be and I agreed with her. Dawn Steel is a perfect example of what Joanie is explaining to us. In 1987, Dawn Steel was the first woman president of an Hollywood studios. Remember how much she fought to bring us Flashdance.
You will see through out Joanie's book it happened often to her unfortunately.
She is a role model for everyone and she is showing that when things go wrong in your life you should take care of yourself first then things will fall into places. That is a great concept that Joanie has very well illustrated. Instead of turning to drugs she turned to herself. She took care of her own body and her own mind and look where that concept brought her to.
This is what she has accomplished so far, she is a World Wrestling SuperStar and the first woman to beat up men in wrestling just that part is a huge accomplishment, she is the first woman to be on the cover of wrestling video game Smackdown !, did movies, did the popular TV show 3rd Rock from the Sun, been on the cover of Playboy last November, has her own fitness training videos, her own book and she is financially secured and she is only 30 years oldj ust like Martina Hingis so young and so successful and number 1 in her industry.
Parents, you want to teach your children personal success, Joanie's book is a good way to start and it will be beneficial and be enjoyable by you and your children.
She is history in the making, she is showing the world that women can be everything they want to be if they want it bad enough even if it is an industry rule by men.
There is a commercial on CNBC by Charles Schwab that has been running for the past 2 weeks where you see a mother telling her young daughter a night story on a soft tone of voice here it goes when you grow up a knight will come and marry you then he will bring you to his castle and give you everything your heart desire then the camera changes and you see the mother with her computer with a different tone of voice saying and of course if that does not work you need to learn about P/E Ratio tomorrow night I will teach you the Mid Cap. What an outstanding commercial don' t you think and then CNBC comes back on and you see Maria at the Opening Bell on the New -York exchange describing the market or interviewing CEOS. What a great influence that is for a young women. That was not possible many years ago. I could also go on about firewomen or women who plays hockey like Manon Rhéaume too but I think you got my point.
All this is possible now because of women like Joanie that will not let adversities stop her. Chyna on the WWF is not only a great role model for athletes but also for women who wants to succeed in life regardless of the industry she chooses even male dominated one.
Many women craved for a long time to have a role model like Chyna, it was even mentioned in a TV show once not that long ago actually in the late 80's. In the 1986-87 season of Designing Women which at the time was the most popular comedy show around and even when the show was canceled it has never left the air because it went into reruns right away and it is still on the air today. Designing Women is a show that is pro women and has 4 of the best actress combined together Dixie Carter, Annie Potts, Jean Smart and Delta Burke.
:) by the way Delta Burke is mention in Joanie's book and you will laugh only if you know her character named Susan.
Mary-Jo who was then the character of Annie Potts mention in her story line in that episode that for once I would like to see a woman hero instead of a Charles Bronson, I would like to see a woman name Charlene that is not a victim or does not need to be rescued by a men and that is able to kick some butts.
After her line everyone applauded her with good reason it was very well said and well written ( again by a woman Linda Bloodworth -Thomason who wrote the first 35 episodes of this show )
Mary-Jo you were close her name start with a C but it is not Charlene but it is Chyna.
I saw this Episode the first time it was aired and I though then that it would be so cool to have an heroine of that sort and hoping that one day I could see one on TV. When I was young the only heroine on TV was Jaime Sommers, The Bionic Woman who was played by Lindsay Wagner and Diana Prince, Wonder Woman played by Linda Carter.
We have come a long way since then now in 2001, Mary-Jo would have her picked with Chyna, Xena, Gabrielle, Buffy, Max, Nikita, Sydney, Sheena, Phoebe, Prue, Piper, Hel, Sarge and Tessa and more to come am sure.
Mary-Jo would of loved Chyna and I wonder what she would say about Chyna now if Designing Women was still around maybe Chyna would even be part Designing Women too .
But there is a major difference between Chyna and the other characters on TV. When all of these women leave the set, Chyna does and does not because all of these women loose the skills, power and strength of their own characters but Joanie does not she still can kick some butts. In a way Chyna will always be alive through Joanie.
I asked Joanie what prompted her to write this book ?
When she was around 20 years old she told me that she had all of these stories that if only people knew what she was all about and that is just what she did. She put together bit and pieces of her own life in a very entertaining way so people can read it, have a pleasant time and get something positive out of it. First and foremost she did it for herself and the book is not geared towards wrestling fans it is more to show people that it is O.K. to be different then others and she is hoping that people would get strength out of her stories and that the ones that are facing similar obstacles like her would have someone to relate to and feel that they are not alone in their crisis and their is a light at the end of the bloody tunnel if you just stay on the right track.
Joanie says it is O.K to look different if a woman wants to be muscular and wear make up or not it is fine. If she wants to do both take care of herself and others she should be able to do so. She also said to me that everyone wants be recognize for what they are with their own merits and she is right. All this again without being put down for being her successful self.
She reminded me a bit of Ellen when she said that to me, Ellen says that it is alright to be gay and feel different. Both different women but with the same message it is O.K. to be yourself no matter how different you are from others.
Joanie is hoping that people will relate to her stories and draw strength from it, she did not do it for the money, she did not care if she had only sold 1 book she says. She wrote it in a fun way with pictures in it where people can read it in one night. It is an hard covered book with a beautiful picture of Chyna in the front and stunning one of Joanie in the back. It has over 300 pages with black and white pictures and a few colored one in the middle plus it is well designed with a comfortable size of font where you do not need the strain you eyes in order to read what she wrote.
And that is exactly what you will find in her book expiring stories that will show you how different events turns out if you keep control and focus of your own mind. Plus she tells you some stories with guts not scared of what people think about her, she will even name specific name of stars or shows that we all know about.
In her stories you will find that she has been mistreated sometimes by some people like the Drew Carey show people. I was angry to hear that they threw her out of the set for no good reason. She told me that the Drew Carey show was one of many other bad events that happened to her and that she has now comes to terms with those bad events and that she also knows that it might happened again from time to time but now she has learned to put those negative situations into prospective and deal with them in a positive way. Success is always the best revenge toward those kind of people, I say.
When reading her book I also discovered that she has an extensive knowledge in different things and areas. I told Joanie you most love numbers, who talks about Pythagoras or Algebra except the ones that loves numbers she laughed and modestly said yes.
Like I said before she has class, you do have it or you do not have it. Being famous will just amplified what you really are. Take her signature has an example she will sign Chyna in your book and you can show it to your friends and be proud that you have met her because they will be able to read Chyna well written in black not just some fast scramble of a pen that no one can read why because she takes the time to write it fully so you can read what she wrote like Céline Dion does and Maurice Richard did. Joanie care about her fans and the people that supports her. That is why Chyna is a Super Role Model Stars that makes you feel good about yourself not matter what.
Like Evil propelled Evil, Good propelled Good. Like we have to stop Evil, we must support Good. And she propelled Good so she deserve to be supported and buying her book is one way of doing so.
I asked her if she was hurt for real she said no that it was just in the story line but that she thinks it is time to broaden her horizon. Joanie said that she has been wrestling for a long time and that she will keep doing so but not as frequently. She wants to move on with her life and experience new opportunities like doing more 3rd Rock from the Sun, TV shows and movies.
I asked her if she would make a series of cassette of Chyna wrestling she said it was not into her plans as of now. I mention to Joanie that she should because it would make a great legacy to her wrestling fans and it would have a lot of historical value on many levels.
I asked if she would be wrestling at the show on Sunday she said no but she will be at the show Monday and at Wrestlemania.
Remember those 2 names Chyna and Joanie Laurer we will hear more from her in the future as she moves ahead with her careers and certainly will keep expiring all of us.
Buy her book this Lady is worth knowing she is a special woman that took adversity and turned it around and build her own successful life by relying on herself and taking good care of her own body and mind.
Not only did Joanie wrote it in an entertaining way that can be enjoyable but it is not only geared towards wrestling fans but people that also does not watch or care for wrestling at all. She said that she had people tell her that they do not watch wrestling and loved her book. Like I said before she has a heart of Gold mixed with a little steel I might add after dealing with so much hatred and being mistreated for no good reason but the steel in her prevailed, Joanie took her own personal responsibilities in her own hands without dwelling on the negative did not turned to drugs or alcohol but instead turned to herself made a successful life just for her and that is a true heroine's story that is worth reading about .
Joanie, thank you for your time, this article is done for you and at least now you know that someone can recognize and respect your talents and write about them and you properly. Enjoy :)
Also Thank you to Cindy, Rita, Hank, Yvonne, Kathy, Tanya, Wayne, Laura and Butch for arranging this interview for us plus thank you to Lesley at Nintendo. Nintendo is the company that is sponsoring the WWF Wrestling Federation wrestling event in Montreal.
- LadyDragon -
Chyna - Ninth Wonder of the World: If They Only Knew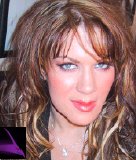 Chyna: If they only knew is being published by Reganbooks an imprint of HarperCollins publishers.