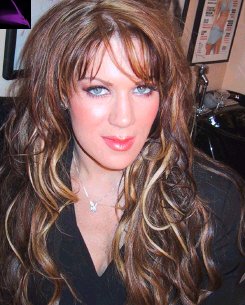 Exclusive interview with Joanie Laurer
Fans of Chyna will be happy to hear that Joanie is doing very well and has been working on numerous interesting projects and doing more so has we speak.
Joanie Laurer is formerly known has Chyna, and if you are not familiar with her or work, you can read my first interview. I suggest you read it because you will learn about who Joanie is and her book as oppose to this article where you will learn about Joanie's latest projects plus the new ones that are coming in the near future as well.
The first thing you need to know is that Joanie has now her own website called BodybyJoanie.Com. On Joanie's site you can follow her career and her upcoming appearances, and you can actually write to her. She told me that she loved receiving mail from her fans, she even has a section where she posted them on. I asked Joanie if she has chosen the name herself and why. Her fans know her better as Joanie and, she remind me that, she wrote in her book many people misspelled her last name, plus she is very proud of her body and she IS about fitness and being healthy and true to yourself.
Speaking of being healthy I mentioned that the last time I saw her I noticed how she not only looked fit but very healthy as well. So I asked her what do you exactly eat anyways? Joanie told me that her eating habits were not so special just a lot of proteins and vegetables but never fast food. Then she explained to me in more detail that she is not like bodybuilder who over develop their muscles and take same drugs and steroids, or like other people that starve themselves or do not eat for a long time then eat so that the body become so starve that it stores all the food because the body become scare of starving again.
Joanie mention to me that in general we all know that what we put in our mouth is good for us or not, very few are not aware of that fact. It is a live style more then a specific food, she explained that if you take good care of yourself and eat properly that's what is a way of life. Of course I enjoy eating cheesecake or drink wine from time to time but moderation is the key here she added. Since I take good care of myself I can effort to eat or drink those things from time to time.
Joanie graciously gave me questions for you to read that she recently answered about her nutrition and her workout in a recent fitness interview.
She has already a fitness video out and she is working on an other one that is coming out in February.
Then we discuss her latest projects. She did a few TV Shows and a movie. Joanie told me that she was very happy and looking forward to those work, since being in movies and TV shows was her first love. So I said that wrestling was a stepping stone for you to do those things, she corrected me and said no wrestling was not a stepping stone that she happened to fell into it and that she was happy that she had her career as a wrestler.
So I asked her when are you coming back to the WWF? Joanie said theres are no plans for her to come back. Not even for the Wrestlemania in Toronto, you will not make a special appearance and defend your title has the World Wrestling Women Champion I asked? No not even for Wrestlemania she added. Too bad I said wrestling it is not the same without Chyna.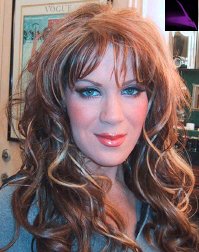 Here is a list of Joanie's latest TV shows appearances and what we can look forward to.
She has recently done a new show called Tracker with Adrian Paul the one who use to do the show Highlander: The Series. Joanie was in the 2 hours debut where she played the role of Rhee an evil aliens in a human body. The episode will air on Space on January 05, 2002.
Joanie did Relic Hunter with Tia Carrere where she played an Evil Amazon that battle with Sydney. She also mentioned that she liked working with Jeff King the executive producer of Relic Hunter. I also added that it was a great show and that she would blend well into it, joanie agreed. Sydney is one of the hero I mentioned in my other interview with Joanie.
Both of those shows were taped here in Toronto, Canada. The Relic Hunter episode will air in February.
Joanie has finished taping the movie Frank McCluskie C.I. where she appears dress in a black latex-leather outfit as a bat woman the sidekick of the P.I. Frank McCluskie. The movie is a comedy that will be released in the spring 2002.
As for other movie parts, Joanie said that she would really like to do the Terminator 3 movie. Nothing has been confirm yet so we will keep you posted on any new development.
On the 27 of November be sure to watch Fear Factor where Joanie is competing against others for her favorite charity called Families of Freedom. I said to Joanie you are not going to eat bugs I hope, she said no no :) This episode and this show, she was explaining to me, has more to do with having guts then having strength, like when you have giant scorpions crawling on you.
On the week on December 10, Joanie will be filming all week an upcoming episode of the popular TV show Sabrina: The Teenage Witch featuring Mellisa Joan Hart as Sabrina and is the most popular TV Show for young women.
Other appearances have been on the Drew Carey shows: Whose line it is anyways, Jay Leno and a show called Tiania.
Yes I know all these shows are very nice, but what I was asking myself, and many of her fans asked me that same question as well, and you are all going to be please to know that she is currently working on her own TV show. Since a show takes about 1 year to develop we should hear details about it next year. She is very existed about it and she will let me know the detail of her own new show at the opportune time so stay tune.
But meanwhile, starting the week end of the January 05, Joanie will be hosting a show called Robot Wars that will air on TNN for 23 episodes. She told me the show was about young people building robots themselves that take a lot of time and money to build. We discuss the fact that it was a positive way for young people to spend their time creating and doing something that they actually can be proud of.
Last November you all remember that it was Joanie's first appearance in Playboy. Well now she will appear for the second time on the cover of Playboy which will be on sale starting December 4th. The 2000 November edition was the best selling edition in the history of Playboy and this one I am predicting will be a best seller also.
Joanie was explaining to me that not only men will buy it and she told me that she has a lot of women fans that bought the first one and that she is hoping they will do the same thing with this one. This January 2002 Edition is very uniquely done and is very hip and young, just look at the cover. That tells it all. It has a cover that will catch your attention right a way so imagine the pictures inside.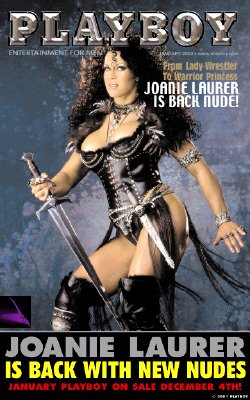 We will have more on this very special Edition in an other upcoming interview with Joanie in early December so stay tune. But today Joanie did told me that Playboy made a documentary concerning her career since she left the WWF to her up coming in the Hollywood world. This documentary will be sold by Playboy and will be available on January 22.
Just before the launch of her second Playboy appearance Joanie will be a at the New-York Exotic Ball on November 28. Joanie explained to me that it is usually sdone in San Francisco but that this year it will be in New-York. 15 000 people will compete in a Mardi Gras type of costume event based on self-impressions to become Miss and Mister Erotic Ball. Since it is so popular they are planning to do some in Canada and Europe as well. Plus in the early new year, they will release a perfume called Amorotica and Joanie will represent it.
Also to watch in early new year: Joanie will be in a music video. On February 26, Joanie will be in the music video of the song "Hurry Up" from the Reggie Benjamin who is now in second place on the Pop Charts in Europe. And I said you must be exited because you love music, she said yes very and added that she will be at the 44th Annual Grammy Awards on February 27 at the Stapple Center in Los Angeles wich will air on CBS at 8pm ET.
Yes games :)
Will Joanie do her own video games ?
Of course she would like to do a video game!
In case you are not aware, Joanie is already the only woman wrestler to be on the cover of a wrestling game and still has of today own the WWF Women title. The game is called WWF Smackdown!
Joanie also told me something very interesting, she told me that someone asked her why she was spending so much time in Canada ? She replied that Canadians are her best fans. She explained that she sold a lot of her book and Playboy magazne here in Canada. That is why she is coming back in Canada in December specifically the first week of December where she will be in Montreal.
Now you are up to date with the latest from Joanie. Stay tune because we will keep you up to date with her upcoming projects. I also wanted to had that she has not change, she is still the down to earth Lady that I met back in March. No matter how you call her either Chyna or Goddess of Fitness like I called her before but something that has not change in what I saw in her today is, and I believe that it will never change, her heart. Her heart is driven by this positive energy that allows her to create and do all these projects. Well let me just say that DO remember her name Joanie, because she will come back into your living room and on your TV faster then you know in many ways: TV Shows, Movies an Video games. It was also pleasant to hear that she was happy doing what she loves to do.