Exclusive interview with Amro Albanna Founder and CEO of QMotions
QMotions is probably a company unknown to you now but starting this April it will be another story.
Headquartered in Riverside, CA, QMotions specializes in developing state-of-the-art, PC/Console-based gaming technologies that incorporate "full-motion" participation from players. The Company is developing a series of systems for enthusiasts of all major sports, including golf and baseball.
QMotions - Golf is first in a series of PC/Console-based game controllers that incorporate accurate measurements of "full-motion" activity from players
QMotions - Golf is a PC-based golf controller that is designed to be compatible with existing PC-based golf games. The program features a state-of-the-art, highly accurate, "full-motion" measurement capability that allows players to "Get in Motion with QMotions." Players use a specially designed swing arm that enables them to drive, chip or putt a tethered golf ball with a real golf club. Sophisticated electronics measure the ball's flight, direction and distance characteristics and incorporate these measurements into the golf game being played.
Designed for golfers and non-golfers alike, the system can be used as a training tool as well as for entertainment. The distinguishing feature of QMotions - Golf is that players actively participate with realistic, "full-motion" involvement in the game.
"QMotions - Golf offers a one-of-a-kind system," says QMotions founder and CEO Amro Albanna. "It's not like any other game controller on the market. It allows players to take a full swing at the ball and have their performance incorporated into the game itself. In this way, QMotions - Golf puts the 'active' into 'interactive.' We believe QMotions - Golf will change the way online gaming is played. With our unique controller, players and sport enthusiasts worldwide can actively enjoy the game right in their living room or hotel room."
The benefits of QMotions - Golf include the following:
-- Quick and easy to install and get started;
-- Can be enjoyed in small areas - living room, hotel room, office;
-- Package includes everything needed to get started (PC and golf clubs are not included);
-- Designed to be compatible with existing PC-based golf games (compatibility list will be announced shortly);
-- Measures and transmits swing characteristics in real time (speed and direction);
-- Adds a whole new dimension of reality to the game;
-- Affordable, consumer-oriented pricing!
The Company has identified the following markets for this product: avid golfers; junior and beginning golfers; family home entertainment; business travelers/hotels.
Today M. Amro Albanna spoke to LadyDragon and offered more detail about QMotions Golf.
LD: Are you the actual inventor of the QMotions Golf?
AA: Yes, I am.
LD: How did your invention come about?
AA: I noticed that the golf games that are on the market did not have a controling device that truly reflects the golf game. A mouse can hardly replicate a golf swing so I came up with the idea of the QMotions Golf where it wouild be a device that really simulate a golf swing in order to be able to fully appriciate a golf game.
LD: Since when have you been working on your idea?
AA: I started to put together my company in March, 2003 where I hired top key personnals to help me develop and build my company.
LD: So how does your device work exactly?
AA: When you buy the QMotions Golf in the package there is a software and a ball on stand with instruction on how to properly use the QMotions Golf. Our software works with any type of golf club so you can either use one or multiple ones since our software can be adjusted to work with only one club or multiple clubs.
LD: So I suppose that when you hit the ball your software will record the strength of your hit and depending also on the hitting angle combine with other factors like the wind will determine where exactly your ball will land in the game.
AA: Yes that is our it does work since our special software will make all the necessaries adjustments, the only thing you need is at least one golf club.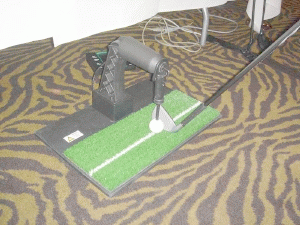 LD : When is the actual release date of the QMotions Golf?
AA: The QMotions Golf is schedule to be released on April 01, 2004
LD: Which games are compatible with the QMotions Golf?
AA: At this time only the Tiger Wood 2004 for Windows is compatible with the QMotions Golf and more games will announced shortly.
LD: Will the QMotions Golf be compatible with games for the next generation consoles?
AA: Yes we are planning to have the QMotions Golf compatible with the next generation console.
LD: What will be the price of the QMotions Golf?
AA: It will be priced at 249$ US
LD: Your next product I suppose it will be a device like a baseball bat what can you tell me about your next product?
AA: Yes, our next product is a device for baseball games and will be called QMotions Basebal more information will be available later this year?
LD: Are you planning to do more device, like an hockey device?
AA: Yes that is our plan and we are presently working on more devices?
LD: You were at The Super Show in Orlando, Florida last week how was the responces?
AA: Everyone that got the chance to try the QMotions Golf are very exiting not only gamers but actual golfers as well.
LD: Will you be at the E3 - Electronic Entertainment Exposition 2004?
AA: Yes we will be at the E3 2004 where gamers will be able to try the QMotions Golf.
For more information, visit www.qmotions.com.