Dinara Safina wins the Mutua Madrileña Madrid Open title against Caroline Wozniacki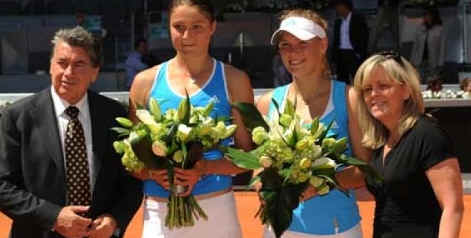 World No.1 Dinara Safina claimed the Mutua Madrileña Madrid Open title with a 6-2 6-4 victory over Caroline Wozniacki.

Top seeded Safina played an aggressive match, absorbing Wozniacki's consistent ground stroking and picking her moments to attack.

The Russian broke No.9 seeded Wozniacki's serve three times and was unbroken herself during the one hour, 50-minute match, saving all five of the break points the Dane held against her serve.
It was Safina's third-consecutive clay court final and her second title for the season, the Muscovite having reached the final in Stuttgart two weeks ago and won in Rome last week.

"I was confident from the beginning," said Safina following the final. "I tried to be aggressive from the start and it paid off for me.

"It was quite a close match because I gave her some chances and there were some chances I didn't take. I might have been in trouble if she'd taken them.

"I had chances for a double break in the second set and I didn't take them but overall I think
I controlled the match."

Safina complimented her Danish opponent saying," She's a great player, she's young and she has time to improve. Caroline can be very dangerous in the future."

And she said she loved being No.1 in the world. "Since the beginning it was my dream to be the best player so once I got the ranking I was ready for it. Now I am the No.1 player I am playing better and better," she said.

Wozniacki remained positive following her defeat. "I've enjoyed my week here," said the 18-year old who was playing in her second clay court final for the year having won the title at Ponte Vedre Beach.