Maria Sharapova returns to play today
Maria will play her first singles tournament in almost nine months. at the Warsaw Open in Warsaw, Poland today.
She will be in the third match of on the center court where she will play against Tathiana Garbin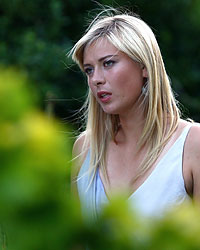 © Getty Images
Sharapova Announces her Return to Tour in Warsaw
Maria Sharapova announced her return to the Sony Ericsson WTA Tour on Monday, May 11, stating she will play her first singles tournament in almost nine months at the Warsaw Open in Warsaw, Poland next week.
Sharapova's last singles event came at the Rogers Cup in Montréal last August, as she won her first match but withdrew prior to her next match due to a right shoulder injury. She subsequently withdrew from all events - including Grand Slams at the US Open and Australian Open, returning for one doubles match at Indian Wells this past March but otherwise not playing a match at all.
"I am very happy to report I will make my singles return to the Tour in Warsaw, Poland, the week of May 18," Sharapova wrote on her website. "Although it has not been an easy process these last few months, I really believe it's made me a much stronger person in so many areas of my life, professionally and personally. There are so many things you learn while you are limited in something you love.
"I want to thank all my die-hard fans who never stopped believing in me... your letters and messages have been truly inspirational and something that I always looked back to when I had the low moments.
"I know it is going to take me a while to get back into the groove of playing tournaments and matches, but I am so excited to be competing again."
Sharapova has spent 17 non-consecutive weeks as the world's No.1 player, most recently almost exactly a year ago - her last two weeks there came during the 2008 French Open fortnight. Her ranking has dipped to No.65 as of this week due to her recent inactivity. To read her full comments and for more information on Sharapova, visit her official website, www.mariasharapova.com.