Pantel Launches Weatherproof Digital Signage LCD Monitors
Pantel, a manufacturer of outdoor weatherproof TVs and monitors, has announced its plans to launch multiple new weatherproof digital signage-specific LCD monitors at the 2009 Digital Signage Expo, held in Las Vegas, Feb. 24-26.
The company said it designed its new 42- and 52-inch digital signage models specifically for use in commercial applications, whether indoors or outdoors in the elements. The monitors, which have 1600:1 contrast ratios and 16:9 aspect ratios, feature super bright LG panels with anti-glare/anti-reflective/anti-UV glass material that makes them useable outside during the middle of the day, according to the company. The weatherproofing meets IP56 specifications for dust and water shielding, and the displays are operable in temperatures ranging from -32 F to 145 F. Pantel also offers a heating system as an option.
"The desire for outdoor signage is booming, yet integrators and commercial customers up until now had very limited options when selecting a flat panel that meets their very specific needs," said Joe Pantel, CEO of Pantel Corp., Garden Grove, Calif. "Pantel now has the answer. Our new digital signage-specific weatherproof LCD monitors are perfect for commercial applications such as movie theaters, amusement parks, concert venues, race tracks, sports arenas/stadiums, outdoor exhibitions, restaurants, bars, hotels and more.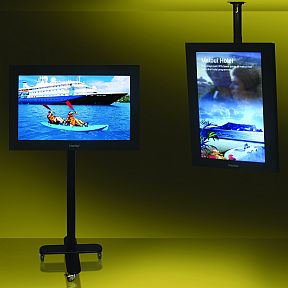 Pantel has introduced a pair of weatherproof 42- and 52-inch LCD digital signage displays specifically for use in commercial applications, whether indoors or outdoors in the elements.
"run business-specific audio and video messaging, They come available in both horizontal and vertical configurations with optional integrated CPUs to help as well as available heating options for those applications where the climate necessitates it."
According to Pantel, outdoor commercial advertising used to be a worrisome and expensive project due to the threat of unpredictable weather. "Up until recently, high definition televisions and monitors used outdoors had to be utilized under canopies or other types of overhangs, but that still did not always protect them from cold, heat, wind and dust," Pantel explained. "Our new digital signage monitors now allow businesses to break free from the hassle, excessive expense and the constant concerns thrown at them by Mother Nature.
"We have designed and tested our products extensively to ensure they perform in cold and heat extremes, as well as being protected from rain, snow, dirt, insects and other natural elements."
Because many commercial outlets utilize video advertisements in an ongoing loop specific to their business (such as a movie theater promoting its current lineup or a restaurant promoting its menu), Pantel said it offers an optional internal Intel Celeron M440 1.86GHz CPU package with 1 GB memory with its digital signage monitors to run such audio and video advertisements.