Audi and PDM Launch Australia's First 'Holographic Virtual Assistant'
Australian digital out-of-home media company Prime Digital Media (PDM) has launched the country's first ever life-size 'Holographic Virtual Assistant' at Audi Centre Sydney, Rosebery.

Designed to facilitate enhanced communication and customer experience, the Virtual Assistant demonstrates PDM's expertise in delivering highly engaging, specialist digital content and technology. It also highlights Audi's ongoing commitment to business innovation.

The Holographic Virtual Assistant comes in the form of a life-size, virtual installation with the holographic effect created using 3M's dynamic Vikuiti rear projection film and rear-mounted video projector technology. With the unique characteristics of the Vikuiti film and PDM's expert digital content capabilities, PDM has transformed a 10-mm-thick (0.4-inch) piece of Perspex — an acrylic plastic similar to Plexiglas — into a virtual, talking person.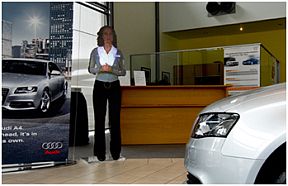 PDM created this Holographic Virtual Assistant for the Audi Centre Sydney using 3M&rsquos Vikuiti rear projection film and rear-mounted video projector technology.
The Holographic Virtual Assistant provides Audi with an exciting and unique platform to promote targeted messages to customers while they visit the dealership and offers customers an entertaining way to gather product knowledge and information about Audi's offering. According to the company, the result is a customer experience seen nowhere else in the country.
"The possibilities in the out-of-home sector have exploded over the past few years, and PDM has consistently embraced new technologies to engage with an increasingly desensitized consumer," said Julie Frikken, creative and planning director of Pyrmont, NSW-based PDM. "We have led the way with innovation in the Australian marketplace and Audi's Holographic Virtual Assistant is a great example of this."
"Building on our expertise within this media, PDM's digital content capabilities and forward-thinking approach mean we can drive good ideas into fabulous business strategies for companies like Audi," she added.
"The Audi brand prides itself on innovation and quality, and being a progressive brand, we are once again leading the way with this cutting-edge installation," said Allan Brinck, dealer principal, Audi Centre Sydney. "We have been aware of PDM's track record of innovation in the Australian marketplace for quite some time. The Virtual assistant is a great way for us to connect with our customers and a great example of Audi's progressive brand coming to life."