Tiffany & Co. today announced that Maria will wear Tiffany earings at the French Open , May 24 - June 07, at the Rolland Garros stadium in Paris.
The partnership between Maria and Tiffany & Co. provides Maria with Tiffany earrings to wear at each of the 4 Grand Slam events; The Australian Open, French Open, Wimbledon and the US Open.
The group of earings, Tiffany for Maria Sharapova, captures her natural grace and style and gives customers and fans access to the jewelry prefferred by the 3 times Grand Slam winner.
The Tiffany earrings selected for the French Open - an aquamarine and diamond drop design in 18 karat white gold - move with elegant ease and sparkle brilliantly in the light.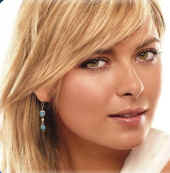 "I am thrilled to partner with Tiffany, my favorite jeweler, and to wear these beautiful earrings at the French Open" Maria said.