Digital Signage Expo (DSE) 2009 preview
Interactivity isn't new to digital signage, but the technology is continually and rapidly evolving. The result is a variety of new and compelling ways to engage viewers and customers, and in some cases, make them active participants in virtual worlds.
For starters, there's hardly a digital display company that doesn't offer a touch screen option, many featuring 3M Dispersive Signal Technology (DST), a touch technology based on "wave bending" principles. 3M Touch Systems will show applications for DST at Digital Signage Expo (DSE) 2009. But there are other touch technologies, each offering its own unique characteristics, that 3M and other companies have developed and that you can expect to find while walking the aisles of the Las Vegas Convention Center.
Moreover, the ways in which touch screens can be used to engage consumers seem to be limited only by the imagination. Ecast, for example, describes the IQ interactive digital signage it plans to show at Digital Signage Expo as "the evolutionary DNA that links the PC and mobile to point of purchase." IQ features a 40-inch full HD touch screen powered by the company's on-demand media platform.
Ecast&rsquos IQ interactive digital signage display features a 40-inch HD touch screen powered by the company&rsquos on-demand media platform. The technology provides on-demand access to a rich display of information and entertainment.
"With a finger touch, IQ gives consumers self-driven, on-demand access to a visually rich display of information and entertainment. Conversely, marketers can deliver an immersive, completely branded marketing experience with Internet-style targeting, measurement, survey and reporting capabilitities," says Travis Hagberg, marketing specialist for the San Francisco-based company. In addition to touch, IQ allows for the integration of mobile applications, enabling consumer to use cell phones and other personal devices to interact.

DigiTouch Innovations of Oklahoma City, Okla., has developed a digital signage solution it calls the Digierge or Digital Concierge, an interactive 42-inch LCD monitor embedded with a PC, speakers and the ability to provide information in 20 different languages. In addition to displaying conventional signage information, the device also shows advertising videos and is capable of databasing all touches, thereby offering an exact ROI, the exhibitor says.

Beyond single touch, a new world of multi-touch interactivity is emerging. As Vincent John Vincent, president and co-founder of Sunnyvale, Calif.-based GestureTek Inc., another Digital Signage Expo exhibitor, points out, multi-touch interactivity is adding a whole new dimension to a world where "single user/single point" display control is the norm. "People can make product selections, view advertising, play games, even rotate and resize images, just by making simple rotating, dragging, pointing or grabbing gestures," he says.
Vincent also singles out immersion technology, in which a person walks by a screen and suddenly sees himself as the star attraction in a computer-generated virtual world, and depth-based tracking systems, which &ldquotrack full-body movement and subtle finger or hand gestures in complete 3D space, allowing people to do almost anything they would normally do by pressing buttons on a touch screen or by using a remote control device,&rdquo Vincent says.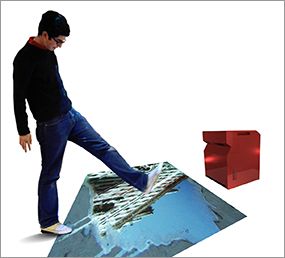 The Cube is GestureTek&rsquos turnkey, portable, &ldquoplug-and-play&rdquo interactive projection system that engages consumers by projecting an 80-inch diagonal image onto virtually any floor, able or counter. The image in turn reacts to the participant&rsquos movements within the projected area.
At the Digital Signage Expo, GestureTek will be demonstrating examples of all three technologies, including its multi-touch table. Unveiled at the New York City Visitors Center in January, the New York City Multi-touch Table provides an interactive experience for tourists looking for information about New York. The company also will be exhibiting its 3D tracking and control technology for gesture control, such as the interactive flight simulation attraction powered by this technology at the Beijing Olympics. And it will showcase The Cube, which it describes as a turnkey, portable, &ldquoplug-and-play&rdquo interactive projection system that projects an 80-inch diagonal image onto virtually any floor, able or counter.

Displax Interactive Systems, a Portuguese interactive technology company that was recently the subject of a DSE Web site Case Study on the futuristic, interactive concept store it developed for Optimus Mobile Telecommunications in Lisbon, also will be exhibiting both its interactive touch and gestural technologies.

Going a step farther, the French company Total Immersion is bringing 2D images to life via Augmented Reality (AR), a technology that integrates interactive 3D graphics into a live video stream. &ldquoAR has the potential to expand the role of signage dramatically, with messaging that speaks to people at points of pain or points of passion, when it matters most,&rdquo says Greg Davis, general manager, U.S., of Total Immersion.

And let&rsquos not forget the interactivity options that now exist between mobile devices and both indoor digital signs and outdoor digital billboards, which LocaModa, another Digital signage Expo exhibitor, has demonstrated most effectively with its Jumbli interactive word game and Wiffiti messaging platform.

&ldquoMobile unites the physical world of digital signage with an interactive destination, elevating the effectiveness of this powerful new medium,&rdquo says Dean Macri, president and CEO of Boston-based Cielo Mobile.

Davis and Macri are among the featured speakers on the full-day conference, &ldquoRevolutionizing Interactive Marketing in Public Spaces - the Mobile and Gestural Digital Signage Imperative,&rdquo taking place on Tuesday, February 24, prior to the opening of the Digital Signage Expo 2009.