LocaModa Reveals High Customer Engagement with Cross-media Gaming platform
LocaModa has released data illustrating the extent of audience engagement with its December 2008 cross-channel campaign featuring its Jumbli interactive word game.

The Cambridge, Mass., company's platform tracks user engagement across the Web, mobile and Digital Out of Home (DOOH) networks. With more than 300,000 plays, the campaign found the most interactive cities (based upon number of mobile plays per area code) to be Boston (17.5 percent), New York City (17.3 percent), and Chicago (9.8 percent). In aggregate, the Southern California area accounted for nearly 18 percent of the plays throughout the campaign, with the interactions spanning multiple cities, the company said.

Acccording to the company, Jumbli is the first game in the world that is played via mobile phones on interactive digital signage in thousands of U.S. locations (including Times Square), as well as from Facebook or the Jumbli Web site. The month-long campaign featured a branded version of Jumbli, in which players competed against each other to find the highest scoring words in order to win new mobile phones.

The results also revealed granular data about LocaModa's DOOH network partners and spotlighted encouraging industry trends, the company said. Most notably, the results showed that the leading network for interactive engagement in Southern California is Danoo, a San Francisco-based company focused on bringing relevant digital media to a hand-picked network of cafes and coffeehouses. Danoo has LocaModa's platform integrated into 600 of its locations. Even with a short exposure time of three minutes per hour, Danoo's audience interacted with the game over several visits, resulting in an average engagement per user of more than four minutes.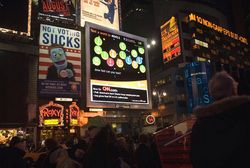 Every time the cross-channel interactive game Jumbli went live in Times Square, an alert was displayed across 1,200 bar and restaurant locations, resulting in spiked traffic patterns across the entire connected network.
This cross channel network effect was even more visible on Spectacolor's HD screen in Times Square. Every time Jumbli was live in Times Square, an alert was displayed across 1,200 bar and restaurant locations, resulting in spiked traffic patterns across the entire connected network. This proved uniquely valuable for the participating DOOH networks, which were able to clearly demonstrate large-scale engagement, measurement and interactivity in real-time.

"We're really impressed with the results of this campaign and the user engagement patterns we have seen forming with Jumbli," said David Liu, co-founder, president and chief technology officer of Danoo. "Our goal at Danoo is to connect with the notoriously hard-to-reach 'coffeehouse generation,' and it's quite clear that the combination of LocaModa's interactive product and Danoo's platform is an extremely effective solution."

In more than 100 Boston, Chicago and Miami bars where BarCast's interactive screens provide flirtatious and attractive content, the network experienced a rise of more than 250 percent in user engagement numbers, the company said. "Our audiences are clearly familiar with mobile and social applications and quickly got addicted to the game," said Steve Giuggio, founder of Boston-based Barcast.

Steve King, LocaModa's VP of sales, noted another emerging trend unique to the interactive digital industry: "We're seeing a clear view-through effect in locations, where one person uses his phone to control engagement for an entire group of users. Anecdotally, we saw an average of 1 to 5 ratio of friends helping 'the guy with the phone' interact with the game. It's the out-of-home equivalent of impressions versus click-through rate."

Jumbli's average mobile engagement time of 4.2 minutes is more than 130 percent of the average DOOH loop.

Locamoda will be on hand to demonstrate is cross-channel Jumbli and Wifitti platforms at the Digital Signage Expo in Las Vegas on Feb. 25-26, 2009.