Digital Signage Expo Announces 2009 Apex and Content Awards
Digital Signage Expo announced the winners of its 2009 Apex and Content Awards at a dedicated awards reception held the evening of the show's opening day at the Las Vegas Convention Center on February 25.

"We received an extraordinary number of entries for both the Apex and Content Awards for 2009," said Chris Gibbs, president of Exponation LLC, which produces the Digital Signage Expo. "This is more than a reflection on the continued growth of the digital signage, interactive technology and out-of-home network industry. It also is clear that the work being done is raising the bar significantly in terms of quality and excellence. We are pleased to present the 2009 winners who have distinguished themselves in this exemplary way."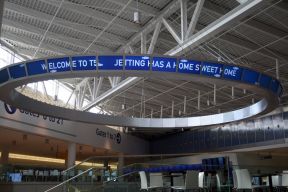 NEC Display Solutions' impressive digital signage ring for Jet Blue Terminal 5 at New York's JFK Airport was one of six winners in Digital Signage Expo's 2009 Apex Awards.
Apex Award Winners
A panel of independent industry experts chose this year's six Apex Award winners from a field of 71 entrants in the categories of Environmental Design Integration, Retail, Finance/Banking, Public Spaces, Interactive Innovation and Hospitality. The winners were:
United Mobile Broadcasting Corp. (UBMC) for Environmental Design Integration, with Omnivex Corp., which created the UBMC managed advertising-based digital broadcasting network in use in more than 400 railcars in the Toronto transit system.

Sprint Studio Store for Retail, with Scala, which created an application with multiple zones that can be programmed to feature individual messages by zone or synchronized messages across all 17 screens.

Thomson Reuters for Finance/Banking, with Wireless Ronin Technologies, which created "InfoPoint," a live news and pictures digital display network designed for the financial market.

Jet Blue for Public Spaces, with NEC Display Solutions, which designed the digital signage "ring" of 43 40-inch NEC LCD monitors installed in the shape of an oval suspended from the ceiling.

Sprint for Interactive Innovation, with Wireless Ronin Technologies, which created a cutting edge, totally wireless, technology-driven experience for stadium visitors.

SF BIO, the leading theater chain in Sweden for Hospitality, with Scala, which created a network of digital menu boards and dynamic movie posters.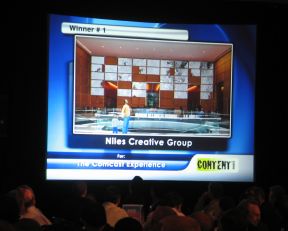 The Niles Creative Group took top honors in the 2009 Digital Signage Expo Content Awards for its creative work on the Comcast Experience. The award was announced at a reception held the evening of the opening day of the Expo.
Content Award Winners
A second panel comprised of consumers and independent industry experts chose the five Content Award winners from a field of 78 entrants on the basis of the following criteria:
Whether or not the content delivered the intended message,

Overall production quality, and

Creativity in the use of new or unique content elements and/or technology.
The five Content Award winners were:
Retail Entertainment Design (RED) for McDonald's — RED created three separate HD entertainment features for the new in-store network.

X2O Media for Motorola Innovation Center — X2O created a state-of-the-art facility that lets customers and partners learn more about Motorola's current and future products interactively.

C-nario and Tim Hunter Design Group for Harrah's Resort Outdoor Display — Content for the world's largest outdoor video display at Harrah's Resort Waterfront Tower in Atlantic City, N.J., was designed for the building's four large-scale facades that play different 3D digital models synchronously.

LocaModa for Jumbli — LocaModa launched the world's first interactive word game that connects online audiences in social utilities to audiences in New York's Times Square and 1,200 other social locations.

Niles Creative Group for The Comcast Experience — In Comcast's Philadelphia headquarters lobby is mounted a giant 10 million pixel LED wall that excites visitors, changing the office building into a "must-see" destination.