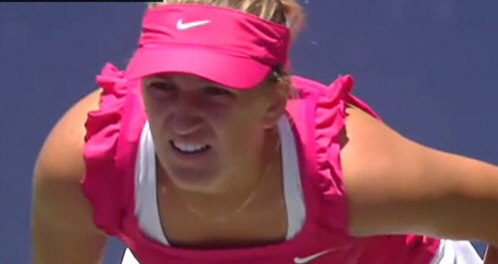 Victoria Azarenka wins the Final Championship of the Bank of the West Classic at Stanford over Maria Sarapova
Bank of the West Classic
By LadyDragon
Stanford, California--(LadyDragon.com)02/08/10--Victoria Azarenka wins the Final Championship of the Bank of the West Classic at Stanford over Maria Sarapova, 6-4, 6-1 in a quick 1 hour and 27minutes match.
Victoria Azarenka is from Minsk, Belarus and resides in Scottdale, AZ, USA and ranked #18 and Maria Sharapova is from Nyagan, Russia and now resides in Bradenton, FL,USA and ranked #15.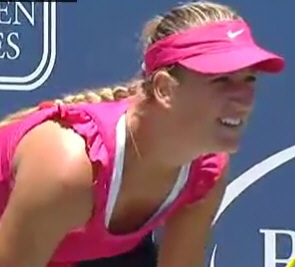 Quick Facts about Maria and Victoria
• Sharapova is through to her 4th final of the year, but her first at Premier level in 2010. Her last final at Premier level was 2009 Tokyo (October), which she won.
• Sharapova has tied V.Williams, who has also reached 4 this year, for most singles finals reached to date in 2010.
• This is Sharapova's 32nd career singles final; she is 22-9 in finals to date.
• Sharapova is bidding to become the first player in 2010 to win 3 singles titles; she won titles at Memphis and Strasourg.
• Sharapova is one of 5 active players to win more than 20 titles; she is looking for her 23rd singles title today; 16 of her titles have been won on hard court.
• Sharapova is projected to rise to No.12 in Monday's new Sony Ericsson WTA Tour Singles rankings if she wins today, which would equal her highest ranking since her return; if she loses, she is projected to rise to No.13.
• Azarenka has advanced to her 3rd final of the year but is looking for her first title in 2010, having lost in the finals of both Dubai (V.Williams) and Eastbourne (Makarova); she is 1 of 9 players to reach 3 finals in 2010.
• Azarenka has reached her 10th career singles final; she is 3-6 in previous finals.
• All 3 of Azarenka's career titles have been won on hard court; her last title came at 2009 Miami.
• Azarenka has recorded 18 hard court match wins this year, 1 of 4 women to do so (Pavlyuchenkva, Peer, Dementieva).
• Azarenka, who turned 21 yesterday, is projected to rise to No.15 in Monday's new Sony Ericsson WTA Tour Singles rankings by reaching the final and to No.12 if she wins the title.
• Sharapova has won her last 2 meetings with Azarenka to lead their head-to-head 2-1; their last 2 meetings both went the distance; Azarenka's solevictory dates back to 2007.
Victoria won the toss but elected to receive.
Maria serving first and Victoria gets 2 break points a long forehand for Maria gives the game to Victioria. From 0-30 Victoria managed to hold, 2-0. Maria gets her first hold, 2-1. Maria with 2 break points Victoria manage to save one but a long ball give back the break to Maria, 2-2. A very long game but even with 2 aces Maria gives the game aways with a her first double fault, 3-2. They have gone like his for while then finally Victoria takes the first set, 6-4.
Again in the second set it is Victoria that gets the first break, 2-1. she hold and breaks again for a 4-1 lead and goes on to win the second set 6-1 and the match in 1 hour and 27 minutes.
Usually when Maria's serve let her down it is because of her double faults but this time it was her second serve 3/12 int he first set and 0/3 in the second set and Victoria took advantage on it the entire match.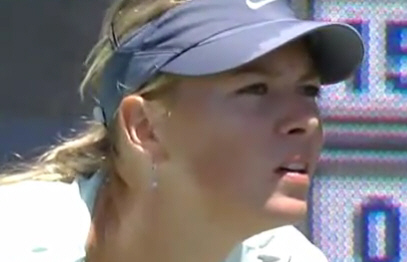 Well Victoria came in with a plan from the start by receiving and trying to break Maria's serve then when she succeeded she went on to win the first set and it seams that Maria did not recovered at all. Yesterday was Victoria's 21 first birthday and won her match against Sam Stosur and today it is her first Championship won so a great week-end for Victoria.
Bank of the West Classic in Standford, CA, USA
Main draw dates: Monday, July 26, 2010 – Sunday, August 1, 2010
Singles Final: Sunday, August 1 - Noon
Doubles Final: Sunday, August 1 - Following singles final
Venue: Taube Family Tennis Stadium
Status: Sony Ericsson WTA Tour Premier Event
Total prize money: US$700,000
Draw sizes: 30 singles / 16 doubles / 32 qualifying (4 qualifiers)
Surface: Hardcourt / Outdoors
2009 Finals: [8] Marion Bartoli (FRA) d. [2] Venus Williams (USA) 62 57 64
[2] S.Williams (USA) / V.Wiliams (USA) d. Chan (TPE) / Niculescu (ROU) 64 61