Caroline Wozniacki wins over Victoria Azarenka at the 2010 Toray Pan Pacific Open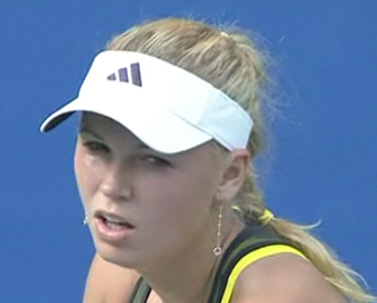 2010 Toray Pan Pacofic Open
By LadyDragon
TOKYO,Japan--(LadyDragon.com)01/08/10--Caroline Wozniacki wins over Victoria Azarenka at the 2010 Toray Pan Pacofic Open, winning in sets 6-2, 6-7, in 2 hour and 51 minutes.
Caroline serving first and gets broken and breaks right back, 1-1. Caroline now holds and breaks, 3-1. the difference so far is too much errors from Victoria 9-3. Victoria gets 2 break chances but Caroline keeps holding, 4-1. Victoria finally holds, 4-2. 15 is now the amount of errors from Victoria and gives the game to Caroline, 5-2. A double fault gives the set to Caroline, 6-2.
The story of this set is simple too much errors and double faults from Victoria.
After winning the first 6 points and breaking Caroline's serve, Victoria looses the next 4 points to give the game back to Caroline, 1-1. Agaian a break of serve, 2-1. Victoria really angry in this game screamed and threw here racket on the floor and lost the game, 2-2. The first hold of serve in the second set is from Caroline, 3-2. Then followed by Victoria, 3-3. Very long game and Caroline finally holds, 4-3. A double fault from Caroline gives the game to Victoria, who will now serve for the second set. A long game that ends with a ball in the net from Victoria, 5-5. Caroline double faulted with a ball in the net and now Victoria has an other chance to serve for the second set, 6-5. Double fault #11 brings us o a TB. Victoria wins the TB 7-3.
2 hours and 3 minutes after 2 sets.
In the second set it was Caroline that did too many errors 28.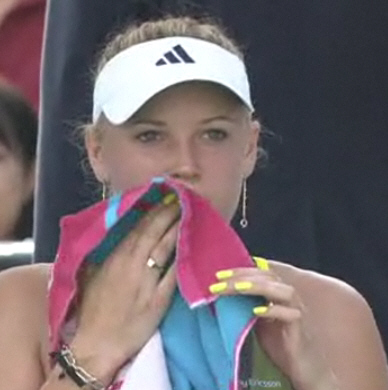 Caroline regroups and wins the first 5 games for a 5-0 lead and now serving for a place in the Final. Victoria breaks and holds 5-2. Caroline asked to speak to her coach. Caroline totally off track now, she looses this game to Love, 5-3. And now Victoria holds to Love, 5-4. Finally Caroline holds to Love to win the match and advance to her 6 Final of the year. 6-4.
Too many Double Faults from Victoria 12-4 and errors from both 50 Victoria and 44 from Caroline.
Caroline will play against the winner of the Francesca Schiavone and Elena Dementieva match.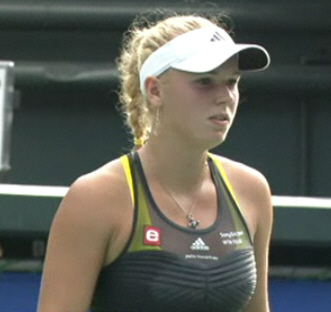 2010 Toray Pan Pacofic Open
Tokyo, Japan
Main Draw Dates: Sunday September 26 – Saturday October 2, 2010
Singles Final: Saturday October 2, 1:00pm
Doubles Final: Saturday October 2, following singles
Venue: Ariake Colosseum
Status: Sony Ericsson WTA Tour Premier 5 Event
Total Prize Money: US$2,000,000
Draw Sizes: 56 singles / 16 doubles / 32 qualifying (8 qualifiers)
Surface: Hardcourt, Outdoors
2009 Finals: Maria Sharapova (RUS) d. [7] Jelena Jankovic (SRB) 5-2, Ret.
Alisa Kleybanova / Francesca Schiavone (RUS/ITA) d.
Daniela Hantuchova / Ai Sugiyama (SVK/JPN) 6-4 6-2