Interview with Men's Doubles Champions Melzer and Petzschner of the Wimbledon 2010 Final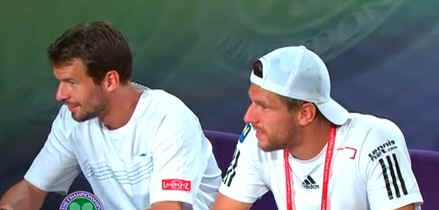 Wimbledon 2010
By LadyDragon
WIMBLEDON, United Kingdom --(LadyDragon.com) 03/07/10--Interview with Men's Doubles Champions Jurgen Melzer and Philipp Petzschner of the Wimbledon 2010 Final
Men's Doubles Champions Melzer and Petzschner
Q. How did that game feel?

PHILIPP PETZSCHNER: Yeah, great. I think we had a really good start in the match. We played incredible tennis the first set.

I think also the second set we were the much better team. I think we just played one of our best matches out there today. I think we deserved to win.

Q. You got together at the beginning of this year, am I right?

JURGEN MELZER: Yeah.

Q. What do you attribute your games gelling together so quickly?

JURGEN MELZER: Well, I think we're just two good tennis players, two good singles players that, well, who proved in the past that we could play doubles. It was just a matter of how good we get together.

We won a tournament in the beginning of the year that proves that we already played some good tennis there. And then we just couldn't play because we had different tournaments and a different schedule.

And, well, then here, it just got everything together and we played great from the first round. Had one tough one in the semis. But still I think we really played good, good doubles the two weeks.

Q. What's the story with the ball? I saw you collect a ball. What was that about?

PHILIPP PETZSCHNER: No, I said if we really win the tournament, I take the ball where we win the match point with. I take it home with a towel, the shirt, and I will put it on my wall.

Then he said, Yeah, so what about me? So I said, Okay, we take two balls. I gave one to him, one to me. There will be someplace in my house. Yeah, that's the story behind.

Q. You played against Nadal in the early rounds. How do you feel about tomorrow's final?

PHILIPP PETZSCHNER: I mean, they're the two best players of Wimbledon this year playing against each other. I don't know who is going to win.

I think the peoples will see a great finals. But actually I don't care right now, to be honest.

Q. Is this the beginning of a long-term partnership?

PHILIPP PETZSCHNER: We see. I think we get along pretty well, the two of us. We are friends also outside the court. We're staying together in the same house the last couple of days.

I think we could play a while. But you never know. I think we fit good. We are good friends. So as long as this stays, the friendship stays, I think we will play together.

Q. Jurgen, you also played against Rafa in the Roland Garros semifinals. What do you think about the final?

JURGEN MELZER: Well, I think we are right here after we won a Wimbledon doubles. I don't want to talk about singles finals tomorrow.