Rafael Nadal wins the Men's Final at Wimbledon 2010 over Tomas Berdych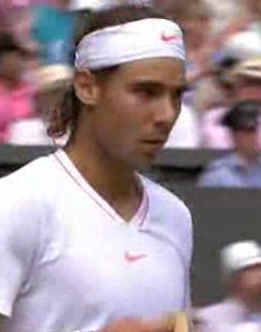 Wimbledon 2010
By LadyDragon
WIMBLEDON, United Kingdom --(LadyDragon.com) 04/07/10--Tomas was following Rafeal until key moments then collapsed and as oppose to Rafeal that raised his game to win the championship.
Tomas serving first and they were on serve until 3-3, Tomas kind of lost his ways and his serve, 4-3. Rafael hols to Love, 5-3. Again trouble for Tomas on his serve and gives the first set to Rafael in 34 minutes.
Only 48% of first serve in Tomas saw no break point from Rafael.
Rafael serving first in the second set but facing all sorts of trouble, in a long game that lasted over 9 minutes, does 2 double faults and gives 3 break points to Tomas but prevailed , 1-0. On serve until 6-5, and again Tomas loses his ways and Rafael breaks to Love for a 2 set lead in 54 minutes.
Third set the samething Rafeal start serving first, they are on serve until 6-5 and again Tomas on crucial moment loses his serve.