Arantxa Parra Santonja wins over Kaia Kanepi at the Collector Swedish Open 2010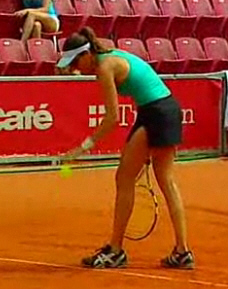 Collector Swedish Open
By LadyDragon
BASTAD, Sweden--(LadyDragon.com) 05/07/10--Surprising win from Arantxa Parra Santonja over Kaia Kanepi this morning at the Collector Swedish Open 2010. Arantxa won the match in 2 sets, 6-4, 7-5 in 1 hour and 46 minutes. Kaia who just came back from Wimbledon and went as far as the fourth run was unable to get passed Arantxa.
It was the fourth time that they have played against each other and with Arantxa wins it brings their Head to Head to 2-2. Their previous meeting was in Mexico at the 2010 Monterrey and Kaia won then in 2sets 7-6, 6-4.
Arantxa Parra Santonja is from Valencia, Spain and ranked #52 and Kaia Kanepi is from Tallinn, Estonia and ranked #38.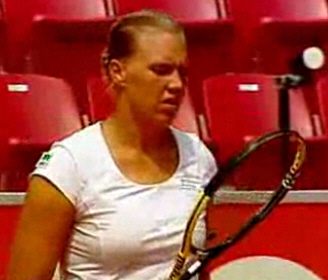 Collector Swedish Open
Main draw dates: Monday, July 5, 2010 – Saturday, July 10, 2010
Singles Final: Saturday, July 10, Not Before 2pm
Doubles Final: Saturday, July 10, Noon (TBC)
Venue: Bastad Tennis Stadion
Status: Sony Ericsson WTA Tour International Event
Total prize money: US$220,000
Staging: Tournament's 2nd year
Draw sizes: 32 singles / 16 doubles / 32 singles qualifying (4 qualifiers)
Surface: Red Clay, Outdoors
2009 Champions: Singles – Maria Jose Martinez Sanchez (SWE) d. [1] Caroline Wozniacki (DEN) 7-5 6-4
Doubles – [2] Dulko (ARG) / Pennetta (ITA) d. [1] Martinez Sanchez (ESP) / Llagostera Vives (ESP) 6-2 0-6 10-6