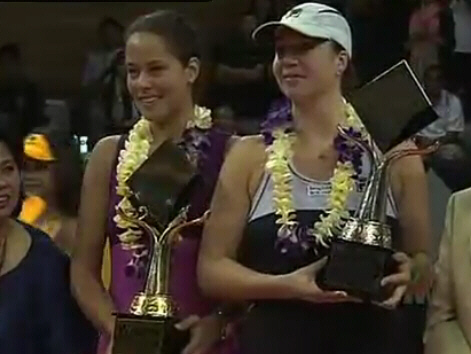 Ana Ivanovic wins the Final of the CommonweathBank Tournament of Champions over Alisa Kleybanova
By LadyDragon
NUSA DUA, Indonesia--(LadyDragon.com)07/11/10--Ana Ivanovic very determine and focus wins the Championship of the CommonweathBank Tournament of Champions over Alisa Kleybanova in 2 sets 7-5, 7-5 in 1 hour and 57 minutes.
On serve until 3-2 then Ana breaks to take a 4-2 lead. Then she goes on to break and hold to Love to win the first set 6-2.
Well Ana really focus and serving well with 1 ace and a 1st serve in of 82%.
1-1 then Alisa breaks to take her first lead of the match 2-1. Ana breaks back, 2-2. Now 4-4. An other ace from Ana #5 of the match so far give her the game and now Alisa is serving to stay in the match, 5-4. Alisa holds to Love, 5-5. Ana down 2 break points comes back with an amazing forehand way out of the court, then a very wild forehand from Alisa brings it to deuce then a ball on the net falls dead on Alisa side after an other Ace from Ana to win the game, 6-5. Again Alisa serving to stay in the match. Alisa holds to bring the second set to a TB.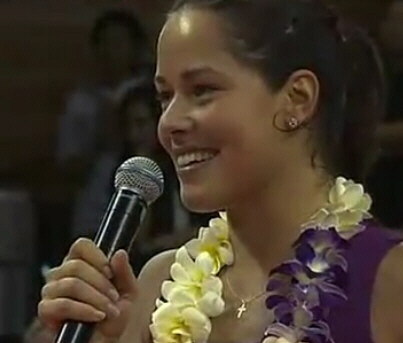 Ana wins the first point with an unreturnable serve, 1-0. Alisa wins her points, 2-1. Ball very low in net 2-2. Deep wide forehand from Ana and Alisa hits it in the net, 3-2. Now it is Alisa's turn with a deep wide forehand and Ana can not get to it, 3-3. A double fault from Alisa, 4-3. Ana is nervous ball toss all over the place but wins the point with an out ball from Alisa, 5-3. A forehand winner from Ana gives her 3 Championship points, 6-3. Ana wanted to hit the line but hit the net instead, 6-4. Now a winner from Alisa, 6-5. Guess what, Ace#7 to win the match and the Championship in 2 sets 6-2, 7-6 in 1 hour and 46 minutes.
It showed from the start that Ana really wanted to win the Championship because she was focus and served very well with 7 aces in total and 1st serve 79% and won key points when need be.