Lucie Safarova wins over Barbora Zahlavova Strycov at the Collector Swedish Open 2010
Collector Swedish Open
By LadyDragon
BASTAD, Sweden--(LadyDragon.com) 05/07/10--Lucie Safarova wins over Barbora Zahlavova Strycov in 2 sets, 6-4, 7-6 and in 2 hours and 03 minutes at the Collector Swedish Open 2010.
Their previous meeting was in 2003 at Valasske Meziriciand Lucie won then in 3 sets 2-6, 6-3, 6-4.
Barbora Zahlavova Strycov from the Cezch Republic and ranked #54 and from the Czech Republic and ranked #25.
Barbora serving first, 1-0. Lucie holding easely, 1-1. Better game for Barbora, 2-1. Long game for Lucie she holds, 2-2. Stil on serve after 3-3. Lucie this time breaks to Love, 4-3. Well Lucie having all sorts of trouble in this game and a ball in the net gives the break back to Barbora, 4-4. again Lucie break back and now serving for the set. Interesting from Barbora is writing note on a pad during the break twice now usually players reads note rather then wrinting. Lucie second aces of the match gives her the first set in 50 minutes, 6-4.
Not surprising really because Barbora lost her cool many time during the set as oppose to Lucie that is very calm this morning.
Again Barbora serving first saves a break point nad holds, 1-0. I guess those notes were helpful because Barbora break Lucie's serve, 2-0. Well from 40-0 up, Barbora gives 2 break point to Lucie who finally break back, 2-1. Barbora keeps losing her cool hitting the racket on ground and talking aloud a lot. Again Lucie after breaking loses her serves now, 3-1. This time it is Barbora who oses her serv, 3-2. Lucie holds for the first time in the second set, 3-3. Impressive game from Barbora, down 0-40 comes back to hold, 4-3. Lucie on track as well holds to Love, 4-4. Barbora holds again, 5-4. Lucie holds as well, 5-5 They both hold to bring a TB. Lucie wins the TB 7-4 and the match.
It was a close game but Lucie previaled in the end.
Lucie will face the winner of the Aravane Rezai and Arantxa Parra Santonja match.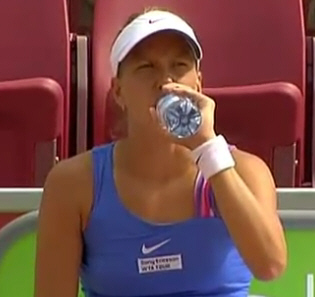 Collector Swedish Open
Main draw dates: Monday, July 5, 2010 – Saturday, July 10, 2010
Singles Final: Saturday, July 10, Not Before 2pm
Doubles Final: Saturday, July 10, Noon (TBC)
Venue: Bastad Tennis Stadion
Status: Sony Ericsson WTA Tour International Event
Total prize money: US$220,000
Staging: Tournament's 2nd year
Draw sizes: 32 singles / 16 doubles / 32 singles qualifying (4 qualifiers)
Surface: Red Clay, Outdoors
2009 Champions: Singles – Maria Jose Martinez Sanchez (SWE) d. [1] Caroline Wozniacki (DEN) 7-5 6-4
Doubles – [2] Dulko (ARG) / Pennetta (ITA) d. [1] Martinez Sanchez (ESP) / Llagostera Vives (ESP) 6-2 0-6 10-6