Aravane Rezai wins the Final at Collector Swedish Open 2010 over Gisela Dulko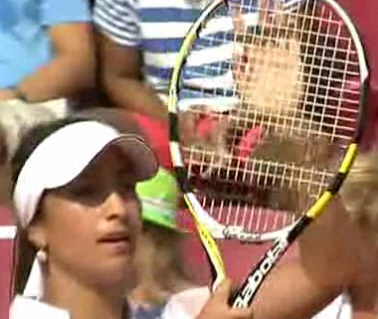 Collector Swedish Open
By LadyDragon
BASTAD, Sweden--(LadyDragon.com) 1110/07/10--Aravane Rezai wins her second Tournament of the year beating Gisela Dulko in 3 set, 6-3, 4-6, 6-4 in 2 hours and 17 minutes and take the Collector Swedish Open 2010 Tournament.
Aravane Rezai from St-Etienne, France and ranked #21 and Gisela Dulko is from Buenos Aires, Argentina and ranked #48.
This will be the third time that they meet. Gisela leads 2-0.
Gisela serving first, 1-0. On serve at 2-2, Gisela does a double fault to give a break point to Aravane and she breaks, 3-2. Aravane holds, 4-2. An other double fault from Gisela gives an other break point to Aravane but this time, she holds, 4-3. Gisela asks to see her coach, who actually is her brother. Aravane holds and now Gisela serving to stay in the first set, 5-3. From Love 40, Gisela saves one break point but Aravane breaks to win the first set 6-3 in 36 minutes. Now it is Aravane that ask to see her coach who tells her to play point by point.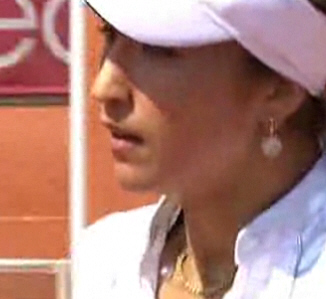 Aravane serving very well with 83% first serve points won plus did not give any break point for Gisela to see.
Aravane serving first and at the end of a long really, a too long back hand gives her first break point and an other long ball gives the game to Gisela. After a long Gislea saves a break to hold, 2-0. Aravane hold and ask to speak to her coach, 2-1. An other double fault gives a break point to Aravane but an other very long back hand from Aravane brings it to deuce this time its Gisela that goes long to give an other break point and Aravane this time breaks, 2-2. Again a long ball gives a break point but saves it, 3-2. After 2 break points and an ace Gisela holds, 3-3. Aravane was leading 40-0 then loses her serve and throws her racket on the ground, 4-3. Aravane breaks right back, 4-4. Awful serving game from Aravane who loses her serve to Love, 5-4. Gisela now ill serve to win the second set. Gisela start 0-30 and then comes back to win the second set, 6-4 in a bit less then an hour.
Gisela winning the key points and errors and bad sevice games from Avarane made the difference in the second set.
Aravane serving first and holding and breaking for a 2-0 lead. A long game but holding, 3-0. Breaking again, 4-0. Now its Gisela that breaks but an over ruled on a serve that was good but the empire though it was wrong was pivital in Aravane losing this game, 4-1. Gisela holds and Aravane is getting frustruating talking out loud., 4-2. Aravane losing her focus and 3 games in a row, 4-3. Aravana asked to speak to her coach, she is not happy with him not encouraging her. Now Gisela double fault to give the game to Aravane, 5-3. Aravane now serving for the Championship, leading 30-15 plus 2 double fault give the game to Gisela, 5-4. Now it is Gisela talking to her coach. Gisela serving to stay in the match but Aravane manage to break her serve to win the set, 6-4 and the Championship.
Aravane started the third set well then felt apart and Gisela kept fighting back to make it close but Aravane prevailed in the end.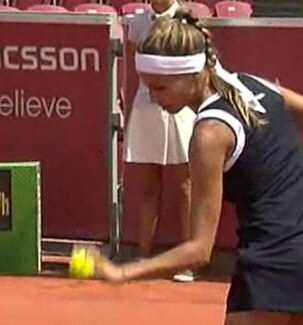 Collector Swedish Open
Main draw dates: Monday, July 5, 2010 – Saturday, July 10, 2010
Singles Final: Saturday, July 10, Not Before 2pm
Doubles Final: Saturday, July 10, Noon (TBC)
Venue: Bastad Tennis Stadion
Status: Sony Ericsson WTA Tour International Event
Total prize money: US$220,000
Staging: Tournament's 2nd year
Draw sizes: 32 singles / 16 doubles / 32 singles qualifying (4 qualifiers)
Surface: Red Clay, Outdoors
2009 Champions: Singles – Maria Jose Martinez Sanchez (SWE) d. [1] Caroline Wozniacki (DEN) 7-5 6-4
Doubles – [2] Dulko (ARG) / Pennetta (ITA) d. [1] Martinez Sanchez (ESP) / Llagostera Vives (ESP) 6-2 0-6 10-6