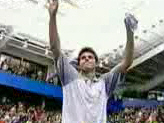 Taylor Dent retires from the ATP
By LadyDragon
MONTREAL, Canada--(LadyDragon.com)12/11/10--Taylor maybe a comeback in 2009 from a debilitating back injury but announced his retirement from professional tennis Monday.
"I had the privilege to compete at the highest level for 12 years, see places in the world I would have never been able to see without tennis, and meet people along the way that have become lifelong friends," said the 29-year-old Dent.
"I am looking forward to spending more time with my family, especially with my wife Jenny and our son Declan. I want to continue to stay active in the tennis industry and I am excited to explore opportunities in the world of tennis that my full tournament schedule never allowed me to do."
Taylor followed in the footsteps of his father a former Top 20 player and 1974 Australian Open finalist Phil Dent, who coached his son early in his career. In 2002, they made history as the first father and son duo in the Open Era to win ATP World Tour titles after Dent claimed the grass-court crown in Newport.
Taylor went on to win three more titles in 2005, attaining a career-high ranking of No. 21 that August, but saw limited play over the next three seasons due to a recurring back injury. He considered his career over after undergoing three surgeries and spending six months in a full body cast, but was given clearance to return to the court in 2008.
He was shortlisted as a candidate for 2009 Comeback Player Of The Year after climbing more than 800 rankings spots to finish the season at No. 76. Dent made his last tour-level appearance two weeks ago at Montpellier, and finished his career with a 151-140 match record.
Taylor married former WTA pro Jennifer Hopkins in 2006, and they have a son named Declan since this past January.