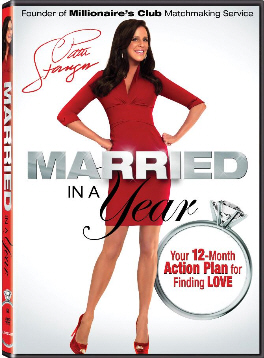 Lionsgate is proud to announce the upcoming DVD, Digital Download and On Demand release of Patti Stanger: Married in a Year, arriving on February 1st.
By LadyDragon
(LadyDragon.com)15/11/10-- Patti Stanger, Founder and CEO of the Millionaire's Club matchmaking service, bestselling author, satellite radio host and star of Bravo's hit TV series "Millionaire Matchmaker," has brought together thousands of happy couples.
This February, she'll help fans across the country make their marriage dreams come true with the release of Patti Stanger: Married in a Year.
By following Stanger's 12-month action plan for finding love, they could be planning a wedding in a year! With her expert knowledge, no-nonsense approach and razor-sharp wit, Stanger, a third generation matchmaker, will motivate and guide the love-lorn through all the steps from successful dating to negotiating the ring.
Perfectly timed to capture cupid this Valentine's Day, Patti Stanger: Married in a Year will be available February 1st. In addition, Stanger's book, "Become Your Own Matchmaker," will be reissued this January, highlighted by additional content.
In this all-new program, Stanger coaches the loveless through a 12-month plan for finding Mr. or Ms. Right. She walks viewers through her steps to success, including:
· "Dating Detox" to take a break from dating and identify what it is that you want out of life
· Meeting your match and attracting the right mate
· "10 Commandments of Dating" with rules for the first date and beyond
· "Red flags" and warning signs of a relationship that isn't working
· Sealing the deal and making love last
Pricing: DVD - $14.98