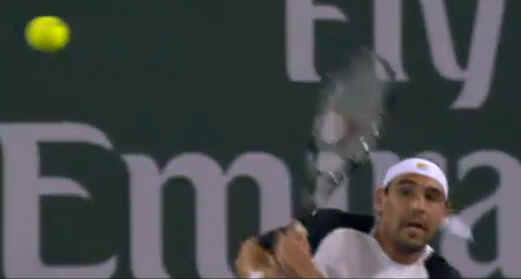 Marcos Baghdatis wins over Roger Federer at the The BNP Paribas Open in Indian Wells
Marcos came well prepare for this game. The first set was very close Roger broke Marcos's serve then served and won the first set 7-5.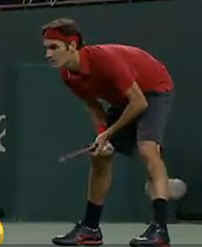 Roger had 2 match points and Marcos kept fighting and took the second set 7-5 as well.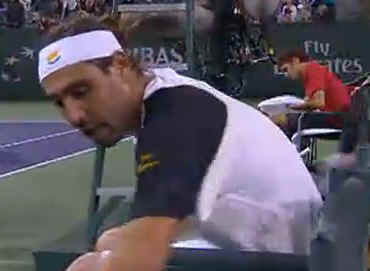 Again Roger broke Marcos's serve but Marcos came back and broke as well. 4-5 Marcos ask for the trainer because while running at a ball he made an odd movement with his knee. The trainer came and said I would not worry about it so Marcos continued playing.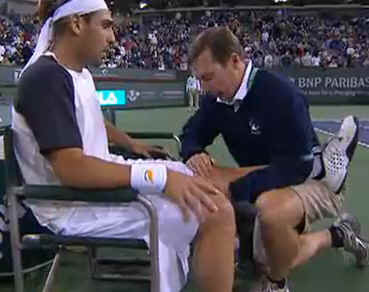 And playing he did, Marcos won the TB 7-4.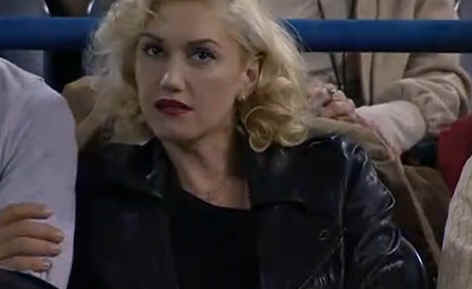 Gwen Stefani was in the crowd tonight.
Roger Federer
Tournament Highlights:
• The 28-year-old Swiss enters the third round with a 29-6 career mark and he opened the tournament Sunday with a 63 67(5) 61 win over Romanian Victor Hanescu
• Last year he lost in the semi-finals to Andy Murray…His 29 career match wins is second-most in the tournament (behind Agassi-31)
• The three-time champion from 2004-06 did not lose a set in each final, defeating Henman, Hewitt and Blake in the three year title run…Michael Chang and Jimmy Connors also won three titles
• Since his last title in 2006, lost in the opening round (after a bye) to Guillermo Canas in 2007, to Mardy Fish in the semi-finals in 2008 and Murray in the semis last year
2010 Highlights:
W: Australian Open (d Murray); SF: Doha (l Davydenko)
2010 in Review:
• The Swiss superstar comes in with an 11-1 match record…This is his first appearance since Jan. 31 when he captured his 16th career Grand Slam crown at the Australian Open (d. Murray)…It was his fourth title in Melbourne (2004, '06-07)
• He opened the campaign with a semi-final showing in Doha (l. to eventual champ Davydenko)
• He comes in ranked No. 1 for 274 weeks, only trailing Pete Sampras (286) for the most weeks atop the South African Airways ATP Rankings…He will break the record on June 14 if he remains No. 1
• Last month he withdrew from Dubai due to a lung infection
ATP World Tour Masters 1000 History:
• Has a career record of 203-61 since playing his first Masters tournament in Miami (falling first round to Carlsen) in 1999…Has won 16 ATP World Tour Masters 1000 titles, second all-time (since '90) behind Andre Agassi's 17…Overall he is 16-9 in finals…Agassi is also the all-time leader with 209 match wins
• Has won six different tournaments - Hamburg (four times), Indian Wells (three times), Cincinnati (three times), Miami (twice), Toronto (twice) and Madrid (twice) and runner-up in two others – Monte Carlo (three times) and Rome (twice)
Miscellaneous:
• The all-time men's leader with 16 Grand Slam titles is approaching 700 career match wins (689-162)… Nine players in the Open Era have reached the 700 wins plateau
• His 62 titles is tied for No. 6 on the Open Era titles list (w/Guillermo Vilas) and his next title will tie Bjorn Borg
Marcos Baghdatis
Tournament Highlights:
• The 24-year-old Cypriot has a 5-3 career mark and he is making his fourth appearance…His best result was in 2006 debut as he reached the quarter-finals (l. to Nadal)…He also reached 3rd Rd. in 2008 (l. to Wawrinka); dropped opener in 2007 (after 1st Rd. bye, l. to Garcia-Lopez in 2nd Rd.)
• On Sunday, he saved six first set points and defeated Frenchman Arnaud Clement 76(7) 61 in 2nd Rd.
2010 Highlights:
W: Sydney (d Gasquet); SF: Dubai (l Djokovic)
2010 in Review:
• The Limassol native is playing in his seventh ATP World Tour tournament of the year and he enters with a 16-5 match record…Last year he didn't win his 16th match until late July in Los Angeles
• In January, he won his fourth ATP World Tour title in Sydney (d. Gasquet) and followed with 3rd Rd. at Australian Open (ret. vs. Hewitt w/right shoulder injury)…In his last tournament in Dubai he reached the semi-finals (l. to Djokovic)…In three other events (Brisbane, Rotterdam, Marseille), lost in 2nd Rd.
• Went 3-0 in recent Davis Cup tie vs. Egypt, winning both singles matches and doubles rubber
ATP World Tour Masters 1000 History:
• Has a career record of 21-19 and made a successful ATP World Tour Masters 1000 debut here in 2006 as he reached the quarter-finals (d. Bjorkman, No. 8 Gaudio, Berdych, l. to No. 2 Nadal)…His best result was the semi-finals in Paris in 2007 (d. Ferrero, No. 15 Ljubicic, No. 4 Davydenko, No. 8 Robredo before losing to No. 2 Nadal in three sets)
Miscellaneous:
• At No. 33, he is one of two Cypriots ranked on ATP World Tour (also No. 615 Kallias)
• After an injury-plagued 2008, finished last year in Top 50 at No. 42 highlighted by winning his third career ATP World Tour title in Stockholm (d. O. Rochus) and three Challenger titles
• Ranked No. 1 in world in juniors in 2003, winning Australian Open and runner-up at US Open that year
• Has a 12-20 career mark vs. Top 10 opponents with his last win coming over No. 8 Mikhail Youzhny in the quarter-finals of Marseille in February 2008…His highest-ranked win came over No. 3 Roddick in the 4th Rd. at the Australian Open in 2006
• Reached a career-high No. 8 on August 21, 2006 and spent 13 non-consecutive weeks in Top 10 (all between July 10 and October 22, 2006)
• Coached by former David Nalbandian mentor Eduardo Infantino (since Roland Garros last year)