Babora Zahlavova Strycov wins over Patty Schnyder at the ECM Prague Open by Glanzis for a place in the Final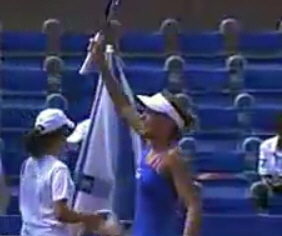 ECM Prague Open by Glanzis
By LadyDragon
PRAGUE, Czech Republic--(LadyDragon.com)17/07/10--Babora Zahlavova Strycov wins over Patty Schnyder at the ECM Prague Open by Glanzis for a place in the Final, 6-2, 6-0 in only 53 minutes.
Babora Zahlavova Strycov is from Pilzen, Czech Republic and ranked #52 and Patty Schnyder is from Basel, Switzerland and ranked #56
Anna Tatisshvili from Tbilisi , Georgia and ranked #156 and Eva Hrdinova is from Plzen, Argentina and ranked #48.
This will be the first time that they meet.
Patty serving first but like yesterday off to a bad start losing the first 4 games before holding for 4-1. 5-2 now Barbora serving for the first set and she wins the first set in 29 minutes.
Barbora had a great start because she was serving very well. Barbora had a 93% of points won with here first serve plus 3 aces.
Patty asking to speak with her coach during the break.
Patty again serving first in the second set but again Barbora breaks her serve to take a 1-0 lead. Barbora on fire goes up now 3-0. Patty calls her coach again but in vain Barbora on roll and nothing can stop her now so much so that Barbora wins this set 6-0 and a the match in only 53 minutes.
Barbora was very determine to win the match for the start in the first set until the end. Her great service game continued in the second set Patty did not even see 1 break point.
Barbora is now in the final in home place and facing the winner of the Lucie Hradecka and Agnes Szavay match.
ECM Prague Open by Glanzis
Main draw dates: Monday, July 12, 2010 – Sunday, July 18, 2010
Singles Final: Sunday, July 18, 2pm
Doubles Final: Sunday, July 18, Noon
Status: Sony Ericsson WTA Tour International Event
Total prize money: US$220,000
Staging: Tournament's 6th year
Draw sizes: 32 singles / 16 doubles / 32 singles qualifying (4 qualifiers)
Surface: Red Clay, Outdoors
2009 Champions: Singles – [2] Sybille Bammer (AUT) d. [1] Francesca Schiavone (ITA) 7-6 6-2
Doubles – A. Bondarenko (UKR) / K. Bondarenko (UKR) d. Benesova (CZE) / Zahlavova Strycova (CZE) 6-1 6-2