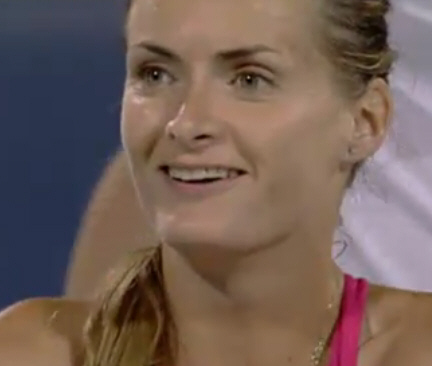 Iveta Benesova wins over Jelena Jankovic at the Rogers Cup 2010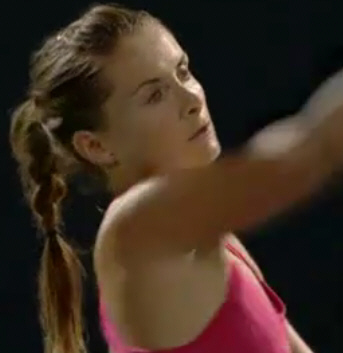 Rogers Cup 2010
By LadyDragon
MONTREAL,Canada--(LadyDragon.com)18/08/10--Iveta Benesova wins over Jelena Jankovic at the Rogers Cup 2010, winning in 2 sets 7-6, 6-3 in 1 hour and 37 minutes.
Iveta won the toss and choosed to received.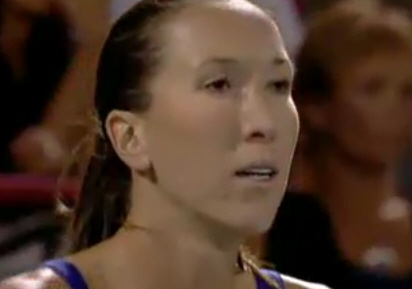 So JJ serving first and holds to love, 1-0. Iveta holds to love as well, 1-1. the ball hits the top of the net and falls dead on Iveta's so again JJ holds to love, 2-1. A ball in the net from JJ and it is now 2-2. A long forehand From Iveta give the game to JJ, 3-2. JJ contested a long ball from her but it is long, 3-3. A wild missed return gives the game to JJ, 4-3. JJ gets the first breack but Iveta breaks right back, 5-4. Iveta challenges an out and she was right so they replay the point and she wins it then does the first ace of the match and wins the game, 5-5. They both holds their serves, 6-6 and now a TB. and Iveta wins the TB 7-3 and the first set 7-6.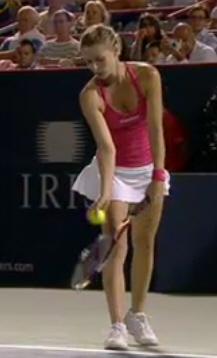 Iveta is now serving first in the second set wins the first 3 game then JJ the next 3, 3-3, Now at 4 all JJ losses her serve,5-4. Iveta now serving for the match and she does and wins the set, 6-3 and the match.
Well this was an impressive perfance from Iveta since it was her fifth match in a row in this Tournament and only the first for JJ.
2010 Rogers Cup
Montreal, Canada
Main draw dates: Monday August 16 – Sunday August 22, 2010
Singles Final: Sunday August 22, 1.30pm
Doubles Final: Sunday August 22, following singles
Venue: UNIPRIX Stadium
Status: Sony Ericsson WTA Tour Premier 5 Event
Total prize money: US$2,000,000
Draw sizes: 56 singles / 28 doubles / 64 qualifying (8 qualifiers)
Surface: Hardcourt, Outdoors
2009 Finals: [4] Elena Dementieva (RUS) d. Maria Sharapova (RUS) 6-4 6-3
[6] Nuria Llagostera Vives/Maria José Martinez Sanchez (ESP/ESP) d.
(3) Samantha Stosur/Rennae Stubbs (AUS/AUS) 2-6 7-5 11-9