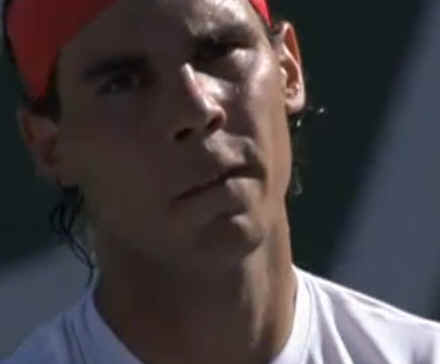 Rafael Nadal wins over John Isner at the The BNP Paribas Open in Indian Wells
The fourth round at the BNP Paribas Open on Wednesday features six of the top nine seeds, led by World No. 2 and 2008 champion Novak Djokovic, reigning champ and World No. 3 Rafael Nadal and last year's finalist and No. 4 Andy Murray. In addition, No. 6 seed Robin Soderling, No. 7 Andy Roddick and No. 9 Jo-Wilfried Tsonga are the highest seeds remaining.
The opening men's match on Stadium 1 is No. 15 seed John Isner against Nadal in a first-time meeting.
That is followed by Tsonga and Soderling, who won the previous two meetings.
In the evening session, Roddick takes a 9-0 lifetime record against No. 22 seed Jurgen Melzer of Austria. In the final match, Murray and unseeded Nicolas Almagro battle it out for the third time (tied 1-1).
Among the four matches on Stadium 2, Djokovic brings a 5-1 career mark against No. 20 seed Ivan Ljubicic.
Here are Wednesday's fourth round match-ups:
No. 2 Novak Djokovic vs. No. 20 Ivan Ljubicic Djokovic leads 5-1
No. 3 Rafael Nadal vs. No. 15 John Isner First Meeting
No. 4 Andy Murray vs. Nicolas Almagro Tied 1-1
No. 6 Robin Soderling vs. No. 9 Jo-Wilfried Tsonga Soderling leads 2-0
No. 7 Andy Roddick vs. No. 22 Jurgen Melzer Roddick leads 9-0
No. 18 Tommy Robredo vs. No. 27 Marcos Baghdatis Baghdatis leads 3-0
No. 19 Tomas Berdych vs. No. 29 Viktor Troicki Troicki leads 1-0
No. 21 Juan Monaco vs. Guillermo Garcia-Lopez Monaco leads 2-1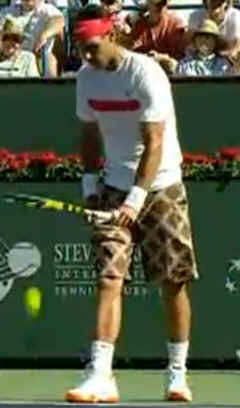 John did not have enough weapons against Rafael and Rafael was serving quite well. In the first set Rafael was serving at 93% first serve 13/14. 7-5
The second set John served better and Rafael second serve was too weak on;y 38% compared to the first set 85%. 6-3.
In the third set Rafael got his serve back on track and had 0 break point as oppose to John, who gave Rafael 6 chnaces to break his serve and he did and won the match, 7-5, 3-6, 6-3.
John Isner
Tournament Highlights:
• The 24-year-old American is making his second straight fourth round appearance here and he enters with a 6-2 record…In his first two wins, he defeated South African qualifier Kevin Anderson 63 75 and followed with a 76(3) 64 victory over doubles partner/No. 17 seed Sam Querrey
• Thus far has held all 22 service games and has not faced a break point
• He reached the 2nd Rd. in 2008 (l. to Davydenko) and 4th Rd. last year (d. Monfils en route; l. to del Potro)
2010 Highlights:
W: Auckland (d Clement); F: Memphis (l Querrey)
2010 In Review:
• The No. 2 American (behind No. 8 Roddick) enters the fourth round with a 14-5 match record on the season (14-2 on hard courts)…He is looking to reach his third ATP World Tour quarter-final (or better) and his first in an ATP World Tour Masters 1000 tournament
• In January he captured his first ATP World Tour title in Auckland (d. Clement, saving one match point)…Afterwards he extended his winning streak to eight matches by reaching 4th Rd. at Australian Open (d. No. 12 Monfils in 3rd Rd.; l. to Murray)
• Last month he reached the final in Memphis (l. to Querrey in three sets) and won his second ATP World Tour doubles title in Memphis (w/Querrey)
• Two days later he fell in 1st Rd. in Acapulco on clay (l. to Greul)
• He made his Davis Cup debut in Serbia Mar. 5-7 and went 1-2, losing opening singles rubber in four sets to Viktor Troicki and in five sets to Djokovic…In doubles won in four sets (w/B. Bryan)
ATP World Tour Masters 1000 History:
• Has an 11-10 career match record and his best result was the fourth round here last year
Miscellaneous:
• In 2009, finished in Top 50 at year-end best No. 34 despite mononucleosis lay-off (a day before leaving for Roland Garros was diagnosed with it and didn't hit a ball for 40 days until late June)…Had a strong summer season, highlighted by fifth set tie-break win over No. 5 Roddick at US Open (l. to Verdasco in 4th Rd.)
• Has a 3-9 career record against Top 10 opponents with all three wins last year – over No. 9 Gael Monfils in 2nd Rd. here, No. 7 Jo-Wilfried Tsonga in 2nd Rd. at Washington and No. 5 Andy Roddick in 3rd Rd. at US Open
• Was voted by his fellow players as 2009 ATP Most Improved Player of Year after jumping from No. 145 in 2008 to No. 34 last season
• Payed four years (2004-07) at University of Georgia and earned All-American honors each season (was school's all-time leader in singles and doubles wins); in May 2007 was runner-up in singles but led his squad to NCAA team title (also won NCAA doubles title)
Rafael Nadal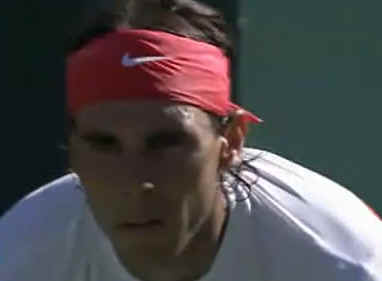 Tournament Highlights:
• The defending champion comes into the 4th Rd. with a 24-3 career record and he is making his sixth appearance in the past seven years (except '05 – injured)…He opened the tournament with a 64 64 victory on Saturday over German qualifier Rainer Schuettler and followed with a 62 62 win over Mario Ancic on Monday…Has held serve 17 of 18 games
• Last year he defeated Andy Murray in the final…In 2006, he lost to James Blake in the semi-finals, captured the title in 2007 (d. Djokovic) and lost to Djokovic in the semi-finals two years ago
2010 Highlights:
F: Doha (l Davydenko); QF: Australian Open (l Murray)
2010 in Review:
• The World No. 3 has a 10-2 mark on the season (all on hard courts) and he is making his third tournament appearance, the first since the Australian Open when he retired with a right knee injury in the quarter-finals (vs. Murray) on Jan. 26
• He opened the campaign with a runner-up in Doha (l. to Davydenko, held two match points)…His last title came at ATP World Tour Masters 1000 Rome (d. Djokovic) last May
ATP World Tour Masters 1000 History:
• Has an outstanding 159-33 career match record and a 15-6 mark in finals, winning at least two titles in each of the past five years (2005-09)…Won a personal-best four in 2005 and three each in 2007-08-09
• Has reached the final in eight of the current nine Masters 1000 finals (except Cincinnati)…He also won the former Masters 1000 tournament in Hamburg in 2008 and was runner-up in '07
Miscellaneous:
• In 2008, he became the first left-hander to finish No. 1 since John McEnroe in 1984, in addition to becoming first Spaniard as year-end No. 1 in history of ATP Rankings (since 1973)
• Became first player since Bjorn Borg in 1980 to win Roland Garros and Wimbledon titles in same year
• Captured his fourth straight Roland Garros crown (d. Federer) and became first player since Borg in 1978-81 to accomplish feat...Also first player since Borg in 1980 to win without dropping a set in Paris