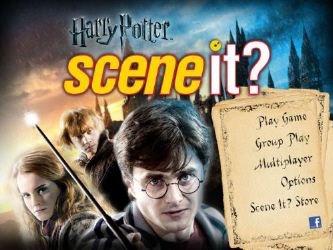 Scene It?® Harry Potter App for iPhone, iPod touch and iPad Now Available on App Store
By LadyDragon
SEATTLE, US(LadyDragon.com)21/11/10--Screenlife®, the creators of Scene It?®, the number-one entertainment trivia game worldwide, today announced its new Scene It? Harry Potter App for iPhone and iPod touch and HD version for iPad are available on the App Store, just in time for Warner Bros. Pictures' release of Harry Potter and the Deathly Hallows - Part 1.
Scene It? Harry Potter takes players on a spellbinding journey with real movie clips, puzzles and questions from the first six films from the blockbuster Harry Potter franchise. With mini-games, including Hagrid's Hut, Polyjuice Potion, Extendable Ear and Portkey, Scene It? Harry Potter promises to test players' memory and powers of observation, and will entertain and delight fans of all ages.
"We're thrilled to add Harry Potter to our roster of Scene It? Apps," said Steve Banfield, Senior Vice President of Production and Digital Strategy at Screenlife. "The Harry Potter license continues to grow in its overwhelming popularity, and is exactly the type of exciting license we seek when creating fun new games."
The Scene It? Harry Potter App for iPhone and iPod touch features:
30 distinct quiz sets with 16 different puzzle types that provide hours of challenging trivia, puzzles and mini-games

Dozens of video clips, images and audio clips pulled directly from the Harry Potter films

An engaging, fast-paced single-player mode

Head-to-Head Multiplayer mode via Wi-Fi or Bluetooth (uses multiple devices)

Pass and Play Multiplayer
The Scene It? Harry Potter HD App for iPad includes all of the above features, plus:
HD quality video clips, eye-popping graphics and upscaled user interface

Dynamic motion backgrounds and animations

Enhanced puzzles that utilize iPad's innovative Multi Touch interface

Group Play – Up to four players may play at the same time to determine who is the biggest Harry Potter fan in the room
The Scene It? Harry Potter App is available for $1.99 from the App Store on iPhone and iPod touch or at http://bit.ly/potteriphone
The Scene It? Harry Potter HD App is available for $4.99 from the App Store on iPad or at http://bit.ly/potteripad
Screenlife's Scene It? Harry Potter App is available through a license agreement with Warner Bros. Consumer Products.
For more information on Scene It? Harry Potter for iPad, iPhone and iPod touch, or to learn about other Scene It? games, please visit www.screenlifegames.com or call (866) 383-4263.
About Screenlife
Screenlife, a leader in entertainment trivia games, is transforming the way the world has fun through its pop culture-based games, including Scene It?, the number-one selling DVD trivia game worldwide. Located in Seattle, WA, Screenlife's socially interactive and immersive games are now available on multiple platforms including DVD, video game consoles, social networks and mobile phones.
Since its 2002 launch, Scene It? has grown into an international, award-winning brand with trivia game editions that include Twilight, The Simpsons, Star Trek, Seinfeld, Movie, TV, Sports, Music, Friends, Harry Potter and Disney. Scene It? DVD games have been translated into twelve languages across 29 countries.
A leader in entertainment licensing, Screenlife has struck hundreds of deals with major Hollywood studios, sports leagues and recording labels, as well as top actors, athletes and musicians. Other companies, including Warner Bros Interactive Entertainment, Real Networks, Konami, Namco and Comcast, work with Screenlife to deliver custom Scene It? games across multiple platforms including the Xbox 360, PS3, Wii, mobile phones, and video on demand. Screenlife is a subsidiary of Paramount Pictures Corporation.
About Warner Bros. Consumer Products
Warner Bros. Consumer Products, a Warner Bros. Entertainment Company, is one of the leading licensing and retail merchandising organizations in the world.
HARRY POTTER characters, names and related indicia are trademarks of and © Warner Bros. Entertainment Inc. Harry Potter Publishing Rights © JKR.