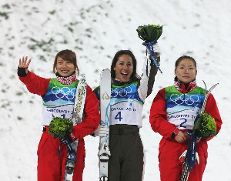 Lydia Lassila from Australia wins the Gold medal at the Vancouver 2010 Olympic Winter Games in Canada
Australia's Lydia Lassila won the women's Olympic aerials on Wednesday with Chinese teammates Li Nina and Guo Xinxin in the silver and bronze positions at Vancouver's Cypress Mountain.
Lassila notched a combined total of 214.74 in her two jumps after she placed second following her first jump.
Li scored 207.23 while Guo posted 205.22.