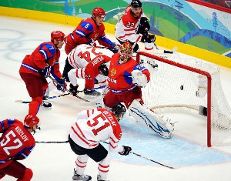 Canada wins over Russia and advance to the semifinal in Hockey at the Vancouver 2010 Olympic Winter Games in Canada
Corey Perry scored twice in the second period and linemate Ryan Getzlaf had a goal and two assists as Canada routed Russia 7-3 in the quarter-finals of the Olympic hockey tournament on Wednesday.
Defenceman Dan Boyle also had a goal and two assists for Canada who avenged two consecutive losses to top-seeded Russia in the past two World Championships.
Canada advances to the semi-finals on Friday where they will face either defending champion Sweden or Slovakia.
This was just the second Olympic hockey meeting between the two long-time international rivals.
Russia defeated the Canadians 2-0 in the quarter-finals of of the 2006 Turin Winter Games.
Shea Weber, Rick Nash, and Brenden Morrow also scored for Canada who set the tone early in the first period by steamrolling the Russian defence and peppering goaltender Evgeni Nabokov with 21 shots in the opening period.
Sergei Gonchar, Maxim Afinogenov and Dmitri Kalinin scored for Russia who won their group in the preliminary round and received a bye into the quarters.
Roberto Luongo got his second-straight win for Canada, making 25 saves. The crowd at Canada Hockey Place arena roared "Louuuuuuu" every time the Vancouver Canucks goaltender made a save or handled the puck.
The Russians came out first for the pre-game warmup. Like a championship boxer fighting in his hometown, Canada waited several minutes before emerging from the tunnel to a thunderous roar from the red-and-white-clad crowd who made sure the Russians knew who the visiting team was.
Canada set the tone in the first period by steamrolling the Russian defence and swarming Nabokov until he was pulled in the second period and replaced by backup Ilya Bryzgalov.
Russian superstar Alex Ovechkin was a non-factor for much of the game.
Ovechkin spent much of the first two periods skating back to the Russian bench to replace one of the three sticks he snapped.
He took a shot off his right hand in the third period and was seen grimacing and icing it on the bench.