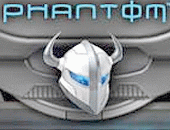 Video unveiling the Phantom Game Console
Infinium Labs today (Sunday August 17, 2003) announced the online video unveiling of the Phantom Game Console™. The video unveiling can be downloaded here.
2Advanced Studio of Aliso Viejo, California, is producing the video unveiling. The video will give the gaming community a "first look" at the new next-generation game console and show viewers all that the Phantom™ will have to offer. The video is the first phase of a multiphase rollout of the Phantom Game Console™ over the next several months.
Infinium Labs' Phantom™next-generation game console supports games on demand, game rentals, game demos, seamless upgrades and patch management. At launch, the Phantom™will be the fastest, most powerful console on the market and will include a broad selection of pre-loaded games, on-demand games and game rentals.
The Phantom™ is an always-on broadband device, which will allow gamers a wealth of options, from wireless connectivity to massive multiplayer capabilities, allowing gamers to demo games before purchasing or subscribing. For more information on the Phantom Game Console™, please visit www.phantom.net.
About Infinium Labs
Infinium Labs is a visionary global entertainment and interactive gaming company. Infinium Labs developed its flagship product the Phantom Game Console™, a cutting-edge and intuitive gaming console and delivery system that will be the performance leader in the interactive entertainment industry. Founded and managed by senior interactive media, entertainment and technology leaders with proven industry experience and success, Infinium Labs markets a robust game console that appeals to a wide target audience of interactive gamers with its ease of use, intuitive graphic user interface, quality assurance and robust delivery system. For more information, please visit www.infiniumlabs.com or www.phantom.net.
Phantom Game Console is scheduled to be release Q1 2004.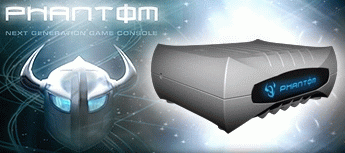 Phantom Game Console™
If you have a need for blazing fast processor speed, cinematic graphics, and Dolby Digital™ Surround Sound, then experience the Phantom Game Console™ for a true high performance gaming environment. The Phantom™ provides access to more games of every genre than any competing product. Phantom's breath-taking speed, graphic realism and Dolby Digital™ 7.1 Surround Sound put it in a class of its own . . . the must-have high performance game console. Experience the new world of Phantom™.
Phantom™ Advantages
Phantom™ is the next-generation game console that supports PC games, games on-demand, game rentals, game demos and seamless upgrades. It is the fastest game console on the market and includes a broad selection of pre-loaded games. Phantom™ offers gamers a more exciting and compelling gaming experience than any other game console or PC on the market. Phantom™ is an always on broadband device, which allows gamers a wealth of options, from wireless connectivity to massive multiplayer capability . . . to allowing gamers to demo and experience games before purchasing or subscribing.
Phantom™ Features
State of the art design and technology

Pre-loaded games that appeal to wide variety of users and gaming needs

Ability to download more games than offered by other game consoles

Leading edge peripherals

Seamless upgrades and patch managements
Register to Pre-Order your Phantom™ Today
Register at www.phantom.net to be contacted to pre-order the Phantom Game Console™. Online ordering is expected to begin this October.
Built By Gamers for Gamers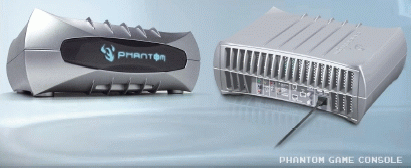 Interview with David Frederick, Chief Marketing Officer at Infinium Labs
In late January of 2003, an unknown company by the name of Infinium Labs announced plans for a new video game console dubbed Phantom.
Details were few and far between, and many critics responded that Phantom was indeed a phantom, just another piece of vaporware littering the video game news landscape. Still, Infinium Labs kept insisting that details were to come, and their boasted "fastest game console on the market" was a reality.
Just this weekend, Infinium Labs gave the world a first look at the Phantom, and it looks like things are full steam ahead. Along with our exclusive showing of the Phantom introduction video, we sat for a conversation with David Frederick, Chief Marketing Officer at Infinium Labs, tackling this upcoming console and its projected place in the video game market.
Can you give us a brief rundown of exactly what is the Phantom and how it will operate?
The Phantom really is the next generation in gaming. What we mean by that is if you look at the current consoles on the marketplace, they're really what I would refer to as static machines. They really haven't evolved much from the old Atari consoles. I mean, if you want to get down to brass tacks, technologically they have evolved and do some pretty amazing things, but the design premise is relatively the same. You have a box, you put a cartridge or CD or DVD into it, you fire up the game and you play it. And when Sony or Microsoft decides to release a new system in 2005 or 2006, you have to buy a new box. It's really nothing more than an iteration of the old box you had.
We've taken a different approach in that the Phantom console is a means to an end, and it's not the end. The console is the technology platform that enables Phantom. And one of the things that sets Phantom apart is comthing called PhantomNet. PhantomNet is something that we have that is proprietary called VPGN, or Virtual Private Game Network, and that's where the whole broadband comes in.
So if you look at the premise that the box is the technology platform, the VPGN is the power behind the machine. This is what feeds Phantom. This is where the user gets to search and preview a demo, purchase, or rent a game. In addition to that, there are other services such as diagnostics where if we can fix boxes that are having problems, or where we can interact with customers. That is really the key value. That is the major differentiation between static consoles, i.e. PlayStation 2 and Xbox, and the dynamic consoles which is Phantom.
Now, regarding the actual console, what kind of power will the Phantom have and, with the big console makers planning new system releases for 2005, how does Phantom expect to stack up to that new technology?
When Phantom is delivered in the first quarter of 2004, it will be the fastest, most powerful game console on the market and in the world. The baseline unit, the basic Phantom will come with a 100GB hard drive, 256MB DDR RAM, the latest iteration of the nVidia video card, a broadband modem depending on if you want a DSL or cable modem and any peripherals you would want included. Then there's an enhanced version of Phantom where everything is top end, memory is blown out. In between those two things, we will allow customers who can customize their units exactly how they want their Phantom to be built. So if they want more memory or a bigger hard drive or a WiFi modem, they can do that.
Now, going back to what you said about stacking up against the upcoming consoles, there is a program we have called Phantom For Life. Here, users of Phantom For Life will always have the next iteration of Phantom hardware while, on the software side, when you connect to the VPGN all your software and performance upgrades can be done automatically. I hate using terms like non-obsolescence, but that really is the model we've implemented by not only taking advantage of technology, but also on the broadband side we can help keep the Phantom at the leading edge.
Everything sounds very PC-based, so will all the peripherals be that way connected via USB?
That's right, and one thing I want to tell you is that Phantom is actually running Windows XP embedded into the machine. The Windows XP kernel, that is, and it makes development for the system very easy. With our SDK, they can port Xbox and PC games over extremely easy, it's not complicated. Of course, we provide the SDK at no cost, while if you want to be an Xbox developer they charge you for the SDK and royalty fees. We also offer a very good distribution model.
Does the Phantom console and games have a set price point?
It has, but what I would say is the price point for the baseline Phantom will be below $399 and the VPGN should hit at $9.95 per month. The Phantom will come with preloaded games in the box so, literally, no pun intended, you'll be able to play right out of the box.
The titles themselves will have a price range from $2.99 to $50, it depends on the type of game and the release. It does vary from game to game, but we are able to offer the game at a much more affordable rate because there's not the package, not the shelf space, typical retail expenses like that.
Which preloaded titles can we expect in each Phantom unit?
Our strategy is we will be releasing details on many of the titles at COMDEX [November 17-20 in Las Vegas, Nevada] where people can see what the Phantom is. The interesting thing is we let the cat out of the bag back around March and the response was just overwhelming, we have just created so much demand and interest, in fact so much so that we see comments like, "It's not real, it's vaporware." I can tell you, it's not vaporware, it's real and it's coming very soon.
So this is kind of the first controlled release of the product, and for the first time ever we will introduce the world to the Phantom. All the stuff that people have been clamoring, and that's kind of the first phase of "shock and awe," so to speak. Then at COMDEX we will have the beta units so folks will be able to test drive, touch and feel the Phantom console. In the early fourth quarter, beta units should be going out and that will lead into the first quarter release.
When we put out a call for beta testers for Phantom, we received over forty-thousand applications for beta testers and we're in the process of weeding them all out. We can't ship out forty-thousand units for beta testing purposes only, but we will weed them down and ship the final testers everything they need.
There have been some delays in unveiling the Phantom, and these things, as you mentioned before, have made some gamers wary about what the Phantom has in store for them. How will you garner their support?
The first thing we're showing off, the video, will show off exactly what the Phantom has in store for people. It's more a first peek at the Phantom. At COMDEX, people will be able to see and play the Phantom in front of their eyes.
You're right, I think we let the cat out of the bag too early, but hindsight is 20/20. We didn't expect the demand it has garnered. I can attest firsthand that I get thousands of emails from people who are interested in getting the Phantom on their hands. We think that by engaging consumers many activities like the PhantomNewsNet newsletter and the Phantom.net website, this is a controlled rollout of all things Phantom, and we want to let everyone know exactly what this thing is and what it isn't.
As you mentioned before, the software is still under wraps, but can we expect significant third party support for the Phantom?
Yes, there will be a broad selection of developers from all over the world, from small companies in garages to very large companies on either coast. There will be a very large selection of companies and I think people will be very happy and surprised with what we have in store for them.
You mentioned Q1 2004 as a release date. Have retailers been lined up for the Phantom release?
Well, the actual consoles will be sold directly through the Phantom.net website and also through our broadband partners. We have not yet approached retailers so you won't see us at Toys 'R' Us or Wal-Mart at this time, but we may look at those things down the road. But as it stands today, our access channels are Phantom.net and our broadband partners.
How do you see Phantom being marketed? Will it be completely web-based or will we see television ads and the like?
We will be taking advantage of a variety of media, including web, print, broadcast TV and radio, and we will use all of these channels to tell people the Phantom is the next generation console. We will also be doing the traditional road shows and trade shows that are targeting our market, like the GDCs and E3s. Like I said, there's a very comprehensive plan that we have put together and we'll go through it step by step.
Interview done by John Benyamine from Gigex with David Frederick of Infinium Labs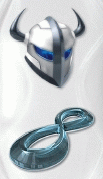 Infinium Labs we will be releasing details on many of the titles at COMDEX November 17-20 in Las Vegas, Nevada then the Beta Test will be starting shortly after.
Phantom Game Console is scheduled to be release Q1 2004.
The following will be the latest news on the Phantom as they come
Infinium Labs and Venturcom To Implement Windows XP Embedded Operating System for Phantom Game SystemT