Interview with Aleksandra Wozniak after her win over Amelie Mauresmo at the 2009 US Open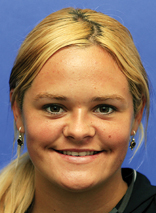 Q. How does that rate on your scale of best matches?
ALEKSANDRA WOZNIAK: Well, definitely was exciting to play on Arthur Ashe stadium. I think I was really trying to focus, you know, and not get distracted by the crowd or anything. I think I did pretty well staying composed. I think I did a pretty good job with everything and I played well.
Q. What was the difference in the second set? Her level really dropped.
ALEKSANDRA WOZNIAK: Yeah, for me it was really to focus on getting more in try to release more my shots, you know, swing more freely. Definitely I was a little bit tight at the beginning of the first set. Then I started feeling better on the court and everything.
Yeah, I think I was just really not focusing on my game. For sure sometimes I would hit deep balls and she couldn't handle really the pace. Probably she was tight and everything.
You've got to deal with a lot when you're on this course, so whoever does better, you know, definitely you've got to do everything to win.
Q. Are you looking forward to the Pennetta match next?
ALEKSANDRA WOZNIAK: Yeah, I am. I'm really excited to be in the third round first time here at the US Open. I'm looking forward to it.
Q. Are you happy with your career overall?
ALEKSANDRA WOZNIAK: Definitely, because I had a serious injury, a tear on my shoulder and I had to take a couple weeks off from the tour.
I went through some changes. Yeah, so so far it's been some little up and downs, but satisfied with how it's going.
Q. So the injury wasn't so bad that you had to take off months like Sharapova did?
ALEKSANDRA WOZNIAK: Yeah, I didn't take months, but it still can affect your game after, like you still struggle with the weakness with the shoulder on the serves and a little bit lose confidence, and you need to play a lot of matches to get into it, find your rhythm, so it took a while still.
Q. But it's completely healed and you feel 100%?
ALEKSANDRA WOZNIAK: Definitely.
Q. Your strength is all back?
ALEKSANDRA WOZNIAK: Yeah. Definitely feel good about it and I'm healthy, so...
Q. You played a good match in Cincinnati with Caroline Wozniacki and you lost it. Do you think you are in better shape at the US Open?
ALEKSANDRA WOZNIAK: Oh, definitely. I feel really good and much better. Yeah, I feel like everything is coming together. So, yeah, pretty much.
Q. When you play a player like Mauresmo who has won Grand Slams and has a lot of experience and variety, how much does strategy come into play, or is it just a matter of I'm going to play the ball on my side?
ALEKSANDRA WOZNIAK: Yeah, definitely before the match I focus really on how I would approach her. She plays really heavy topspin. It's really tough. Not many girls play that topspin. Usually it's flat.
I really had to today the key was to stay patient and at the same time be aggressive and move the ball and try and stay in my rhythm, not get into her game, just keep hitting, placing the ball well and move her around.
Q. Is that sort of the same case with Pennetta?
ALEKSANDRA WOZNIAK: Yeah, I think she's a very consistent player, so definitely she's gonna get a lot of balls back. I have to be aggressive and just play smart, like today.