Interview with Amélie Mauresmo after her lost to Aleksandra Wozniack 4-6, 0-6 at the 2009 US Open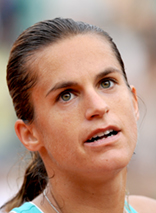 Q. Where is your thinking these days as far as rest of the year or next year?
AMÉLIE MAURESMO: Nowhere really. I'm sticking to the decision that I made at the end of last year to really sit and see how the year went and make a decision at the end of this season.
Q. So that will come...
AMÉLIE MAURESMO: At the end of the season, as I just said.
Q. Is a result like that more painful? Would it have been more painful a year ago than it is now?
AMÉLIE MAURESMO: I don't know. A year ago I was really struggling a lot more regarding everything: the game and shape physically and everything.
Yeah, it is definitely painful and not really nice to have. But that's just how it is.
Q. Can you put your finger on what went wrong in the second set?
AMÉLIE MAURESMO: Well, the loss of the first set after being up 4 3, having some opportunities to go up 5 3, even at 4 All to be able to still take the lead, it was not really what I expected. Then she really raised the level up in the second set and me not really being able to find better solutions.
Q. You had a very accomplished career, and it took you a while to finally win a Grand Slam title. What advice would you give to the other players in the draw in the same situation?
AMÉLIE MAURESMO: Advice regarding what?
Q. As far as...
AMÉLIE MAURESMO: Taking time to -- you know, everyone's road is different. We all have different things that we went through, even before the tennis career started and everything. It builds you as a human being, as a player. It's really hard to say you should do this or that.
When you're in this position, it's better to go this way or to take this road or make this choice. It's really personal things. I'm not sure there is one answer really, just one answer to each of those questions.
It's a matter of each one adjusting to the situation you are given. You have to make the choice.
Q. Do you think they have some flaws in their games or they have been unlucky or they're not there yet?
AMÉLIE MAURESMO: Who are you talking about?
Q. Jankovic, Safina, Dementieva.
AMÉLIE MAURESMO: You know what? I don't know. I don't know. Who am I to just -- I don't know how they're working. I don't know in what state of mind they are. I don't know how they feel physically.
I just you know, they know the best, and they can the best choose and see who's better to help them and how and what. It's so personal. I'm glad I'm not a journalist to write on this.
Q. I think what we would like to hear about is the pressures of being No. 1. We see Dinara struggle with that a little bit. How tough is that?
AMÉLIE MAURESMO: She's not I've seen I would not say she's struggling with the pressure of being No. 1. When you see her, she's winning tournaments and playing Grand Slam finals. Okay, she has yet to win a Grand Slam, but she seems to me as a pretty solid No. 1 still.
How old is she? 24.
Q. 23.
AMÉLIE MAURESMO: 23. She seems to me as a solid No. 1.
Q. What are your thoughts on the meaning of being No. 1? For example, even if Serena Williams wins this tournament, Dinara would remain No. 1. What are your thoughts on a system that would have Dinara remain No. 1 in that situation?
AMÉLIE MAURESMO: You know, it's a matter of being consistent at some point. Unfortunately or fortunately for you guys you have something to write about. She's more consistent than Serena throughout a period of one year.
What else can I say? Or you change the ranking system. You just put the Grand Slams really, really high, like many, many points, like ten times more than the other tournaments which are still huge tournaments: Miami, Indian Wells. Those are huge tournaments.
Then, okay, you put these tournaments in really back, way, way back, and then you say, Okay, Serena is No. 1. Well, I mean, what can I do? What can I say?
I saw that Dinara made the statement saying, Guys, I'm not making the ranking system. I'm sorry.
She almost has to apologize that she's No. 1 now. Give her a break.
Q. What are your thoughts on Kim's comeback? What are your observations? A different No. 1 from a different time.
AMÉLIE MAURESMO: You know, it's good. I forget about the match. It's perfect. You're making me talk about other things which is much more interesting than what just happened on the court. It's really good.
She was already very impressive player, accomplished player when she was No. 1, winning here and dominating many of the hardcourt events that she was playing in.
It is, in a way, kind of surprising to see her that level after two years, but she's still young. She did not leave any room for, how do you say, hazard in her comeback. She's hired physical trainer, physio, coach. She really put all the chances on her side to really do it the best way she could.
It shows that if her body is holding up, because she had trouble at the time with injuries and stuff, then giving her edge, she's what? 26. So I think, yeah, she showed already that she can play some great tennis.
Q. What does it mean to the tour to have her back, do you think?
AMÉLIE MAURESMO: I think it's great. To me, I think it's great. I think she -- for you, what you are seeing on the court, but for us also. I mean, already in the locker rooms, everywhere, she's a great girl. She's bringing a lot of positive things back.
Q. You say you're going to reassess at the end of the year. One of the things you've got to bear in mind is maybe I might miss it in...
AMÉLIE MAURESMO: Oh, yeah. That's for sure the thing that I don't want to make the decision to stop and then after two, six, eight months thinking, shit, I should have you know, it was not quite the time yet. Because then it's too hard, I would say, probably to make a comeback as Kim is making now, given the age.
So for sure I don't want to be in this situation.
Q. What's the biggest factor for you in determining your future, do you think?
AMÉLIE MAURESMO: The will deep inside to really have the energy and to go out there every day, and to work and being able to try to stay at the best level that I can be, being still able to be happy about doing this and having this still deep inside of me.
It was hard after Wimbledon, and I found myself a little bit better last week playing some good matches and really finding the movement was good, and physically I was feeling good as well. So it gave me a little bit of extra will, I would say.