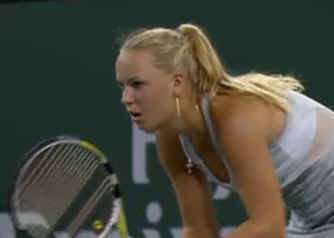 Caroline Wozniacki move on to the final against Jelena Jankovic at theThe BNP Paribas Open in Indian Wells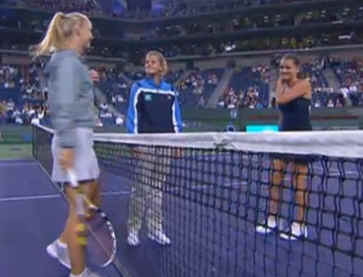 1-1 then Caro breaks 2-1 after 15 minutes of long rallies after that Caro goes on to win the first set 6-2.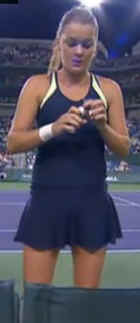 Caro had 12 winners and 10 ue and Rad 7 winners and 14 ue.
Rad serving first, 1-0. After an impressive rally of 34 shots Caro holds 1 all. 2-1 Rad. After 2 breaks points Caro actually holds 2 all.
The longest and best game of the match played in a very smart way by Rad but unfortunatly for her Caro broke 3-2 and goes on to win the set and the match 6-3
And at the end of the match they hug each other since they are great friends :)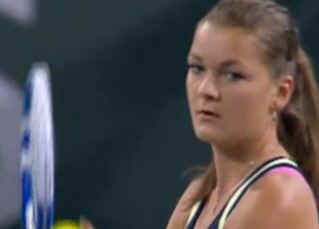 RANKING PROJECTIONS
The next rankings will be released following Indian Wells on Monday, 22 March. Taking into account results through
Thursday, the following ranking changes are projected:
? By reaching SF, Wozniacki will return to the No.3 spot, ahead of Kuznetsova, who drops to No.4. If she advances to the final, she will rise to a career-high No.2, overtaking Safina
? Dementieva will return to No.6, with Azarenka dropping to No.7
? Whichever player between Jankovic and Radwanksa advances further at Indian Wells will hold the No.8 spot on
Monday (if both players end with the same result, Jankovic will be No.8)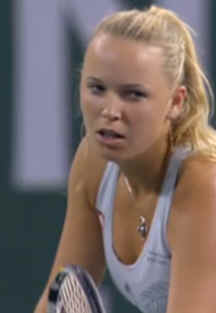 Semi-Final facts
? Stosur will break the Top 10 and could go as high as No.9 if she wins the title and Radwanska loses in SF
? Zheng will return to the Top 20; Kleybanova will reach a new career-high ranking of No.22
? Jankovic is the only player to have previously contested a SF at Indian Wells (l. Ivanovic in 2008)
? All remaining players have won at least 1 career title, led by Jankovic (11)
? None of the semifinalists have won a title yet this year – only Radwanska (Dubai) has reached a SF in 2010
? All the semifinalists have reached a Tour singles final in the last 6 months, with Wozniacki (US Open) having the longest gap since reaching her last final
? Radwanska and Stosur have yet to drop a set en route to the semifinals (Vera Zvonareva won last year's title without dropping a set)
? The oldest semifinalist is Stosur (25); the youngest is Wozniacki (19)
? Jankovic is the only player remaining to have been ranked No.1
? Wozniacki has spent the longest on court en route to the last four, needing 8 hours, 4 minutes to win her four singles matches; while Radwanska has spent the least amount of time on court, at 5 hours, 17 minutes
? All semifinalists have competed in doubles this week: Wozniacki (w/Medina Garrigues) bowing out in the 1r, Jankovic (w/Garbin) making a 2r exit, Radwanska (w/Kirilenko) reaching the QF, and Stosur (w/Petrova) will contest the SF following her singles SF
5] Agnieszka Radwanska (POL) vs. [2] Caroline Wozniacki (DEN)
After two successive QF defeats here, Radwanska is through to her first SF at Indian Wells…
Wozniacki is also through to her first Indian Wells SF and has maintained her record of improving on her result here year upon year, having fallen at QF stage last year…
Radwanska is contesting her second consecutive SF of the year (after Dubai), while this is Wozniacki's best result of the year so far…
Radwanska is yet to drop a set at this year's Indian Wells, while 3 of Wozniacki's 4 matches have gone to 3 sets…
By reaching the SF, Wozniacki is projected to return to her career-high ranking of No.3 next week, and is predicted to rise to No.2 if she advances to the final…
Radwanska scored her 12th career Top 10 win vs. Dementieva in QF; she is 4-16 in matches against Top 5…
All of Wozniacki's losses at Indian Wells have been to Top 6-ranked players.
AGNIESZKA RADWANSKA (POL)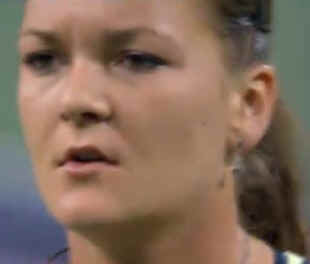 TOURNAMENT HISTORY:
Making 4th Indian Wells appearance. Reached QF in 2008 (l. Kuznetsova) and 2009 (l.
Pavlyuchenkova); 2r on debut in 2007 (l. Safarova)
2010 HIGHLIGHTS:
SF (1): Dubai
? SF at Dubai (as No.7 seed, l. No.4 seed Azarenka); 12th career SF
? Fell 3r at Australian Open (as No.10 seed, l. No.17 Schiavone)
? Reached 2r at Sydney (l. No.2 seed Safina, led 5-0 in first set before losing 75 64)
? Went 1-1 in Poland's Fed Cup World Group II loss to Belgium (d. Flipkens, l. Wickmayer)
CAREER SUMMARY:
WON (4): 2007 Stockholm; 2008 Pattaya City, Istanbul, Eastbourne; R-Up (1): 2009 Beijing; SF (7): most recently 2010 Dubai; 1 doubles title (2007 Istanbul w/U.Radwanska)
? Consistent 2009 as finished in Top 10 for 2nd straight season, reaching one final, 2 SFs and 9 QFs
? Four-time Tour titlist, including 3 in 2008
? Had surgery on middle finger of right hand immediately after 2009 Tour Championships
? Holds 11 Top 10 wins, incl. one via. retirement (d. No.6 Azarenka, Sony Ericsson Championships-Doha 2009 leading 4-1 in 3s); last completed match win vs. Top 10 opponent was No.4 Dementieva at 2009 Beijing; her 4th Top 5 victory; highest-ranked player defeated is No.2 twice (Sharapova at 2007 US Open and Kuznetsova at 2008 Australian Open)
? After 2008 Wimbledon, became the first Polish woman to be ranked inside the Top 10; also first Polish woman to win a Tour singles title at 2007 Stockholm
? Member of Polish Fed Cup Team 2006-10, helping Poland advance to World Group II for the first time (for the 2010 competition), and Polish Olympic Team in 2008
GRAND SLAM HISTORY
? 2010 Australian Open was 15th consecutive Grand Slam singles main draw
? Best results are 3 QF finishes at 2008 Australian Open and 2008/2009 Wimbledon
? Has also reached 4r 5 times – 2006 Wimbledon (Grand Slam debut), 2007 US Open (d. defending champion Sharapova in 3r), 2008 Roland Garros, 2008 US Open and 2009 Roland Garros
? Reached doubles SF at 2010 Australian Open (w/Kirilenko)
? Girls' singles champion at 2005 Wimbledon (d. Paszek) and 2006 Roland Garros (d. Pavlyuchenkova)
OTHER FACTS
? Coached by father, Robert, who also travels with her; mother, Marta, is an accountant; younger sister, Urszula, also plays on the Tour and in 2007 followed in Agnieszka's footsteps by winning junior Wimbledon singles title
? Began playing age 4; grew up playing at a club in Gronau, Germany, where her father was a club pro
? Received Tour Newcomer of the Year Award in March 2007 (for 2006 achievements, which included going from outside Top 300 at beginning of season to No.57 on season-ending rankings)
? Was a Tour Ambassador for Habitat for Humanity in 2009
CAROLINE WOZNIACKI (DEN)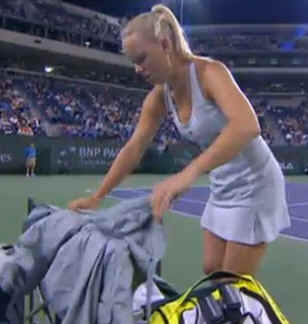 TOURNAMENT HISTORY:
Making 4th Indian Wells appearance. Best previous result is QF finish in 2009 (l. eventual champion Zvonareva), which improved on her 4r in 2008 (l. Kuznetsova) and 2r in 2007 (l. Hingis); all her losses at Indian Wells have been to players ranked in the Top 6.
2010 HIGHLIGHTS:
4r (1): Australian Open
? Equalled best Australian Open performance, reaching 4r for 2nd time (as No.4 seed, l. No.16 seed Li); rose to career-high No.3 afterwards
? 3r at Dubai (as No.1 seed w/1r bye, d. Cibulkova, l. eventual semifinalist Peer)
? Started season at Sydney with 1r defeat (l. Li)
? Went 2-0 for Denmark in Fed Cup Europe/Africa Group I, helping Denmark to stay in that group for 2011
CAREER SUMMARY:
Won (6): 2008 Stockholm, New Haven, Tokyo [Japan Open], 2009 Ponte Vedra Beach, Eastbourne, New Haven; R-Up (6): (incl. 1 Grand Slam) 2008 Luxembourg, 2009 Memphis, Charleston, Madrid, Bastad and US Open; 2 doubles titles, most recently 2009 Memphis (w/Azarenka)
? Reached 8 Tour finals in 2009, equal most among all players (w/Safina), winning 3 titles; also advanced to first Grand Slam final (2009 US Open)
? Advanced to SF on debut at Sony Ericsson Championships-Doha 2009 (ret. vs. S.Williams w/left abdominal strain); won (67) and played (91) more matches than any player on Sony Ericsson WTA Tour in 2009
? At 2008 Stockholm, became the first Danish woman ever to win a Tour singles title (Scheuer-Larsen is only other Danish woman to win a Tour title of any kind, winning seven Tour doubles titles in 1980s and 1990s)
? Has 10 career wins against Top 10 opponents, having never beaten a Top 20 player before 2008; most recent was vs. No.9 Zvonareva at 2009 Tour Championships. Highest-ranked player defeated is No.3 Dementieva (2009 Charleston)
? Has improved year-end ranking every year. After finishing 2006 ranked No.237, broke Top 100 after 2007 Wimbledon and finished first full year on Tour ranked No.64, climbed into Top 20 on August 25 2008, finishing the season ranked No.12; broke into Top 10 on May 18, 2009, becoming first Danish woman to do so. Reached Top 5 for first time on September 21, 2009
? Spent first full year on Tour in 2007; played first 2 Tour events in 2005
? Helped V.Williams win first Tour doubles match with a partner other than S.Williams at 2008 Doha, falling in 2r
? Member of Danish Olympic Team, 2008 and Danish Fed Cup Team, 2005-10
GRAND SLAM HISTORY
? 2010 Australian Open was 12th consecutive Grand Slam singles main draw
? First Danish player to reach a Grand Slam final since Kurt Nielsen (1955 Wimbledon) at 2009 US Open (as No.9 seed, l. to Clijsters in final)
? Prior to reaching first Grand Slam final at 2009 US Open, best results had been 4r finish (3 times): 2008 Australian Open, 2008 US Open and 2009 Wimbledon. Fell 4r for 4th time at 2010 Australian Open
? Has only fallen in 1r once (Grand Slam debut, 2007 Roland Garros)
? Girls' singles champion at 2006 Wimbledon and runner-up at 2006 Australian Open (l. Pavlyuchenkova); also 2006 Roland Garros girls' doubles runner-up
OTHER FACTS
? Coached by father Piotr, also trains with adidas Player Development Program – Darren Cahill, Sven Groeneveld, Gil Reyes and Mats Merkel; also coached by Morten Christensen at National Tennis Center in Denmark
? Official website is www.carolinewozniacki.dk
? In July 2009 was announced as the face of the 'adidas by Stella McCartney' tennis range
? Father, Piotr, played pro soccer in Poland, Denmark; mother, Anna, played volleyball for Polish National Team; brother, Patrik, plays pro soccer in Denmark