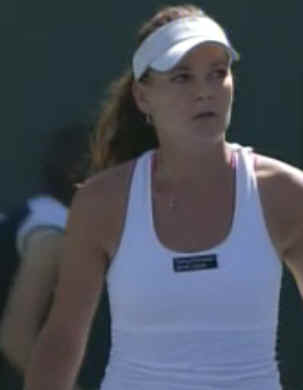 Elena Dementieva losses against Agneiszka Radwanska at theThe BNP Paribas Open in Indian Wells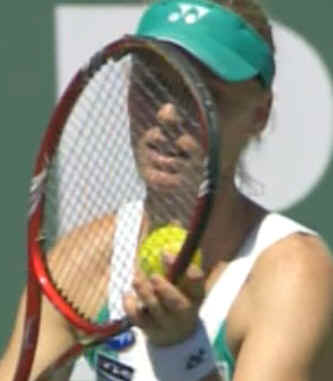 [5] Agneiszka Radwanska (POL) vs. [4] Elena Dementieva (RUS)
Radwanska has won 2 of her 3 hardcourt meetings with Dementieva; 4 of their 5 previous meetings have also been at QF stage…
Radwanska is through to her 3rd straight QF at Indian Wells and is bidding to reach her first SF here…
Dementieva is playing her 5th QF here…
Radwanska is 1 of 2 players (with Stosur) yet to drop a set at this year's Indian Wells...
Dementieva has a joint tour-leading 17 match wins in 2010 (level with Peer) through 4r here and is the only player to have reached 3 finals this year, winning 2 titles (Sydney and Paris [Indoors])…
Radwanska is playing here on a careerhigh ranking of No.8…
Dementieva (28) is the oldest of the quarterfinalists.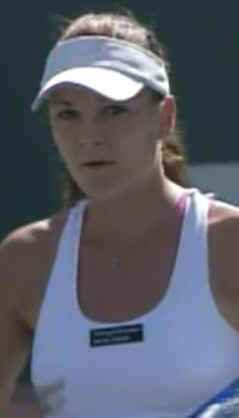 Well it was not Elena's day and Agneiska played well. First Elena's serve was not sharp today and usually Elena can break back quickly but that was not the case.
Agneiska won 6-4, 6-3 in 1 hour 31 minutes.
Agneiska will face the winner of tonight match between Zheng and Wozniacky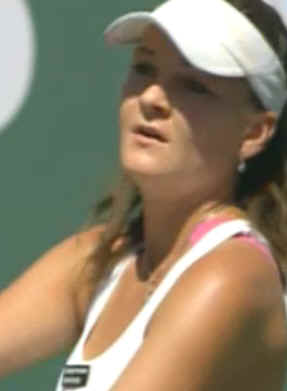 Agneiszka Radanska
TOURNAMENT HISTORY:
Making 4th Indian Wells appearance. Quarterfinalist in 2008 (l. Kuznetsova) and 2009 (l. Pavlyuchenkova); 2r on debut in 2007 (l. Safarova)
2010 HIGHLIGHTS:
SF (1): Dubai
• SF at Dubai (as No.7 seed, l. No.4 seed Azarenka); 12th career SF
• Fell 3r at Australian Open (as No.10 seed, l. No.17 Schiavone)
• Reached 2r at Sydney (l. No.2 seed Safina, led 5-0 in first set before losing 75 64)
• Went 1-1 in Poland's Fed Cup World Group II loss to Belgium (d. Flipkens, l. Wickmayer)
CAREER SUMMARY:
WON (4): 2007 Stockholm; 2008 Pattaya City, Istanbul, Eastbourne; R-Up (1): 2009 Beijing; SF (7): most recently 2010 Dubai; 1 doubles title (2007 Istanbul w/U.Radwanska)
• Consistent 2009 as finished in Top 10 for 2nd straight season, reaching one final, 2 SFs and 9 QFs
• Four-time Tour titlist, including 3 in 2008
• Had surgery on middle finger of right hand immediately after 2009 Tour Championships
• Holds 11 Top 10 wins, incl. one via. retirement (d. No.6 Azarenka, Sony Ericsson Championships-Doha 2009 leading 4-1 in 3s); last completed match win vs. Top 10 opponent was No.4 Dementieva at 2009 Beijing; her 4th Top 5 victory; highest-ranked player defeated is No.2 twice (Sharapova at 2007 US Open and Kuznetsova at 2008 Australian Open)
• After 2008 Wimbledon, became the first Polish woman to be ranked inside the Top 10; also first Polish woman to win a Tour singles title at 2007 Stockholm
• Member of Polish Fed Cup Team 2006-10, helping Poland advance to World Group II for the first time (for the 2010 competition), and Polish Olympic Team in 2008
GRAND SLAM HISTORY
• 2010 Australian Open was 15th consecutive Grand Slam singles main draw
• Best result is 3 QF finishes at 2008 Australian Open and 2008/2009 Wimbledon
• Has also reached 4r 5 times – 2006 Wimbledon (Grand Slam debut), 2007 US Open (d. defending champion Sharapova in 3r), 2008 Roland Garros, 2008 US Open and 2009 Roland Garros
• Reached doubles SF at 2010 Australian Open (w/Kirilenko)
• Girls' singles champion at 2005 Wimbledon (d. Paszek) and 2006 Roland Garros (d. Pavlyuchenkova)
OTHER FACTS
• Coached by father, Robert, who also travels with her; mother, Marta, is an accountant; younger sister, Urszula, also plays on the Tour and in 2007 followed in Agnieszka's footsteps by winning junior Wimbledon singles title
• Began playing age 4; grew up playing at a club in Gronau, Germany, where her father was a club pro
• Received Tour Newcomer of the Year Award in March 2007 (for 2006 achievements, which included going from outside Top 300 at beginning of season to No.57 on season-ending rankings)
• Was a Tour Ambassador for Habitat for Humanity in 2009
Elena Dementieva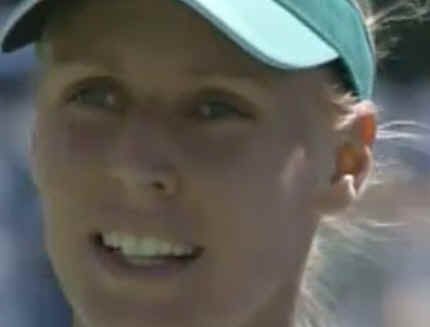 TOURNAMENT HISTORY:
Making 8th Indian Wells appearance. Best result was as runner-up in 2006 (l. Sharapova); also reached SF in 2000 (l. Davenport) and 2005 (l. Clijsters). Was quarterfinalist in 2001 (l. V.Williams); 4r in 2003 (l. Capriati) and 3r in 2002 (l. Stevenson). Had worst result here last year, losing in 2r (after 1r bye) to Cetkovska
2010 HIGHLIGHTS:
Won (2): Sydney, Paris [Indoors]; R-Up (1): Kuala Lumpur
• Won 15th Tour singles title at Sydney (as No.5 seed, d. No.1 seed S.Williams in final, her 3rd victory over a world No.1). For 2nd year running had 2 victories over Top 3 players at Sydney (also d. No.2 Safina in QF)
• Collected 16th Tour singles title at Paris [Indoors] (as No.1 seed, d. Safarova; first title in 9 appearances there)
• Runner-up at inaugural Kuala Lumpur tournament (as top seed, l. No.4 seed Kleybanova)
• Fell 2r at Australian Open (as No.5 seed, l. WC and eventual runner-up Henin)
• Retired in opening round match at Dubai vs. Hantuchova w/shoulder injury
CAREER SUMMARY:
Won (16): including 2 in 2010: Sydney and Paris [Indoors]; R-Up (15): (incl. 2 Grand Slams), most recently 2010 Kuala Lumpur; 6 doubles titles
• Winner of 16 Tour titles (has won at least 2 each year for the last 5 years (2006-10); won first 2 tournaments of 2009, going on to a 15-match winning streak (lost SF at Australian Open) and 2 of first 3 in 2010)
• Two-time Grand Slam runner-up at 2004 Roland Garros and US Open
• Has 28 wins over Top 5 ranked opponents, most recently vs No.1 S.Williams at 2010 Sydney; this was also her 3rd over a reigning No.1 (also 2001 Moscow QF vs. Hingis and 2005 US Open QF vs. Davenport); had 3 wins over Top 3 ranked opponents in 2009, No.2 S.Williams (SF at Sydney), No.3 Safina (F at Sydney) and No.2 S.Williams (SF at Toronto)
• Has qualified for season-ending Championships in 9 of the last 10 years but has only advanced beyond the round-robin stage twice, falling in the SF in 2000 and 2008
• Recorded 500th career victory in 1r at 2009 Dubai vs. Bammer
• Has been Top 5 in both singles (career-high No.3 in April 2009) and doubles (career-high No.5 in April 2003)
• Member of Russian Fed Cup Team in 1999, 2001-03, 2005 (undefeated in final vs. France, winning both singles rubbers and doubles rubber) 2006 and 2009; Russian Olympic Team, 2000 (singles silver medal), 2004, 2008 (singles gold medal)
GRAND SLAM HISTORY
• 2010 Australian Open was 45th consecutive career Grand Slam; this is the leading active streak of Grand Slam appearances for women
• By reaching 2009 Australian Open SF, completed a set of Grand Slam semifinal appearances
• One of 5 active players with more than 100 career victories in the main draw of Grand Slam events along with V.Williams, S.Williams, Henin and Clijsters
• Best Grand Slam results were 2 runner-up finishes in 2004 at Roland Garros and 2004 US Open; has also reached SF 6 times and quarterfinals 3 times; held mp at 5-4 in 3s vs. S.Williams at 2009 Wimbledon SF
• 2r exits at 2009 US Open and 2010 Australian Open are earliest exits since 1r loss at 2006 Australian Open
• Doubles runner-up – 2002 (w/Husarova) and 2005 US Open (w/Pennetta)
OTHER FACTS
• Coached by mother Vera. Hitting partner is Andrei Karatchenia
• Father, Viatcheslav, is an electrical engineer; mother, Vera, was a school teacher but is now her coach; has one older brother, Vsevolod; entire family plays tennis
• Official website is eng.dementieva.ru
• Won Tour's Most Improved Player of the Year Award for 2000; also Russia's 2001 Female of the Year Award; and Tour's Karen Krantzcke Sportsmanship Award for 2008 (presented at Miami in 2009)