Elena Dementieva wins her match over Sybille Bammer and moves on the the final at the Malaysian Open 2010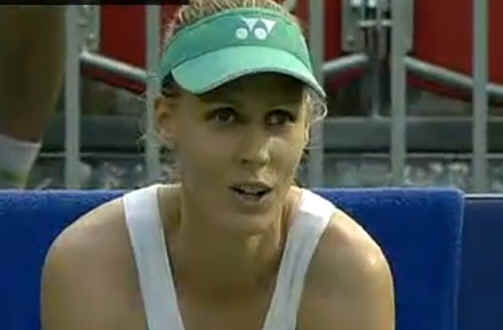 [1] ELENA DEMENTIEVA (RUS #7) vs. [6] SYBILLE BAMMER (AUT #50)
HEAD TO HEADS:
Dementieva leads overall series 3-1… in Tour events only, Dementieva leads 2-1
TOUR EVENTS ONLY:
2007 US OPEN HARD O R32 BAMMER, SYBILLE 6-1 6-2
2008 STUTTGART HARD I R16 DEMENTIEVA, ELENA 6-1 6-4
2009 DUBAI HARD O R32 DEMENTIEVA, ELENA 7-5 6-2
OTHER HEAD-TO-HEAD MEETINGS:
1998 ITF/PROSTEJOV CLAY O Q-R32 DEMENTIEVA, ELENA 6-7(5) 6-1 6-1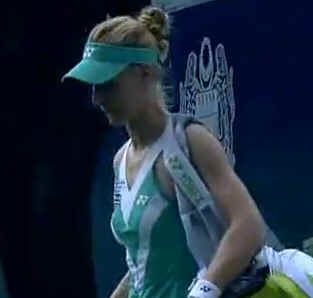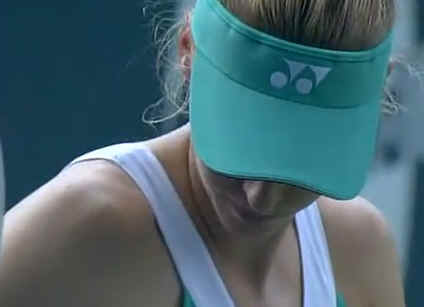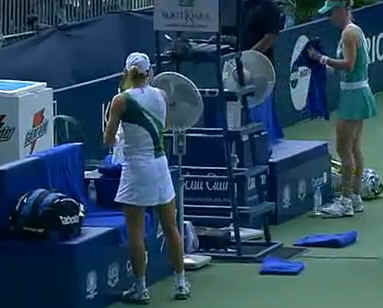 Sybille serving first and taking forever to complete the first game and small dros of rain starting to fall unfortunatly. after 16 minutes Elena breaks, 1-0.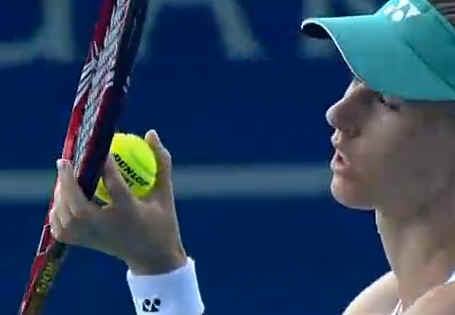 And at the speed of light Elena holds, 2-0. Again Elena holds and breaks to take a 4 -1 lead.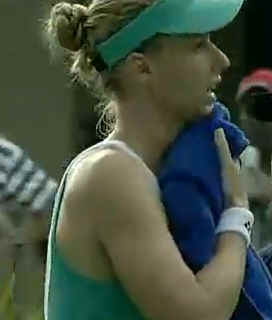 Through out the Tournament Elena only got broken once now facing 3 break points a beautiful drop shot brings it to 15-30, now 30-40 little rain still falling excellent forehand winner on the line brings it to a deuce, again an excellent forehand winner on the line to give the advantage to Elena and a ball in the net gives the game to Elena. Now Elena is asking for a stop because to o much rain is falling. The empire is now getting down and examines the court.
Elena looses her serve to start the second set but gets back on track now it is 3-2. Now 4-3, 15-40 on Sybille serve the rain start pouring now in a major rain delay.
After almost an hour rain delay Elena breaks and now serving for the match.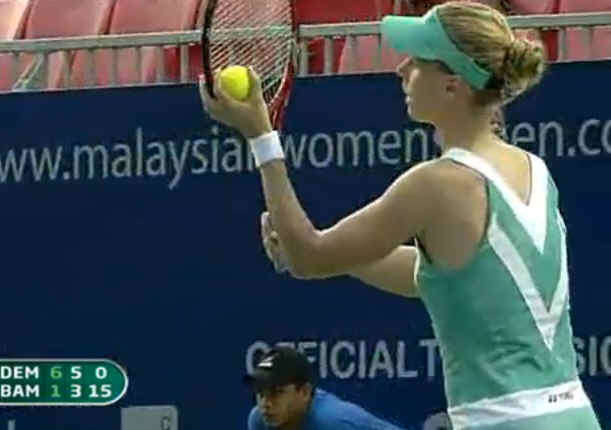 Did not start to well love 30 down but came back to win the match, 6-1, 6-3.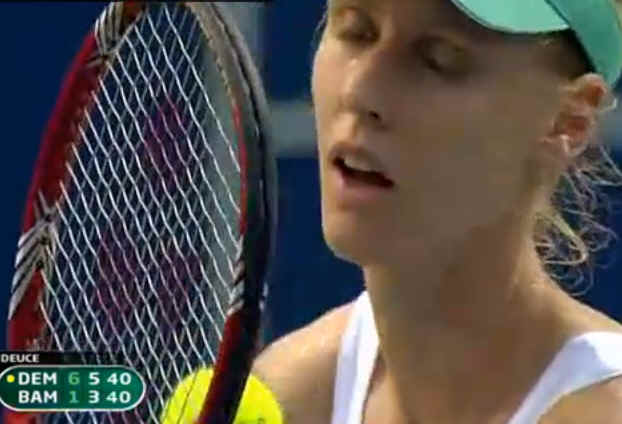 Elena will face Alisa Kleybanova in the final.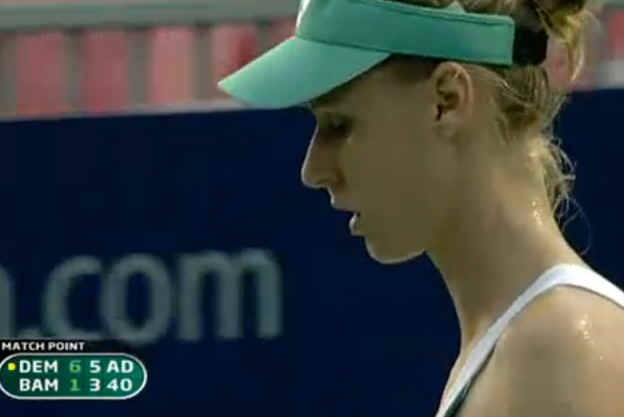 It will be Alisa first final and Elena 31 finals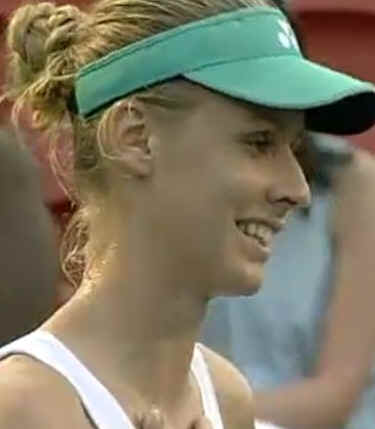 Dementieva is bidding for her third singles title of 2010 in her fifth event of the year after winning at Sydney (d. S.Williams in final) and Paris [Indoors] (d. Safarova in final). The Russian enters the semifinals with a 14-2 match record this year with her two losses coming at Australian Open (l. to Henin in 2r) and Dubai (l. to Hantuchova in opening match due to retirement).
Bammer is making her 8th appearance in the semifinals of a Tour event, posting a 2-5 record in her first 7. Her two semifinal wins came en route to her two lone Tour singles titles (2007 Pattaya City, 2009 Prague).
Bammer will face world No.7 Dementieva in the semifinals. Bammer has 3 career Top 10 wins No.2 Kuznetsova (2008 Doha), No.8 Chakvetadze (2008 Los Angeles) and No.2 S.Williams (2009 Cincinnati).
About Elena
Elena is making her tournament debut in Kuala Lumpur's inaugural year
2010 HIGHLIGHTS:
Winner (2): Sydney, Paris [Indoors]
- Won 15th Tour singles title at Sydney (as No.5 seed, d. No.1 seed S.Williams in the final, her 3rd victory over a reigning world No.1). For 2nd year running had 2 victories over Top 3 players at Sydney (also d. No.2 Safina in QF)
- Collected 16th Tour singles title at Paris [Indoors] (as No.1 seed, d. Safarova in F; first title in 9 appearances there)
- Fell 2r at Australian Open (as No.5 seed, l. WC and eventual runner-up Henin)
- Retired in opening round match at Dubai (shoulder injury, l. to Hantuchova)
CAREER SUMMARY:
Winner (16): including 2 in 2010: Sydney and Paris [Indoors]; Runner-Up (14) (incl. 2 Grand Slams), most recently 2009 Paris [Indoors]; 6 doubles titles
- Winner of 16 Tour titles and has won at least 2 each year for the last 5 years (2006-10); won first 2 tournaments of 2009, going on to a 15-match winning streak (lost SF at Australian Open) and 2 of first 3 in 2010
- Two-time Grand Slam runner-up at 2004 Roland Garros and US Open
- Has 28 wins over Top 5 ranked opponents, most recently vs No.1 S.Williams at 2010 Sydney; this was also her 3rd over a reigning No.1 (also 2001 Moscow QF vs. Hingis and 2005 US Open QF vs. Davenport); had 3 wins over Top 3 ranked opponents in 2009, No.2 S.Williams (SF at Sydney), No.3 Safina (F at Sydney) and No.2 S.Williams (SF at Toronto)
- Has qualified for season-ending Championships in 9 of the last 10 years but has only advanced twice, falling in the SF in 2000 and 2008
- Has been Top 5 in both singles (career-high No.3 in April 2009) and doubles (career-high No.5 in April 2003)
- Member of Russian Fed Cup Team in 1999, 2001-03, 2005 (undefeated in final vs. France, winning both singles rubbers and doubles rubber) 2006 and 2009; Russian Olympic Team, 2000 (silver medal), 2004, 2008 (gold medal)
GRAND SLAM HISTORY
- 2010 Australian Open was 45th consecutive career Grand Slam; this is the leading ongoing streak of Grand Slam appearances for women
- By reaching 2009 Australian Open SF, completed a set of Grand Slam semifinal appearances.
- One of 5 active players with more than 100 career victories in the main draw of Grand Slam events along with V.Williams, S.Williams, Henin and Clijsters
- Best Grand Slam results were two runner-up finishes in 2004 at Roland Garros and 2004 US Open; has also reached SF 6 times and quarterfinals 3 times; held mp at 5-4 in 3s vs. S.Williams at 2009 Wimbledon SF
- 2r exits at 2009 US Open and 2010 Australian Open are earliest exits since 1r loss at 2006 Australian Open
- Doubles runner-up – 2002 (w/Husarova) and 2005 US Open (w/Pennetta)
OTHER FACTS
- Coached by mother Vera. Hitting partner is Andrei Karatchenia
- Father, Viatcheslav, is an electrical engineer; mother, Vera, was a school teacher but is now her coach; has one older brother, Vsevolod; entire family plays tennis
- Official website is eng.dementieva.ru
- Won Tour's Most Improved Player of the Year Award for 2000; also Russia's 2001 Female of the Year Award; and Tour's Karen Krantzcke Sportsmanship Award for 2008 (presented at Miami in 2009)
About Sybille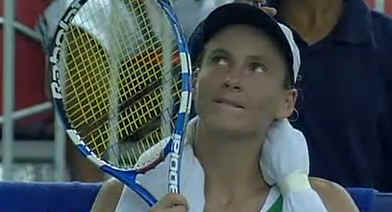 Sybille is making her tournament debut in Kuala Lumpur's inaugural year
2010 HIGHLIGHTS: QF (1):
Pattaya City
Reached QF at Pattaya City (as No.5 seed, l. to top seeded and eventual champion Zvonareva) 2r at Australian Open (l. No.6 seed V.Williams)
- Fell 1r at Brisbane, Hobart and Dubai
CAREER SUMMARY:
Winner (2): 2007 Pattaya City, 2009 Prague; SF (5): QF (12) most recently 2010 Pattaya City
- Won 2nd Tour singles title at 2009 Prague; other title came at 2007 Pattaya City (unseeded, d. No.6 seed Dulko in 3s in final, saving 3mp down 5-3 in third set) to become first mother to win Tour singles title in over 17 years (has since been joined by Davenport, Clijsters)
- Has recorded 3 wins over Top 10 players: No.2 Kuznetsova (2008 Doha), No.8 Chakvetadze (2008 Los Angeles) and No.2 S.Williams (2009 Cincinnati)
- Played first events of career on ITF Circuit in 1995; made main draw Tour debut as WC at Klagenfurt in 2000
- Did not play in 2001, year she gave birth to daughter Tina, but in 2002, won first 3 ITF Circuit titles, including first tournament back as a mother; during 2003 and 2004 failed to win main draw match on Tour in 6 attempts but won 4 ITF Circuit singles titles; finally began collecting Tour wins in 2005, year highlighted by QF finishes at Kolkata and hometown Linz, and also pushed No.10 Petrova to 3s in first match against a Top 10 player
- Made Top 100 debut in 9th year as a professional (2005), Top 50 debut in 10th year (2006), and Top 20 debut in11th year (2007)
- On ITF Circuit, holds 9 singles titles and 1 doubles title
- Member of Austrian Fed Cup Team, 2003-04, 2006-08; 2008 Austrian Olympic Team
GRAND SLAM HISTORY
- 2010 Australian Open was 18th consecutive Grand Slam singles main draw, beginning with 2005 US Open
- Best result is QF at 2008 US Open; also reached 4r twice - 2007 Roland Garros and 2007 US Open
OTHER FACTS
- Coached by Jürgen Waber
- Plays left-handed w/double-handed backhand
- Most memorable experience is giving birth to her daughter in 2001
- Admires boyfriend Christophe who gave up his job to assist with her tennis
- Official website: www.sybillebammer.at