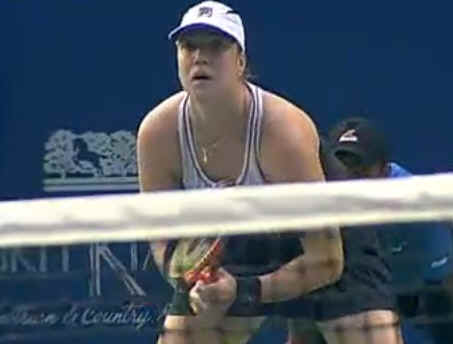 Alisa Kleybanova wins her first Final at the Malaysian Open 2010 over Elena Dementieva
ALL-RUSSIAN SINGLES FINALS
For the 23rd time in Sony Ericsson WTA Tour history, two Russians play for a singles title. The 2009 season included 6 all-Russian finals. This will be the 11th all-Russian final that Elena Dementieva has been involved, going 6-5 in her first 11; while this marks the first all-Russian final Alisa Kleybanova has been involved.
1] ELENA DEMENTIEVA (RUS #7) vs. [4] ALISA KLEYBANOVA (RUS #29)
HEAD TO HEADS:
First meeting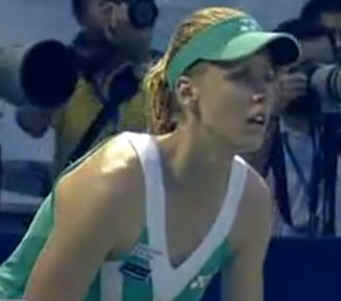 Quick Facts
- Alisa Kleybanova is making her first Tour singles final appearance. Her best previous singles results were 3 semifinal finishes in 2009 (Fes, Toronto, Moscow). Kleybanova has won 3 Tour doubles titles – 2009 Fes (w/Makarova), 2009 Budapest (w/Niculescu) and 2009 Tokyo (w/Schiavone).
- Kleybanova has 5 career wins against Top 10 opponents: No.5 Ivanovic (2009 Australian Open), No.3 V.Williams (2009 Madrid), No.4 Jankovic (2009 Toronto), No.7 Zvonareva (2009 Tokyo) and No.9 Jankovic (2009 Moscow).
- Dementieva is bidding for her third singles title of 2010 in her fifth event of the year after winning at Sydney (d. S.Williams in final) and Paris [Indoors] (d. Safarova in final).
- Dementieva has lost only 2 matches this year at Australian Open (l. to Henin in 2r) and Dubai (l. to Hantuchova in opening match due to retirement, shoulder injury).
- Dementieva has a 16-14 record in Tour finals and has won 7 of her last 8, dating back to her gold medal victory at the Beijing Olympics. Since then, her only finals loss was against Amelie Mauresmo at 2009 Paris [Indoors].
- This marks the 23rd Sony Ericsson WTA Tour singles final between two Russian players.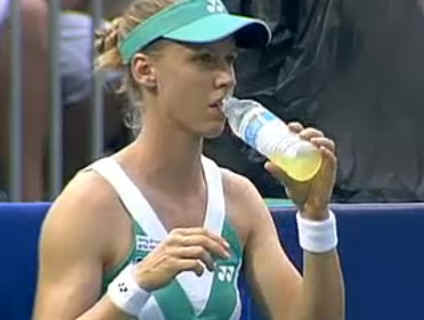 At 1-1 rain delay occurs but we get back to play it seams to have messed with elena's rhytm. Alisa was able to break Elena's serve Now 2-4 and 5-1 winners for Alisa. Elena breaks Alisa's serve 3-4. Oddly enought Alisa breaks to love, 3-5. Well Alisa came here today on fire and vey detemined, she has a 83% fist seve in and that allows he to take the fist set 6-3.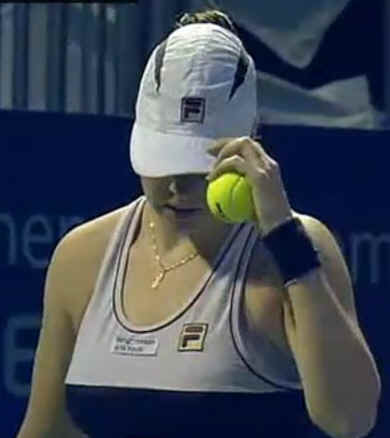 Elena seving fist in the second had game fought with 2 beaks points elena hits the ball into the netg and gives the fist game to Alisa, 0-1. 0-4.1-4.2-5. and Alisa wins the set and the match 6-3, 6-2.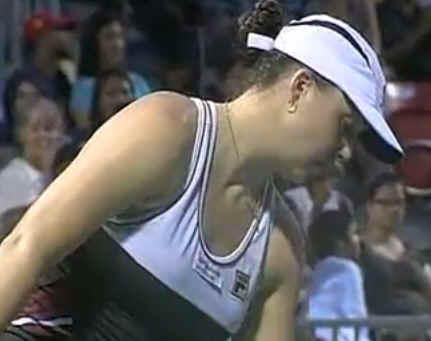 About Elena
Elena is making her tournament debut in Kuala Lumpur's inaugural year
2010 HIGHLIGHTS:
Winner (2): Sydney, Paris [Indoors]
- Won 15th Tour singles title at Sydney (as No.5 seed, d. No.1 seed S.Williams in the final, her 3rd victory over a reigning world No.1). For 2nd year running had 2 victories over Top 3 players at Sydney (also d. No.2 Safina in QF)
- Collected 16th Tour singles title at Paris [Indoors] (as No.1 seed, d. Safarova in F; first title in 9 appearances there)
- Fell 2r at Australian Open (as No.5 seed, l. WC and eventual runner-up Henin)
- Retired in opening round match at Dubai (shoulder injury, l. to Hantuchova)
CAREER SUMMARY:
Winner (16): including 2 in 2010: Sydney and Paris [Indoors]; Runner-Up (14) (incl. 2 Grand Slams), most recently 2009 Paris [Indoors]; 6 doubles titles
- Winner of 16 Tour titles and has won at least 2 each year for the last 5 years (2006-10); won first 2 tournaments of 2009, going on to a 15-match winning streak (lost SF at Australian Open) and 2 of first 3 in 2010
- Two-time Grand Slam runner-up at 2004 Roland Garros and US Open
- Has 28 wins over Top 5 ranked opponents, most recently vs No.1 S.Williams at 2010 Sydney; this was also her 3rd over a reigning No.1 (also 2001 Moscow QF vs. Hingis and 2005 US Open QF vs. Davenport); had 3 wins over Top 3 ranked opponents in 2009, No.2 S.Williams (SF at Sydney), No.3 Safina (F at Sydney) and No.2 S.Williams (SF at Toronto)
- Has qualified for season-ending Championships in 9 of the last 10 years but has only advanced twice, falling in the SF in 2000 and 2008
- Has been Top 5 in both singles (career-high No.3 in April 2009) and doubles (career-high No.5 in April 2003)
- Member of Russian Fed Cup Team in 1999, 2001-03, 2005 (undefeated in final vs. France, winning both singles rubbers and doubles rubber) 2006 and 2009; Russian Olympic Team, 2000 (silver medal), 2004, 2008 (gold medal)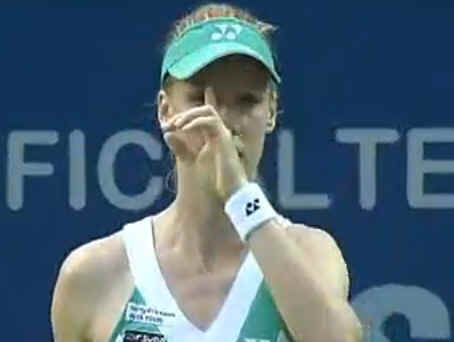 GRAND SLAM HISTORY
- 2010 Australian Open was 45th consecutive career Grand Slam; this is the leading ongoing streak of Grand Slam appearances for women
- By reaching 2009 Australian Open SF, completed a set of Grand Slam semifinal appearances.
- One of 5 active players with more than 100 career victories in the main draw of Grand Slam events along with V.Williams, S.Williams, Henin and Clijsters
- Best Grand Slam results were two runner-up finishes in 2004 at Roland Garros and 2004 US Open; has also reached SF 6 times and quarterfinals 3 times; held mp at 5-4 in 3s vs. S.Williams at 2009 Wimbledon SF
- 2r exits at 2009 US Open and 2010 Australian Open are earliest exits since 1r loss at 2006 Australian Open
- Doubles runner-up – 2002 (w/Husarova) and 2005 US Open (w/Pennetta)
OTHER FACTS
- Coached by mother Vera. Hitting partner is Andrei Karatchenia
- Father, Viatcheslav, is an electrical engineer; mother, Vera, was a school teacher but is now her coach; has one older brother, Vsevolod; entire family plays tennis
- Official website is eng.dementieva.ru
- Won Tour's Most Improved Player of the Year Award for 2000; also Russia's 2001 Female of the Year Award; and Tour's Karen Krantzcke Sportsmanship Award for 2008 (presented at Miami in 2009)
About Alisa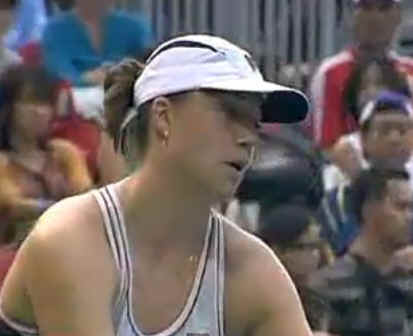 Alisa is making her tournament debut in Kuala Lumpur's inaugural year
2010 HIGHLIGHTS: QF (1):
- Reached 3r at Australian Open (as No.27 seed, l. WC and eventual finalist Henin)
- Fell 2r at Paris [Indoors] (l. to No.2 seed Pennetta)
- 1r at Brisbane (l. Pavlyuchenkova in 3s), Sydney (l. No.3 seed Kuznetsova in 3s) and Dubai (l. to Groenefeld in 3s)
CAREER SUMMARY:
Advanced to semifinal at a Tour event for the first time at 2009 Fes, repeating the feat at 2009 Toronto and Moscow
- Reached first career Grand Slam 4r at 2008 Wimbledon (d. No.10 seed Hantuchova en route; l. No.7 seed and eventual champion V.Williams); matched that performance at 2009 Australian Open
- Made Sony Ericsson WTA Tour debut at 2004 Indian Wells, reaching 2r (as WC, d. Kostanic Tosic in 1r before falling to No.10 seed Smashnova)
- Has 4 career wins against Top 10 opponents: No.5 Ivanovic (2009 Australian Open), No.3 V.Williams (2009 Madrid), No.4 Jankovic (2009 Toronto) and No.7 Zvonareva (2009 Tokyo)
- Holds 10 singles and 12 doubles titles on ITF Women's Circuit
- Russian Fed Cup team 2009-10
GRAND SLAM HISTORY
Played her 9th consecutive Grand Slam singles main draw at 2010 Australian Open
- Best results have been 4r at 2008 Wimbledon (l. V.Williams) and 2009 Australian Open (l. WC Dokic 8-6 final set)
- Has lost in 1r twice (2009 Roland Garros and US Open)
- Reached doubles semifinal at 2009 US Open (w/Makarova)
OTHER FACTS
? Coached by Julian Vespan
- Began playing tennis at age 4; was coached by mother for first 9 years
- Mother, Natalia Levina, is a biologist (not working currently); father, Mikhail Kleybanov, used to work for Institute of Steel and Alloys and now works for a chemical company; grandmother, Zhanna Kleybanova, stays at home and takes care of everyone
- Likes all surfaces but favorite is grass; favorite shots are serve, backhand
- Favorite city is Moscow; favorite tournament is Australian Open