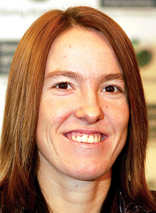 Interview with (WC) Justine Henin (BEL) after her win over Kirsten Flipkens (BEL) 64 63 at the Australian Open 2010
(WC) Justine Henin (BEL) d. Kirsten Flipkens (BEL) 64 63
Q. How pleased are you with that first round?
JUSTINE HENIN: It was a long day, I mean, long wait. It wasn't easy conditions for me to play my first match in Grand Slam for a long time.
It's always very special. It's been difficult conditions today. I've been lucky I could play. I mean, so I was happy with that.
In the match, it wasn't that easy because there wasn't a lot of rhythm. So I was feeling a bit with no energy at the beginning, you know, after the long wait. Slowly but surely in the second set I started to be a bit more aggressive, and I think I was better at the end.
But I'm glad this first round is behind me and that I can be focused on the next one.
Q. What did you like about your game?
JUSTINE HENIN: Well, came a lot to the net actually. I mean, I took the opportunities. Just tried to move forward. It was a good match to do it. I think I won quite a lot of points when I was at the net, so it was pretty positive in terms of move forward a little bit more than in the past.
Q. Did it feel a little unusual for you? What was it like getting back on?
JUSTINE HENIN: Unusual? I mean, well, it's something new to come back, of course. It's a situation I've never been in in the past, so it's different. But it's a good feeling.
Like I said a few days ago, I feel it's my place to be here. So that's already good enough. Then I'll need the patience in the next few weeks, few tournaments to really feel at my level and keep the intensity.
That's the hardest thing, is to keep always the concentration, the intensity very high. So it's going to be probably the hardest for me in the next future, next tournaments.
But it's a good feeling to be back here.
Q. Is that what you were talking about with the rhythm, it was hard to find? Was that due to your opponent, or your own rhythm was tough to find?
JUSTINE HENIN: Well, I wasn't probably at the beginning aggressive enough, and Kirsten, you know, she mix a lot, a lot of slices. Sometimes she hits the ball pretty fast, so that wasn't easy for a first round.
But also the fact that I don't have really competition for a long time, it's not gonna help me now in these matches to be, you know, really intense for the whole match.
That's going to be the point that I'll have to work on in the next matches.
Q. Do you feel like you have to get better to be successful again?
JUSTINE HENIN: I want to get better because I think it has sense to do it because I want to do it better. And not about the others and my opponents, but just me, the fact that I want to improve my game and get better than the past because I love challenges. And, of course, there's a lot of concurrence, and there are a lot of girls that are playing good tennis. New generation also.
The good thing is that I don't feel old yet, so that's already a good point. Even if when I came here I realized it was six years ago I won the Australian Open, so it did hit me a little bit.
Physically and mentally, I don't feel like I'm part of the old generation, so that's good. But, of course get better is something that not only in my tennis, but in my life. I think it's the goal of everyone, is to get better every day. It's going to be my goal on and off the court.
Q. Do you walk away tonight with your confidence lifted higher than where it was, say, this morning?
JUSTINE HENIN: Well, it's always good to win the first round like this, especially after a long wait. It's been a tough day. First round in a Grand Slam is something that I hate, and usually the first week.
But this weak is going to be special, because I'm going to be pushed very early at a high level. It's a different situation than in the past.
But my confidence is going to, you know, come slowly and with the matches, with time I'll be on the court. I'm really patient at the moment. I mean, I know not everything will come back in a few matches. I'll need a little bit of time, but I feel great at the moment.
Q. Is it good that you might meet Dementieva in the next round, give you an idea of where you're really at?
JUSTINE HENIN: Well, it was good to play Kim in Brisbane, because that gave me a little bit of an idea where I was. Of course, if I play Dementieva in the second round I'll have to play very good tennis. She's No. 5 in the world. So it's going to be a great challenge for me to play that kind of match very early in the tournament.
And I think, of course, it's a tough draw. But in Grand Slam, every match is difficult. I love to play, I mean, the top players. I know I'll have to be at very high level. So, you know, we'll see what's gonna happen.
But, I mean, I'm not negative about that draw. I take it in the positive way, and that's gonna push me to be a better player, I hope, on Wednesday.
Q. Any problem with the leg injury you picked up in Brisbane?
JUSTINE HENIN: No. My leg is getting better. And my foot. Because I was really concerned about my foot a few days ago. It's getting better with the treatments and everything, so it looks like I'm healthy at the moment. That's the most important thing.
Q. Are you coming to net because it's a challenge, or do you feel like in a couple years it might save your body the wear and tear of having to play so many long points?
JUSTINE HENIN: For different reasons, because I think it's the way I have to play. But, you know, I'm very -- I can't say that I go a lot to the net because maybe in the next match it's going to be harder. So today I went a lot because I had the opportunities. But I have to do it all the time.
Sometimes it's easier in some matches. But I think it's the way I have to play if I am to get better on grass also in the future. And I think that when I put pressure, that's how I'm better player. Of course, the other players, they like a lot of rhythm. They're hitting the ball very hard from the baseline.
It's always almost the same, you know, a lot of rallies. I have to play with my qualities. That's what I did in the past. It was a good defense, but we changed the zone all the time in the court. That's why I was strong, because I was able to take the ball early and I had a good defense and I was able to change my position on the court all the time.
That's what I'm going to try to do again in the future.
Q. Your example in Kim and maybe Hingis, show that if you start playing the sport at a young age, it becomes so mentally demanding a lot of players need to take a break somewhere mid-career.
JUSTINE HENIN: Yeah, and I think we -- I mean, Kim and I, it was early, but it wasn't that early. But still, as we were quite young at the top, it's a life that asks a lot. Especially the way we do it: with a lot of discipline, winning a lot of matches.
In the past, I mean, just before we retired, both of us, I mean, we've been so consistent all the time. And, of course, physically and mentally it's really hard. That's why I think when I see very young players coming on the tour, I'm concerned for them because it's tough.
I think it's very good to go step by step, because it's difficult life. Of course, at 25 I was feeling at the end of my first career quite, whew, tired and I need some air. And that takes everything from you, this kind of life. And you're not able at that age to take the distance you need to understand that, yeah, there is something else than tennis, really to find a good stability.
So I agree that it's not easy.