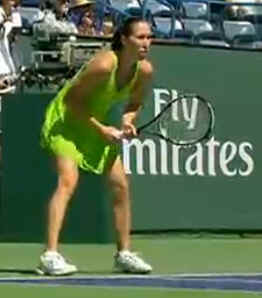 Jelena Jankovic wins against Alisa Kleybanova at theThe BNP Paribas Open in Indian Wells
JJ won the match in 2 sets 6-4, 6-4 in 1 hour and 42 minutes but was not as simple as its seamed.
Alisa served quite well in the first set giving only 1 opportunity for JJ to break and she did and won 6-4.
It was clear from the first set that Alisa was tired and JJ wanted to win the match.
In the second set Alisa was leading then some type of confusion happened with the ball people and she had to wait to get balls and that got her totally out of focus. So much so that it was to beginning of the end, she lost her serve and then JJ went on to win 6-4.
JJ will play against Sam Stosur for a place in the final.
23] Alisa Kleybanova (RUS) vs. [6] Jelena Jankovic (SRB)
Kleybanova is making her first QF appearance at Indian Wells, and Jankovic her 2nd after going on to a SF finish in 2008…
Jankovic is the only one of the remaining players to have previously reached a SF at Indian Wells…
Kleybanova won her first Tour singles title in her previous tournament at Kuala Lumpur, so is on a 8-match winning streak coming into this match…
This is Jankovic's best result of the year so far…
Kleybanova is tied for 2nd place with V.Williams for aces in 2010 (behind S.Williams), she has served 63 through 4r here…
Kleybanova is looking to achieve her 200th career win today; she is 6-10 in meetings with Top 10, winning 4 of her last 6 such matches…
Both players made their Tour debuts at this tournament – Kleybanova in 2004 and Jankovic in 2001
• Of the six remaining players, Jankovic is the only one to have advanced beyond this stage (SF-2008)
• All remaining players have won at least 1 career title, led by Jankovic (11); Kleybanova is the only player to have already won a title in 2010
• Wozniacki, Jankovic, Stosur and Martinez Sanchez have achieved their best result of the season here. By reaching the SF, Radwanska has equaled hers
• All 4 quarterfinalists playing Thursday have reached a SF in the last 5 months – Stosur has the longest gap since reaching her last SF, 5 months ago at 2009 Osaka (October)
• Stosur, Martinez Sanchez and Kleybanova have reached Indian Wells QF for the first time
• Radwanska and Stosur are the two players yet to drop a set
• The oldest player remaining is Martinez Sanchez (27) the youngest is Wozniacki (19)
• The remaining 6 players in the women's draw represent 6 different nations
• Jankovic is the only player remaining to have been ranked No.1
• Martinez Sanchez is the lowest-ranked player remaining in the women's draw at No.33 and the only player through to QF making her Indian Wells main draw debut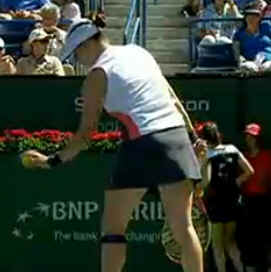 RANKING PROJECTIONS
The next rankings will be released following Indian Wells on Monday, 22 March. Taking into account results through Tuesday, the following ranking changes are projected:
• By reaching SF, Wozniacki will return to the No.3 spot, ahead of Kuznetsova, who drops to No.4. If she advances to the final, she will rise to a career-high No.2, overtaking Safina
• Dementieva will return to No.6, with Azarenka dropping to No.7
• Whichever player between Jankovic and A.Radwanksa advances further at Indian Wells will hold the No.8 spot on Monday (if both players end with the same result, Jankovic will be No.8)
• Stosur will break into the Top 10 and could go as high as No.8 if she were to win the title (depending on other results)
• Zheng will return to the Top 20
• Kleybanova will reach a new career-high ranking of No.21 or No.22 by defeating Jankovic and advancing to SF (final position depends on Martinez Sanchez's result). She would also climb to No.22, regardless of her QF result if Martinez Sanchez fails to reach the final
• Martinez Sanchez will break the Top 25 for the first time if she advances to SF
ALISA KLEYBANOVA (RUS)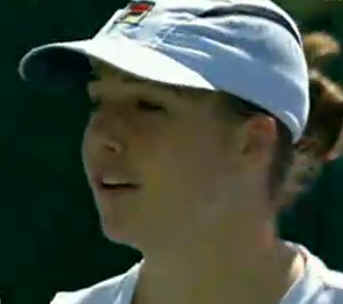 TOURNAMENT HISTORY:
Playing 4th Indian Wells main draw (5th overall). 3r finish in 2009 (as No.21 seed w/1r bye, l. Llagostera Vives); 2r on Tour debut as WC in 2004. Fell 1r as WC in 2005 and in qualifying in 2008
2010 HIGHLIGHTS:
WON (1): Kuala Lumpur
• Won first Tour title in first final at inaugural tournament in Kuala Lumpur (as No.4 seed, d. top seed Dementieva)
• Reached 3r at Australian Open (as No.27 seed, l. WC and eventual runner-up Henin)
• Fell 2r at Paris [Indoors] (l. to No.2 seed Pennetta)
• Fell 1r at Brisbane (l. Pavlyuchenkova in 3s), Sydney (l. No.3 Kuznetsova in 3s) and Dubai (l. Groenefeld in 3s)
• Went 1-1 in singles and combined with Kuznetsova to win doubles as Russia d. Serbia 3-2 in Fed Cup QF
CAREER SUMMARY:
WON (1): Kuala Lumpur; SF (3): 2009 Fes, Toronto, Moscow; QF (4); also 3 doubles titles
• Won first Tour singles title at inaugural event at Kuala Lumpur (d. Dementieva), playing in first final; previous best were 3 SF finishes in 2009
• Reached first career Grand Slam 4r at 2008 Wimbledon (d. No.10 seed Hantuchova en route; l. No.7 seed and eventual champion V.Williams); matched that performance at 2009 Australian Open
• Made Sony Ericsson WTA Tour debut at 2004 Indian Wells, aged 14, reaching 2r (as WC, d. Kostanic Tosic in 1r before falling to No.10 seed Smashnova)
• Has 6 career wins against Top 10 opponents: No.5 Ivanovic (2009 Australian Open), No.3 V.Williams (2009 Madrid), No.4 Jankovic (2009 Toronto), No.7 Zvonareva (2009 Tokyo), No.9 Jankovic (2009 Moscow) and No.7 Dementieva (2010 Kuala Lumpur)
• Won 10 singles and 12 doubles titles on ITF Women's Circuit
• Russian Fed Cup team 2009-10
GRAND SLAM HISTORY
• Played 9th consecutive Grand Slam singles main draw at 2010 Australian Open
• Best results have been 4r at 2008 Wimbledon (l. V.Williams) and 2009 Australian Open (l. WC Dokic 8-6 final set)
• Has lost in 1r twice (2009 Roland Garros and US Open)
• Reached doubles semifinal at 2009 US Open (w/Makarova)
OTHER FACTS
• Coached by Julian Vespan
• Began playing tennis at age 4; was coached by mother for first 9 years
• Mother, Natalia Levina, is a biologist; father, Mikhail Kleybanov, works for a chemical company; grandmother,
Zhanna Kleybanova, stays at home and takes care of everyone
• Likes all surfaces but favorite is grass; favorite shots are serve, backhand
• Official website: www.alisakleybanova.ru
JELENA JANKOVIC (SRB)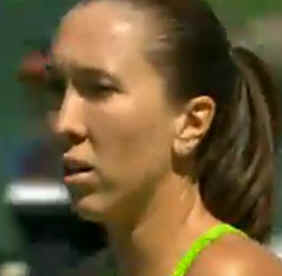 TOURNAMENT HISTORY:
Making 9th Indian Wells appearance. Has lost opening match here on 5 occasions, including in 2009 (l. Pavlyuchenkova). Best result is SF finish in 2008 (l. Ivanovic), also 4r in 2007 (l. Li). Only other occasion that she won her opening match was in 2001 as a wildcard on Tour main draw debut (d. Rippner in 1r, l. Farina Elia)
2010 HIGHLIGHTS:
• Fell 3r at Australian Open (as No.8 seed, l. No.31 seed A.Bondarenko) and Dubai (as No.6 seed w/1r bye, l. No.12 seed Zvonareva
• Lost 1r at season opener at Sydney (seeded No.7, l. qualifier Szavay in 3s) and Monterrey (as No.1 seed, l. Sevastova)
• Won both singles matches for Serbia vs. Russia (d. Kleybanova and Kuznetsova) in Fed Cup QF (Russia won 3- 2); lost deciding doubles rubber w/Ivanovic (vs. Kleybanova/Kuznetsova)
CAREER SUMMARY:
Won (11): most recently 2009 Cincinnati; R-Up (10): incl. 2008 US Open, most recently 2009 Tokyo; 1 doubles title
• Won 2 titles in 2009 to bring career total to 11. Won 11th Tour singles title at Cincinnati (saved 4mp in third set tiebreak vs. Dementieva in SF, d. top seed Safina in final)
• Finished 2008 season as year-end No.1, only the 9th player in history to do so, highlighted by 4 Tour titles (Rome, Beijing, Stuttgart, Moscow – the latter 3 in consecutive weeks – first player to do so since Vaidisova in 2005), first Grand Slam final (US Open) and reaching QF or better in 20 of 22 events of year
• Semifinalist at Tour Championships in 2008-09, also qualified in 2007 but failed to advance beyond round-robin
• Top 20 debut in March 2005; Top 10 debut in January 2007; Top 5 debut in May 2007; Top 3 in June 2007; then became 18th player since 1975 inception of computer rankings to rise to No.1 (on August 11, 2008); held the No.1 ranking for a total of 18 weeks
• Scored first win over a reigning world No.1 at 2009 Cincinnati (in final vs. Safina); earned 2nd when Safina retired after just 2 games in 2009 Tour Championships-Doha; has 12 wins vs. Top 5 players (most recent vs. No.4 Kuznetsova at Fed Cup)
• Serbian Fed Cup Team 2001-05, 2007-10; Serbia/Montenegro Olympic Team 2004; Serbia Olympic Team 2008
GRAND SLAM HISTORY
• 2010 Australian Open was 26th Grand Slam singles main draw appearance
• Best result to date is runner-up finish at 2008 US Open (first career GS Final)
• SF finishes at 2006 US Open, 2007/2008 Roland Garros, 2008 Australian Open; 1 QF finish at 2007 US Open
• 2r loss at 2009 US Open (l. Shvedova) was earliest loss at a Slam since 2006 Australian Open (also 2r); has fallen
in 1r 3 times but not since 2005 Roland Garros; failed to advance beyond 4r since reaching 2008 US Open final
• Grand Slam mixed doubles title at 2007 Wimbledon (w/J.Murray)
• Girls' singles champion at 2001 Australian Open (d. Arvidsson)
OTHER FACTS
• Stopped working with Ricardo Sanchez in March 2010
• Official Web site: www.jj-jelenajankovic.com
• Father, Veselin, and mother, Snezana, are economists; brothers' names are Marko and Stefan
• Introduced to tennis at age 9 by brother Marko (six years her senior)
• Appears in Tour's "Looking For A Hero?" advertising campaign, launched on June 18, 2008
• Named UNICEF National Ambassador to Serbia in September 2007 (Ivanovic also appointed the same time)
• Won Tour's Most Improved Player of the Year Award in 2007 (for 2006 achievements)