Interview with Kim Clijsters after her win over Viktoriya Kutuzova ar the 2009 US Open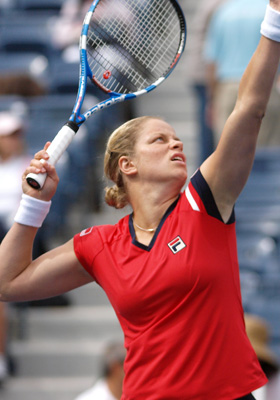 Q. How did it feel to be back out there again?
KIM CLIJSTERS: It was nice. When Ana Ivanovic and I were at the Arthur Ashe Kids' Day we were like, Ah, this is really nice to be out on this court. And then today, as well.
Little more nervous than usual. It's a very special court to me, but I really enjoyed it. I felt really good out there.
Q. To get a match like that under your belt, that's got to be...
KIM CLIJSTERS: Yeah, it's important. Obviously the girl made a lot of mistakes today, but I really felt like I was able to do what I had to do and work on the things that weren't going as well in Cincinnati and Toronto. I really feel like my serve was one of the things didn't go so well there.
It was really good today, so that's just nice to see that improvement. Now it's a matter of trying to go keep this going.
Q. The occasion didn't call for it, but can you still do the splits that you were so famous for?
KIM CLIJSTERS: I can. (laughter.) Yeah. I'm not going to do them right now, but...
Q. What did you do to work on your serve to make it more consistent?
KIM CLIJSTERS: Just hit a lot of balls. You know, that's something, especially in matches, you know, so many things change. You really want to I mean, my mistake I think that I make in my serve motion, in practice my serve goes well, but when I get out there, I want to recover really quickly to get the return back, because a lot of girls really like to step in now.
My mistake is that I don't always finish off my movement the way I should. I'm kind of already preparing myself for the next shot while I didn't even finish my serve yet. I think that's something I've really been trying to stick into my head is, you know, just try to finish that shot and you get a lot more free points from that if the serve goes well.
Q. How much before the match, during it, did your thoughts turn to 2005 and winning the championship on that court?
KIM CLIJSTERS: During the match it doesn't, but before, just like walking down the corridors here and waiting to get on court. And obviously the situation was a lot different then, but you kind of get the whole feeling for it again.
I remember just driving up here this morning, just seeing the court and everything, it just you know, the same memories come back. But it's nice. I mean, I'm glad that I have those memories.
Q. Have you played a match with challenge before?
KIM CLIJSTERS: Yes.
Q. Here?
KIM CLIJSTERS: I think so. Oh, no, not here.
Q. No. This was your first year. At 1 3 in the second set, you challenged on the far side. You won the challenge and didn't lose another point.
KIM CLIJSTERS: I was very lucky with that one, I think. That's the thing. When there's a call that close, it could have gone either way. But I really felt like going off my racquet I felt it was going to be good. You know, it was I think one millimeter or something. It touched the line.
But, yeah, I'm not the person who's constantly worrying about challenging. I don't do it that much. But when I'm let's say when I feel like it's going off my racquet, I have a good feeling whether it's going in or out. With that one I felt it was going good.
Q. Do you like the challenge system?
KIM CLIJSTERS: I do. I think it's something that just even when I was off not playing, just watching it on TV, I think it's something for the fans at home and for the stadium. It brings kind of that wait and the anticipation kind of joins it.
Yeah, I mean, I even enjoy it. It's that little bit of hope, you know. And then trying to if your opponent does it, it's like, Please, let it be out. No, it's a good thing, I think, yeah.
Q. Serena said Saturday that she's shocked that you haven't lost a step. Do you agree with that assessment? Do you feel exactly the same, or almost?
KIM CLIJSTERS: I wouldn't say exactly the same. I still feel like I can improve. But I'm definitely comfortable where I am right now, and I think it's always a matter of just trying to work on those little things and just. You know, assessing every match that I play, just looking at how did I feel out there, where do I feel like I can improve, and really taking those, you know, those particular points and taking those out on, you know, on to practice and just really trying to work on that again.
Just the match rhythm I think is something I have to get used to. Okay, matches like this today I didn't really get tested, so, you know, that's the biggest key is playing those tough matches and seeing when it becomes close and how do I react in those kind of situations.
And I would like to have more of those matches. I'm glad I didn't have to do that today. But I would like to get more of those matches, yeah.
Q. What has surprised you the most about how well you've done so fast in your comeback?
KIM CLIJSTERS: I think the focus, and mentally wise you know, I know physically and tennis wise I've done everything possible to get back into shape. So I knew that in my practice I've worked really hard to get there. I know when I am out there, whether it's 5 All in the third or something, that's not going to be an issue.
But what I think where I was the most surprised is how comfortable I felt out there from the beginning.
Q. When you started your comeback, how far along did you expect to be at this point?
KIM CLIJSTERS: I really didn't have any expectations, because it was so yeah, I mean, I probably have more questions, you know. And not having played a lot of these girls for, yeah, for a long time, I think it just wanted to get a feel for it all over again, get to know the girls, get to know the level.
Just, yeah, those were kind of my first issues that I wanted to deal with. Yeah, so so far, that hasn't changed yet. I still want to kind of get a feel for it and just learn the different, you know, different games of a lot of girls.
Q. You could play against Marion Bartoli if she wins for the second time. For you, is this a special test?
KIM CLIJSTERS: Yeah, Marion is a very different player than what we have out there. She's a very good player. I think she's improved a lot compared to a few years ago when I was still playing.
You know, she has a very different technique, but it's something that really works for her. She's had really good results in the past, has beaten a lot of good players. I still think her weakness is her movement.
When you play someone like that who likes to take advantage of short points and, you know, I think the most important thing is to try to take the initiative from the beginning, and that's something that I'm going to try to do.
I think she still has to play second round, I think, the second match today. But I assume, you know, that she's going to get through, and I look forward to that match. It's always nice to play the seeded players.
Q. Is there anything that your husband being a basketball player can tell you about serving that is analogous to free throw shooting since it's the one thing...
KIM CLIJSTERS: Oh, boy. Let me tell you, I have no clue about basketball techniques or tactics or...
Q. Has he ever tried to give you advice based on...
KIM CLIJSTERS: Well, Brian doesn't really I don't know if that's the basketball mentality, but a lot of basketball players that I've met through Brian, and especially Brian as well, they're very easy going.
I think that's something that I've really learned from Brian, as well, is his way of dealing with a lot of things and just the way that he looks at things. I think it's something that I really admire in him. That's why I think also towards the end of his career, you know, he started playing better just because he felt like he had a different view on basketball, as well.
I think that's something that when you live with someone, you know, all the time, then you learn and you see how they react. Yeah, you want to learn from that and take a few of those things in. I'm sure it's helped me a lot, yeah.
Q. Are you at this point healthier than you've been in your first part of this decade, having taken all the time off? Is your body healed from all those injuries?
KIM CLIJSTERS: Well, it's definitely a lot better than it was towards the end, the last few months that I played. But then again, I also felt like the time I had to work on those weaknesses and those little injuries that I had that were still kind of not addressed, not fully addressed, I think, I really now had the time to just focus on those and kind of start from zero and just really make sure that those weaknesses were a lot stronger.
I really wanted to make sure that that was there first, that I, you know, none of those problems were an issue, and that's when I started to get back into tennis a little bit more. I didn't want to overdo it.
Q. Did you start out thinking that if you couldn't overcome those, then you couldn't possibly come back?
KIM CLIJSTERS: Well, I never I mean, those injuries I had were never really like career threatening. They were a problem because they were always lingering and they kind of stopped me from, you know, from moving the way that I wanted to, especially the hip and the lower back.
But now I really feel like, you know, I have some good people around me who know my body, as well. And I know my body now better, as well. So I think you learn how to deal with the little issues coming up, and I think now I'm a little bit more mature and know, okay, I really feel something here.
So I know when to step up the treatment and when to really know when something serious is starting. I think that's the key to prevent a lot of issues.
Q. As part of your preparations, do you look back at tapes or anything like that from when you were playing?
KIM CLIJSTERS: No. No, actually I didn't. No. (laughter.)
Other Kim News
Kim Clijsters wins her first round match against Viktoriya Kutuzova ar the 2009 US Open
Kim Clijsters losses her match at the Rogers Cup in Toronto against Jelena Jankovic