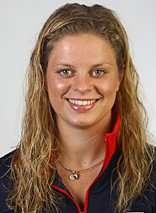 Kim Clijsters interview after her win over Valerie Tetreault at the Australian Open 2010
Q. Was that a continuation of your Brisbane form?
KIM CLIJSTERS: Uhm, yeah. I think I felt very comfortable when I went out there in the beginning, and I think sometimes that can be a little bit different at the start of the year.
Obviously my matches in Brisbane have definitely helped me to try to keep everything going. But obviously I was very pleased that I was on a court where they could closed the roof.
Although the match before me took a little bit longer, so that -- but, yeah, I'm one of the lucky ones who gets to finish the match today. So that's probably one of the other things that I'm very happy with.
Q. What is your form like compared to the US Open? Are you in a better frame of mind, hitting the ball better?
KIM CLIJSTERS: I mean, I don't really like to compare. Obviously each Grand Slam is different. You obviously, you know, even in a tournament, every day is different. There's days where you wake up and you're like, Why do I feel a little bit more tired than usual? So you just try to push yourself or try to aim to having that consistency all the time.
So I think that's what I'm still trying to do. I think in Brisbane I was a little bit inconsistent once in a while during my matches. Obviously that's something that I'm really trying to focus on, is trying to make sure I stay consistent. Or even when I feel like my level is dropping a little bit, that I jump on it straightaway or that I notice it. That's what I'm working on.
Obviously, there were a lot of different things that I was working on, you know, when I was playing in the States at my first two tournaments leading up to the US Open, and in the US Open as well.
So everything, it always changes. You always have different things that you're focusing on and you're working on. That's why I think it's really hard to compare the way that you're feeling I think, too, yeah.
But I feel good.
Q. What do you think of how Valerie played in the second set?
KIM CLIJSTERS: Yeah, you know, she definitely played -- I think she was a little bit intimidated by the court and the atmosphere a little bit, which is normal. I mean, if you haven't been in a situation like that - and I remember my first few times when I stepped out on center court - it's a little bit overwhelming. You kind of just want to block it out, but it's very hard to.
So she definitely played some tricky tennis. I would like to say she's an opponent that's very hard to read. She has a technique that's really hard to read. She served well. She served a lot better in that second set and she looked a little bit more comfortable.
You know, she obviously qualified here, so she had a little bit of confidence going. And I think, you know, yeah, I'm going to be watching her throughout this year. I think it's always fun for me, as well, to play against a new opponent and see how they'll do throughout the year now that she's qualified and she'll get her ranking up a little bit.
Q. What is your target as far as the level you can get back to? Would you be happy if you got back to the same level as what you had before you stopped playing, or do you think you can actually get better?
KIM CLIJSTERS: Yeah, I think that maybe sometimes -- I'm not saying I'm consistent all the time, but, you know, I maybe feel a little bit better sometimes. I think physically definitely I've improved a lot because the way that I play, it's a very physical type of tennis, especially, you know, once -- obviously maybe not today, but I think when the matches get tougher, I think, you know, the type of tennis that I play and the way that I move, it's more physical.
And so that was obviously my biggest concern, is 'cause I had those few injuries at the end of my career. You know, that was obviously, yeah, a big concern.
And I think physically-wise I feel stronger, and obviously in my mind that's already a big advantage. So in that way, uhm, maybe, yeah, I feel maybe a little bit more secure I think out there.
Q. Are there still some butterflies at a Grand Slam?
KIM CLIJSTERS: Yeah. You know, I can take the best of both worlds. I have the experience from the past, but I haven't been here for so long. So I think that's why it all feels new again. It doesn't feel the same way as it did when I was 15 or 16 because, you know, I've been here before.
But I'm really excited to get out there and to play well and to play big matches obviously. That's what you do it for. You lose some; you win some. But the ones that you lose will make you work even harder and improve.
So, uhm, yeah, the butterflies are there, but they're not the same butterflies as, you know, the ones when I was 15 or, you know, where I couldn't sleep the night before a match or something.
But, yeah, it's a good feeling to have.
Q. This is the sixth tournament in your comeback. When do you think the questions will stop about the comeback?
KIM CLIJSTERS: I don't know. Maybe ask your colleagues that (laughter).
No, uhm, I mean, I assume if I'm going to start going to each -- each tournament I play, there's different media. And to me it doesn't feel like a comeback anymore. You know, definitely Cincinnati, Indian Wells, first Grand Slam, it definitely felt like that.
And that's why I played those three tournaments at the end of last year, because I wanted to get the feelings within myself, I wanted to get used to all that again, get used to the whole comeback situation.
So but to me that doesn't feel like that anymore. But I understand that when I go to -- you know, whether I'm playing in Indian Wells or if I go to Stuttgart, you know, I understand that those questions will pop up once in a while.
Q. So there's not parts of the game that are still rusty six or seven months in? You feel like everything is up to that level?
KIM CLIJSTERS: No. You know, there's definitely a lot of things that I'm still working on every day. But that wasn't any different, you know, a few years ago.
Like I said, you know, tennis will be very easy if every day we could just, you know, choose a program and say, Okay, today I would like to play like this. You know, it doesn't work like that.
So every time, every day, every tournament you just kind of have to reset your buttons and just, you know, go and try to take in what happened in the past, try to keep the good feelings good, but also learn from situations where you weren't playing well or, Why wasn't I feeling good that match, you know.
And I think that's something now that I'm a little bit older, I'm a lot -- I think I'm better able to acknowledge those situations a little bit better and learn from it, maybe where in the past I would maybe rush through them a little bit too quickly.
I think now, you know, it happens. It's normal. We're human beings. Things happen where, like I said, you can have a bad day at the office. But you just have to try to learn from it and not ignore it.