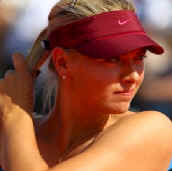 Maria Sharapova wins over Shenay Perry 6-0, 6-2
Maria's first match after losing in the first round at the Australian Open 2010 started on fire and won the first set 6-0 against Sheney Perry from the USA at the 2010 Regions Morgan Keegan Championships & Cellular South Cup in Memphis, Tennessee in the US.
In the second set Maria started 20 but a df gives the first game for Shenay. After Shenay and Maria holding, 52. Shenay serving and Maria breaks her to win the match, 6-0, 6-2.