Maria Sharapova Interview's after her lost to Maria Kirilenko
Interview with Maria Kirilenko (RUS) after her win over Maria Sharapova (RUS) at the Australian Open 2010
Q. From your viewpoint, what went wrong?
MARIA SHARAPOVA: Just didn't win the match. You know, bottom line.
Uhm, you know, certainly had my chances and just didn't execute. You know, I felt like I was -- when she was up and then I'd get back there, back in the game, I just didn't take advantage of that and let her, you know, let her control the situation again.
Q. What are the challenges of playing someone you know so well and is a friend?
MARIA SHARAPOVA: Uhm, I mean, when we go on the court we don't really think about that. We just go out and we try to play our game, you know. No matter how well you know someone or not, it's a new day and a new match, and you just try to go out there and perform.
Q. Is this one of the matches early in the season you were looking for consistency and it just wasn't there today?
MARIA SHARAPOVA: Yeah. I mean, there is no gray area. It was just up and down in many areas, and just finished at the down level (smiling).
Q. Was it a lack of match practice? You needed a few more matches perhaps to sharpen up?
MARIA SHARAPOVA: I mean, I don't really know what 'match practice' has to do with being up 4-2, 15-40 and not making a second serve return, so...
Q. Your serve let you down again at crucial times. How much of a frustration has that become for you?
MARIA SHARAPOVA: Actually, I thought I served pretty big. I don't think that was the reason I lost the match today. Uhm, I served big when I had to. I served big second serves.
You know, if I'm gonna serve at that pace and do it for three hours and make those types of mistakes, then I'm okay with it. You know, I'm okay with making mistakes when I'm going after it, trying to control the situation instead of being passive.
Q. So you're happy with where your serve's at?
MARIA SHARAPOVA: There's still a lot to improve. You know, there's a lot of consistency that I'll have to add to it.
But as far as, you know, how I hit it and, uhm, the level, where it was compared to where it was last year, it's great. I felt really good about it coming here.
Q. Did you ever feel really good at any time during the match off the ground?
MARIA SHARAPOVA: I mean, she's not really the type of player that makes you feel that good, but there are many of those types of players. She changes the pace a lot. Uhm, you know, she just has a little bit of a different type of game. Today she was just able to execute many things really well.
Q. In Grand Slams, you've always given the impression of knowing exactly where the ball is going. Have you lost a little bit of the belief that where you hit it is where it's going to land?
MARIA SHARAPOVA: I wouldn't say it's 'belief.' I think 'belief' is either something you have or you don't have. Whether it's just a little bit of, uhm, you know, maybe confidence, uhm, obviously it's the first tournament of the year and, you know, I just came up against somebody that just played really good tennis. That's just the way it goes.
Q. How would you describe your sense of confidence right now?
MARIA SHARAPOVA: Uhm, well, I'm leaving on Monday of the first week, so that explains a lot.
Q. What is your level of confidence like with your own body and your fitness? Does that play on your mind at all?
MARIA SHARAPOVA: With what?
Q. Your fitness, the shoulder.
MARIA SHARAPOVA: No, doesn't.
Q. During matches does it play any part? Is it holding you back at all?
MARIA SHARAPOVA: No.
Q. Where is your level of disappointment, or do you just chalk it up, It's first round of a Grand Slam, that can happen first round of a slam?
MARIA SHARAPOVA: I mean, I could be disappointed or I could just take it as it is and just go back on the court and just keep working.
I choose option two (smiling).
Q. Why didn't you play any tournaments before?
MARIA SHARAPOVA: I never do. It's worked before.
Q. So do you go on and start thinking about Paris now?
MARIA SHARAPOVA: About Paris?
Q. About Paris.
MARIA SHARAPOVA: Not yet. Are you saying I'm going to go on a clay court right now (smiling)? Wishful thinking.
No, not yet. We have a few more events before Paris, so...
Q. What do you say to yourself now in order to recover, let's say, psychologically from a defeat which is painful, I guess?
MARIA SHARAPOVA: Uhm, that it's a bad day and you have to get on with your life. You know, there are many worse situations in life. There are people that don't even know what a tennis match is in the world.
You know, just a bad day. A bad day's not going to stop me from doing what I love. I'm still gonna go back on the court and work hard and perform. I'll be back here on a Saturday of the second week, so you'll watch.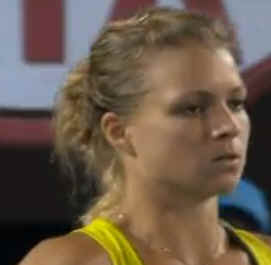 Maria Sharapova out of the Australian Open 2010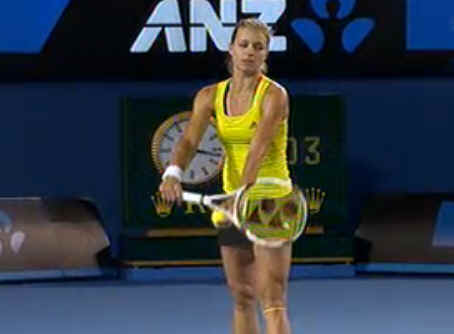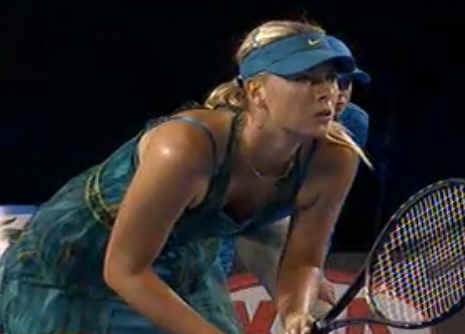 Maria Kirilenko takes out her fellow russian Maria Sharapova. Everyone though it would be a walk in the park for Sharapova but not so at all. Maria Sharapova was so wild on her shots surprisely enough it was not her serve that let her down but her game with a total of 77 Unforced Errors - Look at the bottom for the stats -.
The roof is close because it is raining outside.
Maria Kirilenko serving first and Maria breaking 1-0. Maria's serves letting her down from the start and K breaking right back. 1-1. But like always Maria keeps fighting back with a break to Love 2-1. This game took forever with 4 deuced, 1 df and 3 aces but the last ace finally give the game to Maria. Kirilenko holds 3-2. Maria holding 4-2. Kirilenko holds 4-3. An other DF4 gives the game to Kirilenko 4 all. Already 46 minutes gone and we are still in the first set. Kirilenko going strong wining this game and now Maria will serve to stay in this set 5-4. Maria plays her best game so far to hold easily and quickly to love 5 All. Again Kririlenko holds and Maria will serve to stay in this set and bring it to a tb, 6-5. Maria holds and we are now in a tb. Kirilenko wins it 7-4.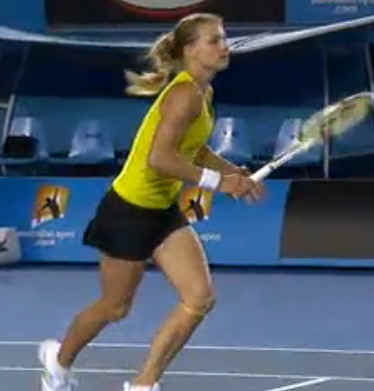 Long set 74 minutes Maria had 33 winners and 26 UE and 5 aces and 4 df as for K she had 11 UE and winners and no aces or df.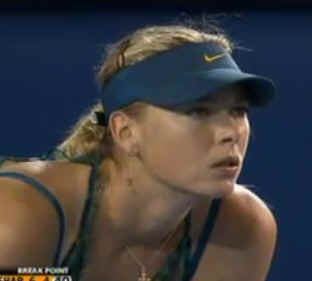 Maria serving first and starting with a df but holds ,1-0. After a 18 minutes game with 9 deuces maria breaks 2-0. But breaks right back 2-1. after 5 deuces again Maria breaks and holds the next game to take a 4-1 lead. Kirilenko holds 4-2. Maria holds 5-2. kirilenko with her first ace of the mnatch wins this game 5-3 and now Maria serving for the second set. even though Maria was down 30-40 she comes back and wins the second set.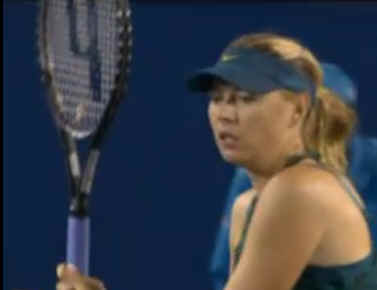 Second set as long as the first one 73 minutes, maria had 17 winners and 24 ue with 2 aces and 3 df as for kirilenko she had 14 winners , 29 ue and 1 aces with 3 df.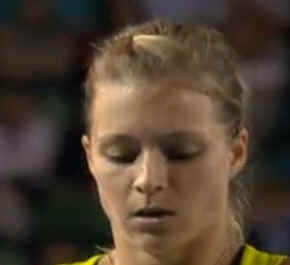 Kirilenko serving firstand wins her first game, 1-0. Maria loses her serve and Kirilenko hols to take a 2-0 lead. Kirilenko is holding again for a 3-0 lead. Will Maria be able able to regroup in time if not she will face a shocking first round exit. Df to start the 4th game but holds finally 3-1.Kirilenko holds 4-2. maria holds as well 4-2. kirilenko very determine wins the game 5-2 now Maria serving to stay in the Australian Open. Like a Champion matia rises to the occassion and breaks Kirilenko serve, a key point in that game a ball was hit on the left without knowing if her ball was in or out or if kirilenko would hit it she got herself in position to give herserl a break point and then to win the game.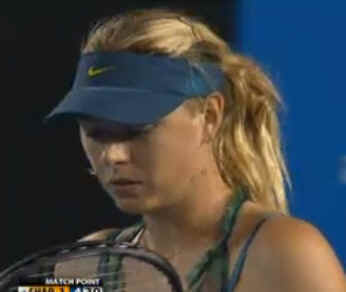 5-4 but unfortunatly a little too late for Maria Sharapova as Maria Kirilenko keeps a her cool and wins the match. 7-6, 3-6, 6-4.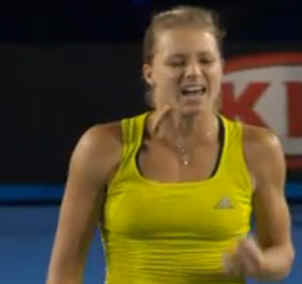 Maria and aher fans will cetainly be very dessapointed. But this time it was not her serve that let Maria down it was her game, you cannot win important matches with 77 UE.
Elapsed Time by Set:
74
73
55
Match Summary
Sharapova(RUS)
Kirilenko(RUS)
1st Serve %
66 of 108 = 61 %
82 of 127 = 65 %
Aces
9
1
Double Faults
11
4
Unforced Errors
77
41
Winning % on 1st Serve
46 of 66 = 70 %
51 of 82 = 62 %
Winning % on 2nd Serve
17 of 42 = 40 %
21 of 45 = 47 %
Winners (Including Service)
45
26
Receiving Points Won
55 of 131 = 42 %
45 of 119 = 38 %
Break Point Conversions
5 of 16 = 31 %
5 of 13 = 38 %
Net Approaches
14 of 21 = 67 %
16 of 19 = 84 %
Total Points Won
118
117
Fastest Serve Speed
180 KMH
174 KMH
Average 1st Serve Speed
166 KMH
164 KMH
Average 2nd Serve Speed
147 KMH
141 KMH