Interview with Venus Williams after her win over Vera dushevina at the 2009 US Open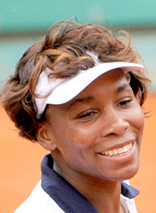 Q. How did you pull that out?
VENUS WILLIAMS: You know, she was playing very well. She put everything in the court, tried to move the ball around, you know, she was serving well.
So, you know, I had a challenge on my hands today. But I wanted to win. And, uhm, each good shot and each not so good shot I put behind me and looked forward to the next one. Most of all, I just enjoyed the moment.
Q. How do you explain all those foot faults?
VENUS WILLIAMS: I don't know. I didn't even know which foot it was at the beginning. I think it threw me off in the tiebreak because, you know, I had 6 3. After that, I just got a little tentative.
Yeah, so, you know, the tiebreak was definitely in my hands. I could have had the opportunity to close it out in two sets. You know, pretty confident that I could have. But I'm glad I closed it out in three.
Q. Is your knee issue just tendinitis, or are you going to have any further tests?
VENUS WILLIAMS: I never said what it was (smiling). I never get into details about any injuries I'm going through. You could see I had some issues. I'm just going to do my best to get as close to a hundred percent as I can for my next match.
Q. How much do you think these issues are going to affect you as you continue on, and how concerned are you?
VENUS WILLIAMS: Oh, I won't be complaining. I'm going to go out there with my racquet, just like everyone else, and try to bring my best tennis. That's the best I can do.
Q. Is this the same problem you had in Wimbledon?
VENUS WILLIAMS: Yeah, where I needed the support (smiling)? I guess I still did need some support.
Yeah, like I said, I don't really talk about my injuries historically, and I'm not going to start now. But I'm just going to do my best to be as close to a hundred percent for my next match.
Q. Final set, you're cruising along. What happened?
VENUS WILLIAMS: Yeah, you know, I almost had 5 Love. She did start playing well. Started using my power to bring the ball right back. I just started to rush a little bit just too much. So obviously right there I felt like, and then lose serve once and it's almost even.
But obviously it's great to have two breaks, and I think some good serving helps me to get to 5 3. I just kind of started rushing a little bit, 'cause against a player like her, you'll quite possibly play a few more balls. Yeah, I wanted it too quickly for a few games there.
Q. You were having some problems with your serve. Commentators started talking about serving in women's tennis. One of them said the person who serves best will win the tournament. Do you agree with that?
VENUS WILLIAMS: I don't know. I don't care what commentators say. So it's just all, you know, like they aren't on the court winning championships. I don't really... Yeah.
Q. At what point in the match did you feel like you dug deep and really started to put your game on?
VENUS WILLIAMS: I think, you know, once I was down 1 3 in the second, I really just tried to stay focused and not to, you know, unravel and start to go for bigger and better shots, which wasn't the answer.
I really don't remember quite what happened at the moment, but it really worked out. The crowd was really great at 4 5. It was just one of those great New York moments.
Q. Traditionally the night sessions, they've always had the women's match first. Roddick went on past 11:00. I'm wondering if you think or have any sympathy for him? When they do a ceremony on court, do you think they should do one match instead of two?
VENUS WILLIAMS: You know, I wasn't very patriotic today. Close to a three hour match. Didn't help him out at all. Looks like he's doing okay. I think the people still want to see tennis, even though there's a ceremony. People buy tickets for the first night. It's really exciting, and they want to see two matches.
Q. Right before your match, did you get a chance to see any of the ceremony, say hello to Andre Agassi?
VENUS WILLIAMS: No, I didn't. I didn't, so... I didn't.
Q. Did it cross your mind in the second set, I've never lost in the first round of the US Open before?
VENUS WILLIAMS: No. No. I mean, in the second set you're just focusing on winning that set. That's it.
Q. Did you ever think you might lose this match tonight?
VENUS WILLIAMS: Well, there were times where I wasn't playing my best, but there were times where I hit some good shots, too. Then it kind of started swinging my way to more and more good shots on my end.
Like I said, I think she played well. She played really well. She gave it all she had. Really made me win the match, so I have to give a lot of credit to her for really playing well.
Q. At this point, based on what you felt so far in the match with whatever is bothering you, do you think you're going to play doubles, or is that up in the air?
VENUS WILLIAMS: I love doubles. I'm going to do my best to stay in, definitely. That hasn't even crossed my mind if I'm going to pull out yet. I don't know, it's like a commitment. When you enter, it's a commitment. It's been so long, so I would like to try to win that title, too.
Q. Did you change your strategy at all with all the backhand winners she had throughout the match?
VENUS WILLIAMS: Did she have a lot of winners? I have to look at the stats. I don't remember that many winners from her.
I think she did prefer her backhand. But, yes, she hit both sides well tonight.