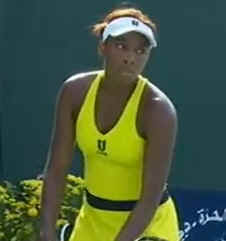 Venus Williams wins her match over Shahar Peer and moves on to the Final in Dubai
Venus Williams wins her match over Shahar Peer and moves on to the Final for the second time at the Barclays Dubai Tennis Championships in 2 sets 6-1, 6-4.
Venus played against Shahar Peer from ISR, they have met twice and the last time it was in 2009 Miami where Venus won 6-3, 6-3.
The first set was very quick only took 23 minutes, 6-1. Venus had 1 ace, 2 df, 10 winners and 5 ue. As for Shahar, he did 3df with no ace, 4 winners and 5 ue.
The second set was very different first it took an hour long and Shahar was playing much better. Venus staterted to make way more errors secialy with her forehand but eventualy won, 6-1, 6-4.
Venus did 3 aces and df, 26 winners and 22 ue as for Shahar, she did 5 df with no ace and 16 winners and ue.
Venus will face the winner of the next match between (4) Victoria Azarenka (BLR) and (7) Agnieszka Radwanska (POL)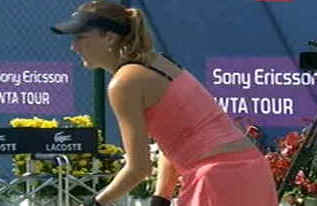 Peer has overcome losing head-to-head records in all 4 of her matches here so far this week. She had not registered a win previously against Wickmayer, Wozniacki or Li as is the case today against Williams.
Peer recorded her 3rd win against a Top 5 player vs.Wozniacki here to bring her record in such matches to 3-18 and has defeated 2 Top 10 players in a tournament for the first time.
Defending champion Williams, who landed her 40th career title here last year, is the only previous Dubai champion remaining in this year's field; Justine Henin was the last player to win back-toback titles here in 2006-07 (also 2003-04).
Williams has the highest number of career match wins among active players (559) and shares the lead with Justine Henin for most titles (41) among active players.
Williams has reached SF at Dubai for the 3rd time and is looking to reach a 2nd straight final after winning her 40th career title here last year.
The last player to win successive titles here was Justine Henin (2006-07).
• Radwanska had never won a match at Dubai before this year, while Peer and Azarenka have both reached the SF on their Dubai debuts
• This is Peer's 3rd SF from 5 events this year and Azarenka's 2nd from 3. Williams and Radwanska have reached their first SF of 2010… Williams's best previous result this year was QF and Radwanska a 3r finish (both at the Australian Open)
• Peer is the only semifinalist to have already contested a final in 2010 (Hobart) and is bidding to reach her 8th final overall (5-2 in previous finals), although this would be her first at Premier level (or equivalent)
• Azarenka (3-4 in previous finals) is also looking to advance to her 8th career final (2nd at this level), while Radwanska has played 5 previous finals (4-1), including two at Premier events
• Williams with 66 previous finals (41-25) has played more than triple the number of finals than the other 3 semifinalists combined.
RANKING PROJECTIONS
The new Sony Ericsson WTA Tour Rankings are due to be published on Monday February 22 and the following is projected for the 4 semifinalists:
• Williams and Azarenka will stay at No.5 and No.6 unless Azarenka wins the tournament or advances to the final with Williams losing in the SF; in those two scenarios, Azarenka is projected to make her Top 5 debut
• By reaching SF, Radwanska is expected to rise to a career-high of No.8 on Monday; she cannot rise any higher even if she goes on to win the tournament.
• Peer is projected to return to the Top 20 for the first time since May 26, 2008 by reaching SF. She could rise to No.19 by reaching the final
Other Results Today
Thursday, February 18, 2010

Singles - Quarterfinals
(1) Maria Sharapova (RUS) d. (8) Elena Baltacha (GBR) 62 75
(Q) Sofia Arvidsson (SWE) d. (2) Melanie Oudin (USA) 61 63
(5) Petra Kvitova (CZE) d. (3) Kaia Kanepi (EST) 16 63 76(0)
Anne Keothavong (GBR) d. Karolina Sprem (CRO) 64 63

Doubles - Quarterfinals
(2) Niculescu/Zalameda (ROU/USA) d. Barrois/Woerle (GER/GER) 75 46 108
Oudin/Perry (USA/USA) d. Cohen-Aloro/Kucova (FRA/SVK) 62 63
Mattek-Sands/Shaughnessy (USA/USA) d. Fedossova/Lykina (FRA/RUS) 63 60
At the BARCLAYS DUBAI TENNIS CHAMPIONSHIPS
Singles - Quarterfinals
(3) Venus Williams (USA) d. Anastasia Pavlyuchenkova (RUS) 63 64
(4) Victoria Azarenka (BLR) d. (12) Vera Zvonareva (RUS) 61 63
(7) Agnieszka Radwanska (POL) d. (Q) Regina Kulikova (RUS) 36 64 63
Shahar Peer (ISR) d. (8) Li Na (CHN) 75 30 ret. (right back injury)

Doubles - Quarterfinals
(1) Black/Huber (ZIM/USA) d. Dzehalevich/Kudryavtseva (BLR/RUS) 60 76(6)
(2) Llagostera Vives/Martínez Sánchez (ESP/ESP) d. Chuang/Govortsova (TPE/BLR) 67(7) 63 108
(4) Petrova/Stosur (RUS/AUS) d. (5) Kleybanova/Schiavone (RUS/ITA) 67(4) 75 119
Peschke/Srebotnik (CZE/SLO) d. Chan/Zheng (TPE/CHN) 57 62 101
at the XVIII COPA BBVA COLSANITAS
Singles - Second Round
(7) Klara Zakopalova (CZE) d. Mariya Koryttseva (UKR) 16 63 64
Pauline Parmentier (FRA) d. (WC) Catalina Castaño (COL) 62 64
Mariana Duque Marino (COL) d. (Q) Kristina Antoniychuk (UKR) 76(3) 76(10)

Doubles - Quarterfinals
(1) Koryttseva/Pelletier (UKR/CAN) d. (WC) Botto/Duque Marino (PER/COL) 64 62
(2) Dulko/Gallovits (ARG/ROU) d. Hercog/Parmentier (SLO/FRA) 76(5) 64
Savchuk/Yakimova (UKR/BLR) d. (4) Fichman/Washington (CAN/USA) 62 67(5) 107