Elena Dementieva wins her match at the Rogers Cup in Toronto against Samantha Stosur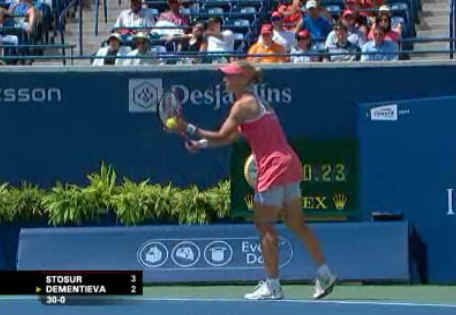 As the ladies came to court to play a a cloud came a long with rain to delay the game fow about 20 minutes then they were fine to play but it was still very windy like it was all week.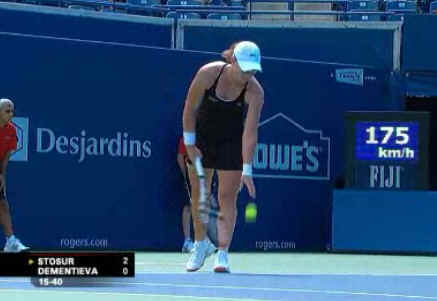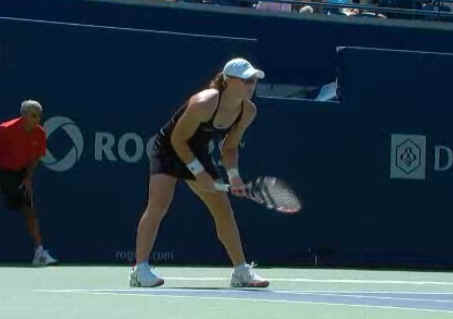 The first set was a close and long one with over 5 breaks and Sam won the set in a Tie Break in 59 minutes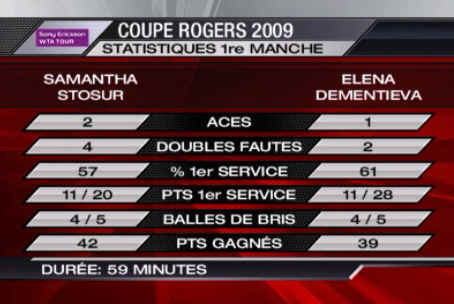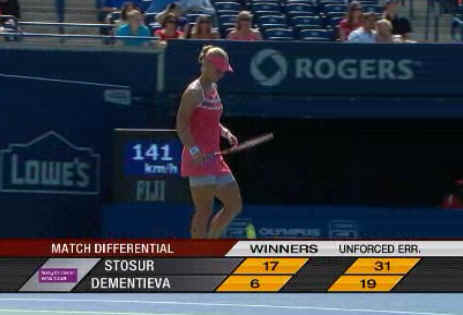 The second was the opposite Sam could not hold her serve and Elena served very well and wont the second set quickly 6-1 in 33 minutes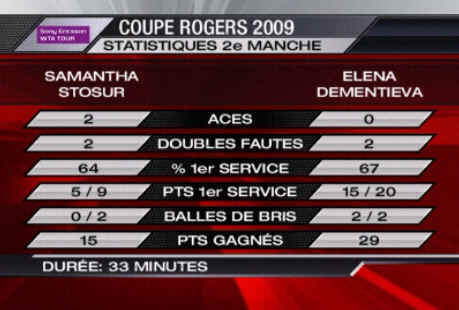 The final set was close until they got to 3-3 then Elena broke held her serve then broke again Sams' serve to win the match 6[3]-7, 6-1, 6-3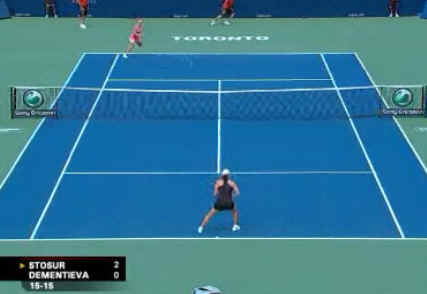 Elena said in her post interview that it was dificult conditons to play because of the wind and said that her foot work was key for her win today.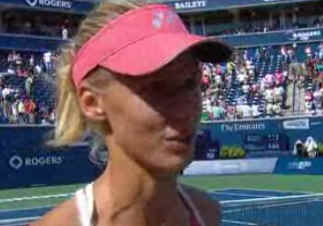 Elena will now face the winner of the Serena and Lucie match in the semi final.
Other Results for Thursday, August 20, 2009
Singles - Third Round
(2) Serena Williams (USA) d. Alona Bondarenko (UKR) 61 64
(4) Elena Dementieva (RUS) d. Shahar Peer (ISR) 61 16 64
(5) Jelena Jankovic (SRB) d. (WC) Kim Clijsters (BEL) 16 63 75
Maria Sharapova (RUS) d. (7) Vera Zvonareva (RUS) 62 76(3)
(14) Agnieszka Radwanska (POL) d. (Q) Kateryna Bondarenko (UKR) 75 63
Samantha Stosur (AUS) d. Virginie Razzano (FRA) 63 61
Alisa Kleybanova (RUS) d. Aravane Rezai (FRA) 63 64
(Q) Lucie Safarova (CZE) d. Zheng Jie (CHN) 76(3) 64

Doubles - Quarterfinals
(4) Hantuchova/Sugiyama (SVK/JPN) d. Kleybanova/Makarova (RUS/RUS) 64 63
Doubles - Second Round
Benesova/Zahlavova Strycova (CZE/CZE) d. (2) Medina Garrigues/Ruano Pascual (ESP/ESP) 63 63
(3) Stosur/Stubbs (AUS/AUS) d. Senoglu/Shvedova (TUR/KAZ) 62 64
Dushevina/Rodionova (RUS/RUS) d. Hradecka/Voskoboeva (CZE/KAZ) 62 62
Order of play for Friday, August 21, 2009

Stadium (from 11.00hrs)
1. Black/Huber vs. Dushevina/Rodionova
2. Samantha Stosur vs. Elena Dementieva (NB 13.00hrs)
3. Lucie Safarova vs. Serena Williams
4. Alisa Kleybanova vs. Jelena Jankovic (NB 19.30hrs)
5. Agnieszka Radwanska vs. Maria Sharapova

Grandstand (from 12.00hrs)
1. Llagostera Vives/Martínez Sánchez vs. Benesova/Zahlavova Strycova
2. Stosur/Stubbs vs. Amanmuradova/Kudryavtseva (NB 15.30hrs - after suitable rest)
ROGERS CUP
Toronto-CAN
August 17-23, 2009
$2,000,000/Premier
Hard/Outdoors