Maria Sharapova will wear Tiffany earrings disigned by Frank Gehry at the US Open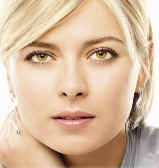 Tiffany & Co. announced that Maria will wear Tiffany earrings disigned by Frank Gehry at the 2009US Open, August 31 to September 13 at the USTA Billie Jean King National Tennis Center in Flushing Meadows, New-York.
The sterling silver and diamond earringd were created by the world renowned architect and Tiffany designer especially for Maria to wear at the US Open.
Named Stria for its fine corrugated texture, the double-drop design has a kinetic energy that compliments Maria's powerful playing style. A longlive fan of Tiffany jewelry, she said, " The earrings have a distinctive shape that is like the fluid lines of Frank Gehry's architecture. I am thrilled to wear these elegant earrings at the US Open."
The earrings' simplicity makes them a perfect option for combining with other Tiffany jewelry designs from bold and modern to feminine and ornate that reflect her love for fashion. Her interest for jewelry extends beyond collecting beautiful pieces, however. She visited Mr. Gehry in hi s California studio to learn about his inspiration for the Stria earrings and ideas for creating them. " I wanted to design earrings for Maria that were interested eyt light enough to wear during play. It was a new idea inspired by corrugations, like a river or a waterfall." the architect said.
The partenership between Maria and Tiffany & Co. provides the tennis star, Tiffany earrings to wear at each of the 4 Grand Slam events; The Australian Open, French Open, Wimbledon and the US Open. Called Tiffany for Maria Sharapova, the special group of earrings captures her natural grace and gives customers and fans access to the Tiffany jewelry preferred by the 3 times Gran Slam winner.
The Frank Gehry Stria earrings are available online and at Tiffany store in the following locations; New-york [Fith Avenue and Wall Street], East Hampton, Riverside, Americana Manhasset, Red Bank, Greenwich, Westport, the Westchester in White Plains and the Mall at Short Hills.