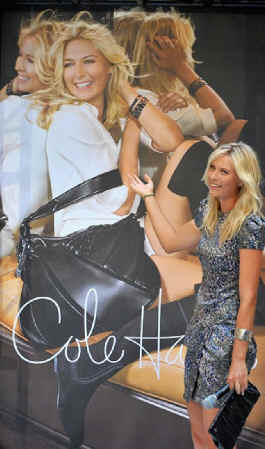 Launch of Maria Sharapova by Cole Haan Collection
Maria was at the launch of her Maria Sharapova by Cole Haan Collection at channel Gardens at the Rockfeller Center in New York.
Fans, tourists, and onlookers burst into cheers as Sharapova was introduced by celebrity MC Quddus on a specially constructed stage where Maria unveiled her new advertising campaign for Cole Haan.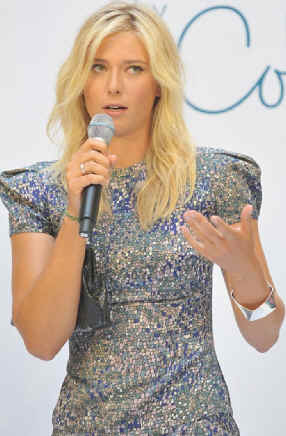 "Everyone loves Maria. It's great to be working with her and adding a new dimension to Cole Haan's history," states Jim Seuss, Chief Executive Officer.
Children from the USTA Billie Jean King National Tennis Center's Junior Tennis Development Program, New York Junior Tennis League, and the City Parks Foundation were thrilled to meet their tennis icon.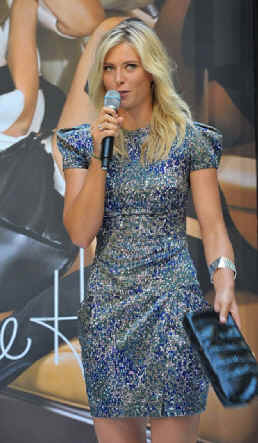 Sharapova's collaboration with Cole Haan began with sketches, mood boards, and inspirations from the tennis star. Maria's on-the-go, international lifestyle inspired this chic collection. Maria infused aspects of her playful personality into every detail of the line from the polished buckles of the shoes, to the leather wrapped chain straps of the handbags.
"It's my hope that other young women will embrace the spirit of the collection; it's fun, chic, fashionable and most importantly, able to take you from day to night," says Sharapova.
The Maria Sharapova by Cole Haan footwear collection, featuring Nike Air technology, includes a ballet flat, an ankle-wrapped stiletto, a flat over-the-knee boot, an ankle bootie and a strappy platform sandal. With prices ranging from $138 - $328, the collection offers luxe options at an attainable level.
Highlights of the handbag offering include a small frame clutch, a lambskin hobo, and Maria's signature chain-link satchel in a range of eye-catching colors. Each silhouette is characterized by an oversized pleating detail, creating a luxe, yet casual feel. Prices range from $248 for a convertible clutch to $428 for a lambskin hobo.
About Cole Haan
Cole Haan, a wholly owned subsidiary of Nike, Inc., is America's premier style and luxury brand offering high-quality handcrafted men's and women's footwear, accessories and outerwear. Each product blends craftsmanship, design and innovation giving it distinctive character. In addition to its many retail stores, consumers can experience all Cole Haan has to offer by visiting colehaan.com. Cole Haan is headquartered in New York City and Yarmouth, Maine.
Maria's new collection includes footwear and accessories.
Cole Haan is a fashion label that was founded in 1929 and includes women;s and men's dresa and casual footwear, belts, handbags, outerwear and sunglasses.