Victoria, Dinara Dominika and Maria all moving to the quarter finals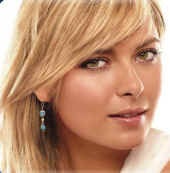 Maria Sharapova continues her comeback by winning again in 3 sets against Na Li 6-4, 0-6, 6-4 and will face Dominika Cibulkova in the next round. Dominika won today 6-2, 6-4 against Agnes Szaway.
Dinara Safina won her match quickly 6-1, 6-0 against Aravane Razai and will face the new upcoming rising star Victoria Azenrenka who defeated the former champion Ana Ivanovic 6-2, 6-3.