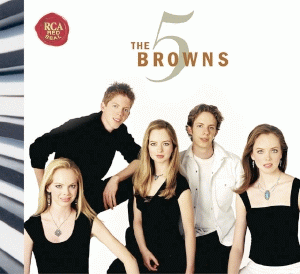 Deondra, Ryan, Desirae, Gregory and Melody
Today LadyDragon is speaking with The 5 Browns; Ryan 19, Melody 20, Gregory 22, Deondra 24 and Desirae 25, they are 2 brothers and 3 sisters that are all pianist from the same family.
Gamers will be interested to know that Gregory told LadyDragon after the interview that is favorite game is Dungeon Siege and that he is looking forward to the release in August of Dungeon Siege 2.
Click here to listen to the Interview
Total Time 17:48


Good quality 32 Kbps MP3 - 4.07 MB

Better quality 64 Kbps MP3 - 8.14 MB

Best quality 128 Kbps MP3 - 16.2 MB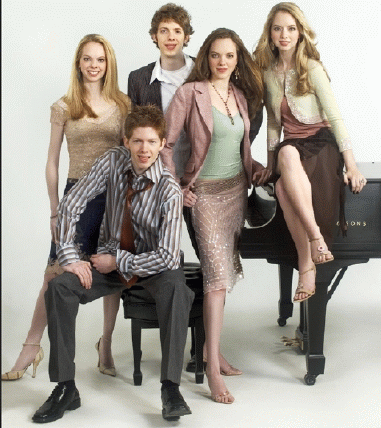 Three Sisters, Two Brothers
AN ALL-AMERICAN FAMILY OF PIANO VIRTUOSOS
PLAYS CLASSICAL FAVORITES
ON AN EAGERLY AWAITED DEBUT RECORDING
FOR RCA RED SEAL/BMG CLASSICS
CD RELEASED FEBRUARY 8, 2005
New Five-Piano Transcriptions Feature All Five Brown Siblings – Desirae, Deondra, Gregory, Melody & Ryan – Plus Duo and Solo Pieces
Recording Released In New DualDisc Format
Full Audio CD Plus Bonus DVD Side Featuring 2 Music Videos
The 5 Browns Will Tour The U.S. In Spring 2005
Young, beautiful, handsome, likeable, dazzlingly talented and passionate about the music they play, The 5 Browns – an American quintet of brothers and sisters who are all virtuoso concert pianists – make their recording debut on a new CD from RCA Red Seal/BMG Classics that features an array of classical favorites showcasing the talents of each member of the family. The disc includes ear-bending new transcriptions of such works as Rimsky-Korsakov's The Flight of the Bumble Bee, Dukas's The Sorcerer's Apprentice and music from Bernstein's West Side Story, as well as works that spotlight the talents of each pianist, individually and in combination. All the music for the album, including the ensembles, was memorized for the recording. The debut CD of The 5 Browns will be released February 8, 2005.
The recording will be released in the new DualDisc format, which combines audio and video content on a single disc – one side features the audio recording, the other side features DVD video. In addition to the full album on the CD side, the DVD side will feature two music videos of The 5 Browns in a filmed performance, playing Flight of the Bumble Bee and Scenes from West Side Story.
With one of the most appealing stories in music, The 5 Browns – Ryan, 19; Melody, 20; Gregory, 22; Deondra, 24 and Desirae 25 - became an international sensation with appearances on Oprah and 60 Minutes and in People, The New York Times, Los Angeles Times and Sunday London Telegraph while they were still attending New York's Juilliard School of Music, the first time five siblings have been students at the same time at the prestigious school. Earlier this year, they signed an exclusive contract to record for RCA Red Seal/BMG Classics. Following the release of the recording, The 5 Browns will perform live on Good Morning America and featured again on 60 Minutes. They will be embarking on a U.S. concert tour in the Spring.
The new disc premieres spectacular five-piano transcriptions– created expressly for The 5 Browns – of Bernstein's "Scenes from West Side Story," Rimsky-Korsakov's "Flight of the Bumble Bee;" Dukas's The Sorcerer's Apprentice; and Grieg's "In the Hall of the Mountain King" from Peer Gynt, Op. 23. The West Side Story transcription by Kendall Durelle Briggs, the other three by Jeffrey Shumway.
Desirae and Deondra Brown, who often perform as a duo-piano team, play Ravel's La Valse in its two-piano version. Gregory Brown is heard in two solo works – Rachmaninoff's "Elégie" from Morceaux de fantaisie, Op. 3, and Bowen's Toccata, Op. 155. Melody Brown performs Debussy's L'Isle joyeuse and Friedman's Tabatière à musique (Musical Box), Op. 33, No. 3. Ryan Brown is also heard in a pair of solo works – Prokofiev's Sonata No. 3, Op. 28 and the fourth of Rachmaninoff's Moments Musicaux, Op. 16.
The drive and ambition of The 5 Browns is equaled only by their mutual love and affection. Their dedication to music has already resulted in remarkable artistic achievements. The siblings' teachers at Juilliard praise their talent and promise, not only for their extraordinary teamwork but also for their distinctive, evolving personalities as individual artists – "... Desirae and Deondra are a fabulous team; they play like they read each other's minds. Gregory is a real bravura-type performer. Melody is sweet and easygoing, and it comes through in her playing. And Ryan is a storyteller and has a great imagination."
Having devoted most of their young lives to classical music, The 5 Browns are reaching their artistic maturity just as seismic changes have begun to rewrite the rules in the classical recording industry. Their serious dedication combines with their infectious energy to offer the listener a new way to perceive classical music. Deondra, Melody, Desirae, Ryan and Gregory, want to reach out to a new generation—their generation –one that has been fed on commercial pop and has yet to discover what The 5 Browns passionately believe… that classical music can be interesting and cool !
Tour Date
3/30 & 31
Stuart, FL
Lyric Theatre
4/16
Seattle
Nordstrom Hall
4/21
San Francisco, CA
Palace of Fine Arts
4/23
Salt Lake, UT
Kingsbury Hall
More date will
More date will be annouced soon so go to their website for the latest Tour Date http://www.the5browns.com/

Biography
THE 5 BROWNS are ready to play. Handsome, charming, articulate and close-knit, this youthful quintet of brothers and sisters, all virtuosic concert pianists, love classical music so profoundly they want to share it with everyone else. Each of the Browns – Desirae, 25; Deondra, 24; Gregory, 22; Melody, 20; and Ryan, 19 – has a distinctive and discriminating keyboard talent, honed at New York's Juilliard School, where for five consecutive years they studied simultaneously. They have chosen to cast their lot together as a unique quintet of classical pianists, performing on five pianos, and in various ensemble combinations. After capturing the imagination of the public in stories that have appeared on Oprah and 60 Minutes, and in the pages of The New York Times, People Magazine, Los Angeles Times and Sunday London Telegraph, THE 5 BROWNS have signed an exclusive contract to record for RCA Red Seal/BMG Classics, and their debut album will be released February 8, 2005, followed by a concert tour.
THE 5 BROWNS made their official concert debut as an ensemble in spring '04, in Houston – where all five were born – performing pieces that will appear on their first recording. In addition to orchestral selections that have been transcribed for five pianos, the setting and the repertoire allow the artistic personality of each to shine. Desirae and Deondra have devoted themselves to a unique partnership as duo pianists. Critics have stated, "the dynamic duo" "exhibit an understanding that verges on telepathy" "wrought with alluring seductiveness" and "left their listeners' jaws on the floor." Gregory is a "real bravura type performer" with dynamic personality and technique. Critics say he is "ready for primetime" as he "whipped the audience into a polite frenzy," Melody's playing is "elegant" and "the most expressive" critics say, as "she presented a plethora of imaginative colorations," and Ryan is an "imaginative storyteller" who "exploited his fluid fingers and instinctive sense of drama."
What makes THE 5 BROWNS even more remarkable is the utter lack of show-biz calculation in the story of their still-developing musical lives. They are the sons and daughters of a down-to-earth Utah couple, Keith and Lisa Brown, who raised their family in the devoted spirit of their Mormon faith. Lisa, classically trained to sing opera, decided early on that she wanted her children to have music in their lives. The piano was an obvious place to begin.
"Then," as Keith says simply, "their music took on a life of its own." As the brothers and sisters became old enough to take piano lessons – around age 3 – each showed a clear talent and interest. Not only were they gifted, they enjoyed what they were doing. "I think Desirae, the oldest, was in school, about 6 years old, when she realized that not everybody in the world plays the piano," Keith says. "She just thought it was a part of life, like eating or sleeping."
Keith and Lisa's only desire was for their children to be happy, healthy and rewarded with the pleasures of music. Neither of them had any plan to raise a quintet of serious piano virtuosos, but unlike many parents, they did not see their talented children lose interest in the piano when they hit adolescence. Quite the opposite, in fact, and to such a degree that Lisa felt compelled to devote herself to managing their schedule – a full-time job of getting them to and from lessons, and sitting with them at the bench for their three-hour practice each day until about age 11. The hard work paid off. Each of the children, as early as age 9, made their debut with major symphony orchestras.
When Desirae began to plan for college - Deondra, a year younger, decided to accelerate her education in order to attend with her sister – the family began looking into music schools and scholarships. The overwhelming response included full scholarship offers from the finest music schools and conservatories in the nation. New York's Juilliard School became their choice. One year later when Gregory, Melody and Ryan were accepted to Juilliard as well, the entire Brown family, along with their five pianos, moved from Utah to New York.
How THE 5 BROWNS came to be headline grabbing recording artists is a story in itself. Multi-platinum record producer Joel Diamond, now their manager and executive producer, discovered Ryan first, when he happened to catch a PBS documentary about a piano competition in which Ryan was playing. Diamond had nothing but a name to go on, so he began calling all the Browns in Utah until he found the family. He then learned that there were four more brilliant young pianists at home. He immediately saw the possibilities in presenting all five siblings together. The young Browns themselves had powerful ideas about how they wanted their careers to unfold. Happily, Diamond's commercial instincts and the Browns' aesthetic ambitions were a perfect fit, and a partnership was born.
Having devoted most of their lives to classical music, Desirae, Deondra, Gregory, Melody, and Ryan arrived at young adulthood – and the threshold of professional careers – with the challenging realization that the classical audience was only shrinking and getting older. Just as seismic changes began to rewrite the rules in the classical recording industry, they decided they would make a bold, positive statement. They would mobilize their talent, their taste and their infectious energy to change the very way classical music is perceived today. With determination to increase its popularity, they want to reach out to a new generation – their generation – one that has been fed on commercial pop and has yet to discover what the Browns know… that Classical music can be cool !
The 5 Browns have done their homework. And they are ready to play.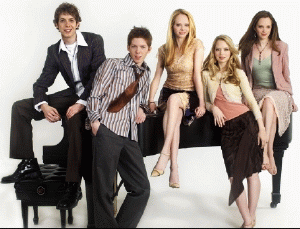 Video Clips - Flight of The Bumble Bee
Video Clips - West Side Story
Audio Clips - Flight of The Bumble Bee
Audio Clips - The Sorcerers Apprentice
Audio Clips - West Side Story
Audio Clips - Tabatiere A Musique op33
Audio Clips - Moment Musicaux op16
Audio Clips - Lisle Joyeuse
Audio Clips - Sonata no3 In A Minor
Audio Clips - Toccata op155
Audio Clips - In the Hall of the Mountain King